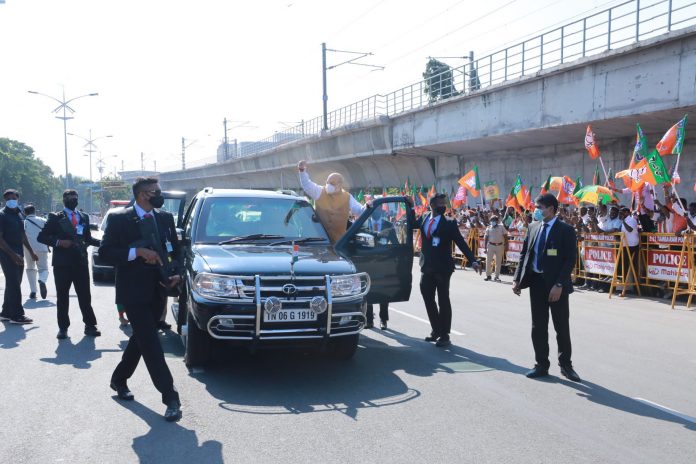 Putting to rest rumours of rift with the BJP in Tamil Nadu, the AIADMK on Saturday said that the alliance will continue for the state elections due next year.
Chief Minister E Palaniswami made the announcement during Union Minister Amit Shah's visit to Chennai.
"The Lok Sabha alliance will continue for the Assembly elections. We have given 10 years of good governance. Our alliance will win the 2021 polls. Tamil Nadu will always support PM Modi," Palaniswami said.
Advertisement
Also read: Social media abuzz with hashtag wars as Amit Shah lands in Chennai
Shah, too, took the opportunity to lavish praise on the Tamil Nadu government for its handling of the pandemic. He quoted Union government's rankings to say that Tamil Nadu was the best-governed state in the country this year.
"India under PM Modi has contained COVID while other nations struggle. I applaud E Palaniswami and (deputy chief minister) O Panneerselvam for containing COVID. Tamil Nadu's recovery rate is high. COVID statistics shared by Tamil Nadu are good. No other state has taken care of pregnant women like Tamil Nadu has," Shah said.
Also read: Amit Shah launches 'Mission Chennai' on November 21, AIADMK queasy
The BJP-AIADMK alliance got a setback in the 2019 Lok Sabha elections when the DMK-Congress combine won 38 of the 39 seats, leaving just one for the party that has been in power in the state for more than nine years now. It was the first major election in the state after the death of AIADMK's Jayalalithaa and DMK's M Karunanidhi.
The AIADMK defeated DMK in the 2011 Assembly polls when J Jayalalithaa led the party to a resounding victory. It won again in 2016.
Earlier in the day, Palaniswami, O Panneerselvam, senior cabinet members and BJP state president L Murugan welcomed Amit Shah when he arrived in Chennai on Saturday.
On the way to his hotel, Shah got out of his vehicle and walked on the busy GST Road outside the airport to greet supporters.