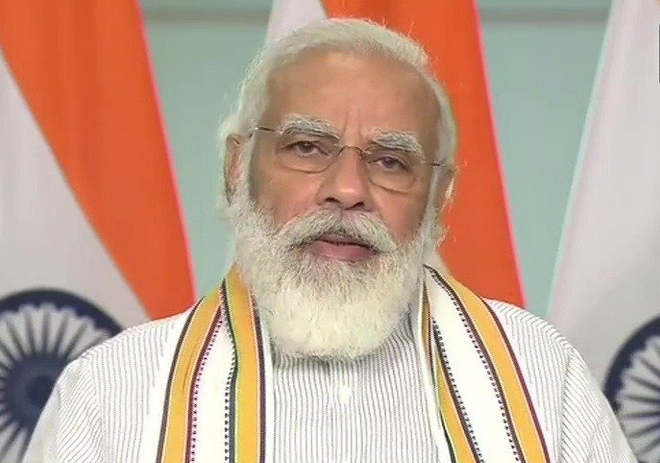 Stressing that the NDA's win in Bihar reflected the faith of the people in the government's welfare and development policies, Prime Minister Narendra Modi on Wednesday (November 11) set the tone for the assembly polls in West Bengal next year.
Speaking at a grand ceremony organised to celebrate the victory of the NDA in Bihar, Modi said the alliance will fulfil its mandate under the leadership of Nitish Kumar.
"The people of Bihar are both aware and discerning, and under the leadership of Nitish Kumar, the NDA will fulfil the promise of this mandate," he said.
Related news: Message from Bihar: Send Congress, Gandhis on a holiday to moon, forever
"Our victories have come from all four corners of the country, which shows that ours is the only national party that enjoys the trust of the people and the intentions of our governance model," Modi said.
The prime minister said the mandate of the people also shows their trust in the way the central government has handled the coronavirus pandemic.
"Every life that has been saved from corona is a success story of our fight against the disease," he said.
The meeting was also attended by BJP president JP Nadda, Home Minister Amit Shah and Defence Minister Rajnath Singh among others.
The prime minister also made an indirect reference to the upcoming Bengal Assembly polls, warning that "the killing of BJP workers is not acceptable in a democracy".
"But today, those unable to challenge us, some of those people have adopted the path of murder of our workers. In some parts of the country they think that by killing BJP workers they will fulfil their ambitions. I do not think I need to warn them, because in a democracy, the people speak," Modi said.
In a veiled dig at the Mamata Banerjee government, without naming the Trinamool Congress chief, Modi said the party should take cue from the mandate in Bihar, that violence will not be tolerated in a democracy and it will take just one election to overthrow such a regime.
"Elections come and go, there are victories and defeats. Today someone will sit in power, tomorrow it will be someone else, but this game of murder cannot be accepted in a democracy. By playing with death, you cannot get a mandate. See the writing on the wall," the prime minister said.
Related news: Bihar polls: The most competitive poll ever in India's electoral history
The BJP alleges more than 100 BJP workers have been murdered in Bengal in the past two-and-a-half years.