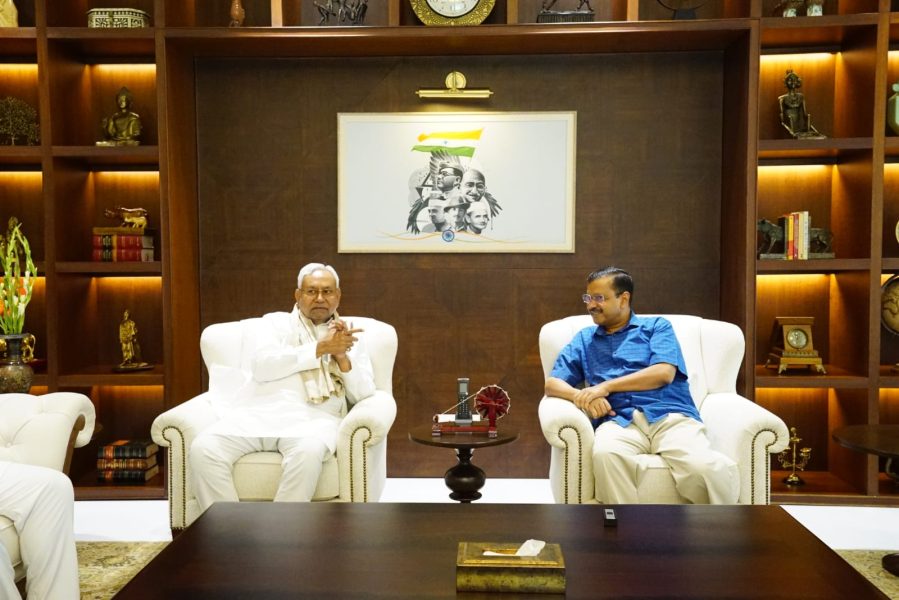 AAP distances itself from anti-Nitish poster in Patna, claims 'conspiracy'
A poster in Patna saying Arvind Kejriwal would be prime minister and Chief Minister Nitish Kumar confidant of Narendra Modi — was slammed by the AAP, which distanced itself from it and called it a disgusting conspiracy against opposition unity.
The poster, which has been put on a prominent road crossing in the city, is signed by one Vikas Kumar Jyoti, who, the party claimed, was not associated with the AAP.
Also Read: 7 things to watch out for at June 23 Opposition meeting in Patna
Besides calling Kejriwal bhaavi Pradhan Mantri, the poster says Kumar, who is convening the opposition meeting scheduled here on Friday, was a khasam khas of Narendra Modi in whom the people had neither faith nor hope (na asha na vishwas hai).
This is a disgusting conspiracy against opposition unity, said Bablu Kumar, spokesman of AAP's Bihar unit.
Also Read: 4 tasks that could challenge Nitish Kumar at June 23 Patna Opposition meet
Our leader, Delhi CM Arvind Kejriwal, is coming to Patna to take part in the meeting along with his Punjab counterpart Bhagwant Mann. The person, who has put up the poster, is not known to us and has never been a primary member of our party, said the AAP spokesman.
On the official Twitter handle of AAP's Bihar unit, its co-in-charge Abhinav Rai also issued a statement, alleging that the BJP has grown afraid of a united opposition and is getting misleading posters put up to spread rumours and falsehood. Let all be on their guard and devote themselves to uprooting the dictatorial BJP government in 2024.