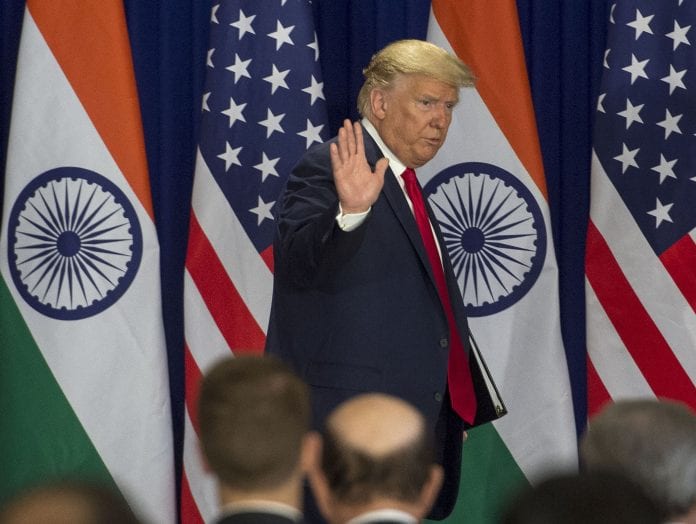 From his stand (or lack of it) on the Citizenship (Amendment) Act (CAA) to his refusal to comment on the violent clashes in Delhi, US President Donald Trump's visit to India has been illuminating in a number of ways.
As Trump departed for the US on Tuesday (February 25) with his wife, Melania, and daughter, Ivanka after their two-day visit, here are a few key points to note:
• Defence deal: While India and the US signed a defence deal worth more than $3 billion (including purchase of Apache and MH-60 Romeo helicopters) and two more deals on telecommunications and energy, the much-awaited trade deal which had created a hype amongst economists and analysts was not signed by the two leaders. However, Trump termed Modi a 'tough negotiator' and said he would continue to work with him for a 'comprehensive trade deal.'
• Opinion on clashes in Delhi: President Trump gave a vague answer on the violent protests in New Delhi and said he didn't discuss the attacks with Prime Minister Narendra Modi and that it was 'up to India.'
"We did talk about religious freedom. PM Modi wants people to have religious freedom in India. If you look back India has worked hard for religious freedom. I didn't discuss (the attacks) with PM Modi, it is up to India," Trump said when he was questioned by the media.
• Take on CAA: When questioned about his opinion on the Citizenship (Amendment) Act (CAA), Trump refused to take a stand and said, "I don't want to say anything on CAA. It is up to India. I hope it will take the right decision for its people."
• Mediation to resolve Kashmir issue: Describing the Kashmir issue as a 'big problem' between India and Pakistan, the US President said it was 'a thorn in a lot of people's sides' and reiterated his offer to mediate between the two countries to ease the tension. "If there's anything I can do to mediate, I will do," he said, adding that Pakistan figured in his talks with Modi.
• Being in Pakistan's good books: Experts claim that Trump, who perhaps kept Pakistan's role in mind with regard to Afghanistan signing a peace deal with the Taliban, kept his comments about the neighbouring country light and nice instead of any criticism or offensive remarks.
Related news | Didn't discuss Delhi violence with Modi, that is upto India, says Trump

He said he was on cordial terms with Pakistan's Prime Minister Imran Khan and that the country was working on addressing the issue of terrorism. "I have a good equation with Pakistan PM Imran Khan. They are working to control cross-border terrorism," he said.
• Stock markets will "crash" if Trump isn't re-elected: The US President said the stock market, which had just 'one bad' day on Monday (February 24), will 'crash like nobody has seen before' if he loses the forthcoming US presidential election in November.
Trump said to business leaders, "The stocks would jump thousands of points if I am re-elected, but if I don't win, you're going to see a crash like you've never seen before."
• "Coronavirus under control": President Trump said the coronavirus outbreak was "very well under control" in the US and that most people infected with the virus were "getting better."
Speaking in New Delhi, Trump expressed optimism that the "whole situation will start working out."
Trump said his administration was putting "a lot of talent, brain power" behind combatting coronavirus. Without further elaboration, Trump said that they were "very close to a vaccine".
• Spat with CNN journalist: CNN journalist Jim Acosta got involved in a minor tiff with President Trump during Trump's press conference. Acosta had asked if the US President would accept foreign interference in the upcoming election and how he could justify replacing Joseph Maguire as acting director of national intelligence.
The president appeared a little offended and said, "First of all, I want no help from any country, and I haven't been given help from any country," Trump answered before mentioning that CNN had to take back what they had broadcasted on Sunday.
"If you see what CNN, your wonderful network said, I guess they apologized in a way. Didn't they apologize for the fact that they said certain things that weren't true? Tell me, what was their apology yesterday? What did they say?"
Acosta retorted saying, "Mr. President, I think our record on delivering the truth is a lot better than yours sometimes."
Trump, who wanted to have the final say, interrupted Acosta and replied, "Let me tell you about your record. Your record is so bad, you ought to be ashamed of yourself. You probably have the worst record in the history of broadcasting."