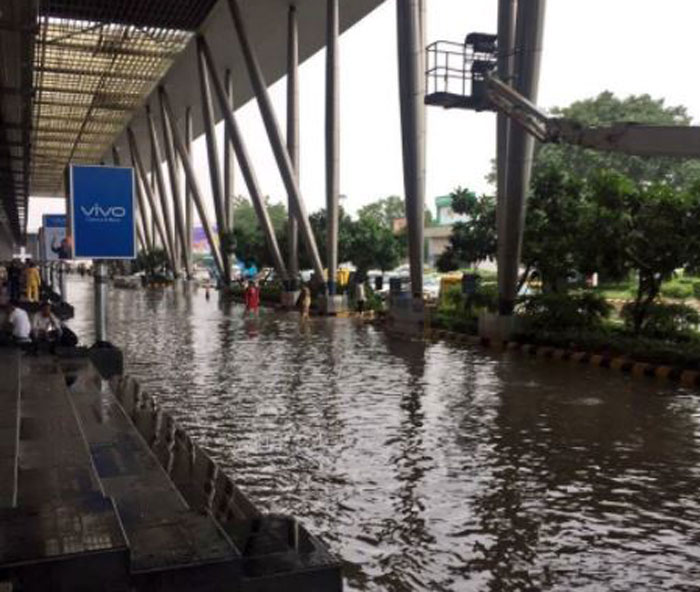 Monsoon mayhem: Yamuna water level in Delhi crosses danger mark
Heavy rainfall in different parts of the country over the last 24 hours has led to a flood-like situation in some states while also leading to loss of lives. The water level in the Yamuna has crossed the danger mark in Delhi again following heavy discharge from Hatnhnikund Barrage in Haryana.
At 10 am this morning, the river was flowing at 206.10 metres. This is expected to rise to 206.7 metres by the evening. The Delhi government is on high alert after over 2 lakh cusecs of water was released from Haryana. The Yamuna has been in spate for over a week now, leading to flooding in several parts of the national capital. The primary reason behind the steady rise in the water level is the release of water from the Haryana barrage which has received a huge volume of water following the monsoon fury in Himachal.
Also read: Monsoon mayhem: Yamuna swells in Delhi; 3 die in Uttarakhand, highways closed
In Uttarakhand, persistent downpours in the Uttarkashi district have resulted in significant damage to the infrastructure. Badrinath National Highway near Chamoli district was also blocked in three places due to incessant rainfall. Scores of commuters, including tourists as well as locals are stranded in Uttarkashi after the Yamunotri National Highway was blocked at many places. Visuals from the area showed vehicles being stuck in debris, leaving commuters stranded for hours. Similarly, in Himachal Pradesh, seven people were killed in landslide and other rain-related mishaps over the last 24 hours. Besides, National Highway 5 is blocked at three places in Kinnaur and Shimla districts due to landslides.
In Gujarat, heavy rain is expected in Gir-Somnath, Junagadh, Kutch, Porbandar, and Valsad, Navsari till Monday afternoon. Ahmedabad's Sardar Vallabhai Patel Airport in Gujarat was reportedly flooded with knee-high water on Saturday night. Normal life was crippled in Junagadh and Navsari amid flooding at homes, schools, and markets following heavy showers. A flood-like situation prevailed in parts of Junagadh due to torrential rain. IMD issued a red alert, predicting heavy to very heavy rainfall in the state on Sunday. The weather department has also predicted heavy to very heavy showers in Maharashtra and Goa. Union Home Minister Amit Shah spoke to Gujarat Chief Minister Bhupendra Patel on Sunday and enquired about the flood-like situation in various parts of the state. He also had a word with Delhi LG VK Saxena about the water level in the Yamuna river.
Also read: Monsoon mayhem: Death toll mounts to 15 in Punjab, Haryana; 9 killed in Uttarakhand
The scenario is no different in Maharashtra. At 204 mm, Mumbai's suburbs too got the third highest 24-hour July rain in 9 years. Amid heavy downpours, Yavatmal is facing flood-like situation. Heavy rain pounded different parts of Vidarbha, especially Yavatmal district, claiming 10 lives in the last 24 hours. Three casualties each were reported from Yavatmal, Amravati and Bhandara, and one from Wardha in rain-related incidents. In the last 24 hours, as much as 316mm rainfall was recorded in Yavatmal district.