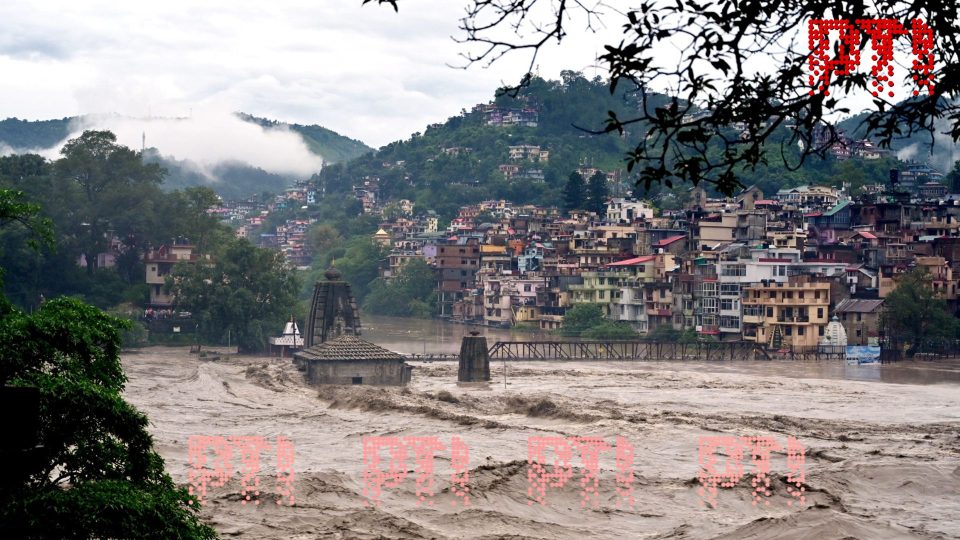 LIVE | Monsoon mayhem: Yamuna crosses danger mark in Delhi; 4 die in Himachal landslide
The Yamuna crossed the danger mark of 205.33 metres in Delhi on Monday (July 10) as torrential rains pummelled the upper catchment areas of the river for the third day on the trot.
The river breached the danger mark earlier than expected. It was predicted that it would cross the danger mark by Tuesday afternoon.
According to the Central Water Commission's (CWC) flood-monitoring portal, the water level at the Old Railway Bridge had risen to 205.4 metres by 5 pm as Haryana released more water into the river from the Hathnikund barrage in Yamunanagar. The water level is anticipated to rise to 206.65 metres on Tuesday before it starts receding.
Addressing a press conference, Chief Minister Arvind Kejriwal said a flood-like situation is unlikely in Delhi, but the government is prepared to tackle any eventuality. He said the evacuation of people from low-lying areas will start once the river breaches the 206-metre mark.
Schools closed in Punjab
Even as rains battered many parts of Punjab and Haryana for the third consecutive day on Monday causing flooding at many places, landslides claimed four more lives in Himachal Pradesh's capital Shimla.
The Punjab government ordered the closure of schools in the state till July 13 in view of the prevailing situation. According to the meteorological department, it has been raining in many parts of Punjab and Haryana since morning. Chandigarh also witnessed a record rainfall during the past three days, and a few roads were filled with rainwater.
Punjab Chief Minister Bhagwant Mann appealed to people not to panic as heavy rains caused flooding at some places in the state. In a tweet in Punjabi, Mann, who is visiting flood-affected areas in Mohali and Rupnagar districts, said the government is with the people and all possible help will be provided to them. Mann later told reporters that all his ministers and MLAs as well as officials are on the ground and with people in this hour of crisis.
Also read: Flood alert issued for two Jammu districts amid incessant rains
Sixteen killed in Himachal
Shimla-Kalka highway was blocked Monday morning as heavy rains wreaked havoc in the hill state for the third day, police said. Chief Minister Sukhvinder Singh Sukhu said 16 people were killed in rain-related incidents in the state in the last two days.
Twenty people stranded in Himachal Pradesh's tourist town of Manali were rescued but about 300 others were stuck across various parts of the hill state, officials said. Three people died after a landslide struck a house in Theog subdivision of Shimla on Monday morning. The body of an elderly woman, who was trapped under debris following a landslide in Rajhana village on the outskirts of Shimla city, was retrieved on Sunday night, hours after the body of her granddaughter was recovered from the site.
#WATCH | Himachal Pradesh: Latest visuals from Mandi around Victoria Bridge and Panchvakhtra Temple. pic.twitter.com/1jnhmTr8V6

— ANI (@ANI) July 10, 2023
On Monday morning, the meteorological department issued a red alert for "extremely heavy rain", a day after heavy rain pounded the state, triggering landslides, and damaging houses. Officials said rail operations on the Shimla-Kalka route, a UNESCO world heritage site, have been suspended till Tuesday as landslides blocked the track at several places while educational institutions across the state were ordered to remain shut on Monday and Tuesday.
The Shimla-Kalka National Highway was blocked near Shoghi, about 16 km from the capital city, following a landslide on Monday. The Chandigarh-Manali National Highway is blocked due to landslides and flooding at several places and Shimla-Kinnaur road is also closed for vehicular traffic due to slides and falling of rocks. Himachal Pradesh received 271.5 mm of rainfall during the monsoon season from July 1 to July 9, against normal rainfall of 160.6 mm, an excess of 69 per cent.

Punjab seeks Army help

Army's assistance was sought by the Patiala district administration in Punjab after water overflowed from the Sutlej Yamuna Link (SYL) canal in Rajpura town following a breach. The army has been put on alert in some other parts of Punjab, officials said. In Rajpura, water entered a private hospital and the patients were shifted to two other hospitals, they said. In some places in Punjab, there were breaches in distributaries and minor canals.
VIDEO | Normal life affected in Punjab's Ropar due to severe waterlogging amid heavy rainfall. pic.twitter.com/RyXkG9px8H

— Press Trust of India (@PTI_News) July 10, 2023
The Punjab government requested additional assistance from the army to combat the escalating crisis. National Disaster Response Force (NDRF) and State Disaster Response Force (SDRF) teams were also deployed at some places in the two states. Patiala Deputy Commissioner Sakshi Sawhney said the floodwaters had breached the premises of a private hospital in Rajpura on Sunday, necessitating the rescue and relocation of patients to other hospitals. Additionally, approximately 800 students from a private university in the district were successfully rescued with the assistance of the army.
In Patiala, the floodwaters entered the premises of the Rajpura Thermal Power Plant on Monday, leading to the shutdown of one of its 700 MW units, officials said.
Also read: Delhi faces waterlogging, traffic snarls as heavy rain hits city
Haryana rivers in spate
In view of the prevailing situation caused due to incessant rains, Haryana Chief Minister Manohar Lal Khattar cancelled all his pre-scheduled programmes for the day and summoned an emergency meeting of senior officials of various departments. He took stock of the situation with senior officials in the meeting in which Chief Secretary Sanjeev Kaushal was also present.
Khattar later also held a meeting with deputy commissioners through video-conferencing, officials said. Khattar also spoke with his Himachal Pradesh counterpart Sukhvinder Singh Sukhu after reports that some Haryana residents were stranded in Manali. He was informed that all were safe. At some places in the two states, the authorities launched rescue operations evacuating people and shifting them to safer places in view of the floodwaters entering the residential areas.
VIDEO | Heavy flow of water at Hathni Kund barrage in Haryana's Yamunanagar. Yesterday, more than one lakh cusecs of water was discharged from the barrage into Yamuna river. pic.twitter.com/Mfd7y2qIVj

— Press Trust of India (@PTI_News) July 10, 2023
The Haryana government also issued an advisory for general public asking them to take precautions and only venture out when it is necessary. Fields were inundated at many places in Punjab and parts of Haryana causing crop damage. Tracts of land near Sutlej and Ghaggar rivers were inundated. At some places in Punjab and Haryana, water gushed into houses, and at a few places, people were evacuated to safer places. The heavy monsoon downpour continued to lead to traffic snarls on key road stretches in the two states, the officials said.
In Haryana's Ambala, the administration has sounded a high alert following overflow of rivers and canals in the district, with authorities seeking the Army and the NDRF assistance. In Ambala, all the rivers, including Markanda, Tangri and Ghaggar, crossed the danger mark. Ambala deputy commissioner's office was also waterlogged and the official was working from camp office in his residence. A few other offices were also waterlogged.
Several areas in Ambala district are waterlogged and there have been breaches in Narwana and SYL canal following heavy rainfall in the region. A bus overturned due to water flow on Ambala-Yamuna Nagar road near Hamidpur turn in Ambala district, but all 27 passengers were safely evacuated by the police. A few areas of Ambala City including Manmohan Nagar close to Ghaggar river were submerged in flood water. Narwana canal, which is a branch of the Bhakra canal, has touched the danger mark, officials said.

Also read: Four killed as heavy rain batters Rajasthan; Met predicts more showers
Control rooms set up
Flood control rooms have been set up in Punjab and Haryana to help the people. Owing to the heavy rains, the water level of the Yamuna river at Hathini Kund Barrage is constantly increasing, due to which people of low-lying areas adjacent to the river have been asked to stay away from the riverbank, the officials said.
On Monday at around 8 am, 2.79 lakh cusecs of water was discharged from the barrage, they said. Rains lashed Chandigarh, Panchkula, Yamunanagar, Ambala, Karnal, Kurukshetra, among other places in Haryana while Fatehgarh Sahib, Mohali, Rupnagar and Patiala in Punjab also received showers. Due to incessant rains in the catchment areas of the Sukhna Lake here, two of the floodgates were opened on Monday.
No time for blame game: Kejriwal

Earlier on Monday, Delhi Chief Minister Arvind Kejriwal convened a review meeting to discuss waterlogging caused by torrential rains in the city and Yamuna's rising water levels, officials said. The meeting held at the Delhi Secretariat was attended by senior officials of the Irrigation and Flood Control department and the Municipal Corporation of Delhi.
Kejriwal said there is no flood threat in Delhi as of now because of Yamuna's water level rising after two days of non-stop rain in the Capital. He said Delhi's systems are not designed to take such unprecedented rain. The evacuation of the people in the low-lying areas around the Yamuna river will start once the river breaches the 206-metre mark, Kejriwal said.
VIDEO | "As per weather predictions, water level in Yamuna will not increase much, so it is unlikely that there will be a flood," says Delhi CM Arvind Kejriwal. pic.twitter.com/d6GawqzPyP

— Press Trust of India (@PTI_News) July 10, 2023
"Not only in Delhi, but the entire North India received unprecedented rain. People are facing difficulties everywhere. This is not a time to point fingers that why this happened. I believe all parties and all governments are working their best in the affected areas," Kejriwal said.
Delhi recorded 153 mm of rain in a 24-hour period ending at 8:30 am on Sunday, the highest in a single day in July since 1982, the India Meteorological Department (IMD) said. The Delhi government issued a flood warning on Sunday as Haryana released more than one lakh cusecs of water into the Yamuna river from the Hathnikund barrage.
UP CM holds meet
Uttar Pradesh Chief Minister Yogi Adityanath on Monday directed all departments concerned to remain alert in view of a possible swelling of rivers due to heavy rains in Uttarakhand and Himachal Pradesh.
In a review meeting following heavy rains, he asked officials to keep monitoring the situation, especially the river embankments, while flood units of NDRF and SDRF as well as disaster management teams were directed to remain alert round the clock. Following heavy rains in Himachal Pradesh and Uttarakhand, there is a possibility that water levels in various rivers of Uttar Pradesh may rise in the next few days.
Uttar Pradesh on Sunday recorded widespread rainfall, causing the rivers to swell, hitting traffic movement in cities and inundating farms in rural areas. Of the 75 districts in the state, around 68 received rain. Districts in western Uttar Pradesh adjoining Delhi and Uttarakhand received more rainfall than those in the central and eastern parts of the state.
You can't add multiple events in the same post, page or custom post type.