US President Donald Trump's daughter and advisor Ivanka Trump on Wednesday termed as "American patriots" a mob that wreaked havoc in the US Capitol in support of her father, in a tweet that she deleted following a massive backlash, according to reports.
Wednesday stood witness to an unprecedented assault on US democracy, as thousands of Trump supporters stormed the US Capitol and clashed with police, resulting in at least four deaths and 52 arrests when the Congress was meeting to affirm President-elect Joe Biden's election win.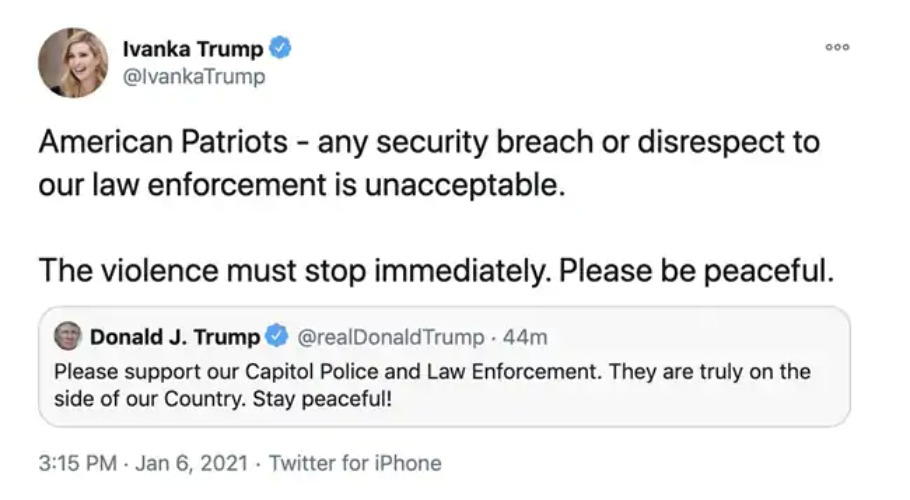 President Trump had tweeted urging his supporters to "remain peaceful", which daughter Ivanka had retweeted, calling the mob "American Patriots." Her post read: "American Patriots – any security breach or disrespect to our law enforcement is unacceptable. The violence must stop."
Related news | Chaos at US Capitol: Here's how the events unfolded
Screenshots of her post soon started doing rounds on social media, resulting in massive backlash, prompting Ivanka to delete the tweet. Responding to a tweet in which she was asked whether she called the mob 'patriot', she clarified, "No. Peaceful protest is patriotic. Violence is unacceptable and must be condemned in the strongest terms."
Meanwhile, President Trump was censored by the two social media giants, Twitter and Facebook, for his baseless claims about the elections. Besides hiding three of Trump's tweets, the microblogging site also locked his account for 12 hours, stating that the account would stay locked unless he removes the tweets. Facebook also said in a tweet that Trump's page will be blocked for 24 hours for policy violations.
Related news | A constitutional process delayed, thanks to Trump and his mob