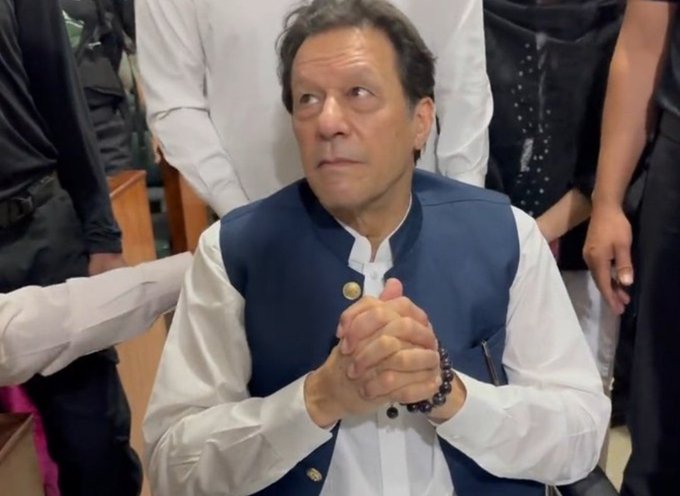 Pakistan was filled with tension on Wednesday (May 10), as supporters of former prime minister Imran Khan rallied across the country, escalating the protests to denounce his arrest that had taken place the previous day.
Defying orders banning the assembly of five or more people, frenzied mobs comprising supporters of Pakistan Tehreek-e-Insaf (PTI) took to the streets in all major towns and cities after the 70-year-old was arrested in Islamabad.
For a second day on Wednesday, Internet services remained suspended in Pakistan in a desperate bid by authorities to prevent the PTI from mobilizing its activists for street protests.
Also Read: Protests rock Pakistan as Imran Khan faces court today; to be in custody for 4-5 days
The PTI has called for country-wide protests on Wednesday, forcing the United States, the United Kingdom and Canada to urge their nationals to exercise extreme caution in Pakistan.
In Punjab, a PTI stronghold, authorities ordered all schools and colleges to shut on Wednesday.
Pakistan bourse
The Pakistan Stock Exchange (PSX) shed 135 points in trading by 11.27 am on Wednesday, reflecting widespread concern in the business community over escalating political turmoil in the country.
The government justified the cricketer-turned-politician's arrest even after coming under widespread criticism for using the paramilitary Pakistan Rangers to take away Imran Khan from the Islamabad High Court when he reached there for a hearing on a corruption charge – one of numerous legal cases he is battling.
Imran Khan resigned as prime minister in April last year after losing a vote of confidence in parliament. But his popularity since then has soared, giving sleepless nights to the ruling coalition.
Also Read: Imran Khan arrest: Supporters storm Pakistan Army headquarters
PTI, his party which remains popular across Pakistan, has vowed to challenge the arrest in the Supreme Court. It dubbed Imran Khan's detention an example of "rising fascism" and said the government had crossed the "Red line".
The protests against Imran Khan's arrest on Tuesday spread so fast that at some places the police and paramilitary personnel had to beat a hasty retreat in the face of determined crowds.
Street violence
On Tuesday, PTI supporters armed with batons even targeted the installations of security institutions including the General Headquarters of the Pakistan Army, reflecting widespread anger against the military which Imran Khan has been criticising publicly in recent times.
Protests and violence were reported from many places including Lahore, Peshawar, Quetta, Karachi and Rawalpindi. The PTI said two people were killed in the security crackdown.
Geo News reported that at least three people were killed in clashes and that several properties and vehicles were destroyed.
Also Read: Imran Khan arrest: Supporters storm Pakistan Army headquarters
The Islamabad police said the hearing of Imran Khan's case will be held at the heavily-guarded Police Lines area in Islamabad instead of the District Courts Complex.
The PTI chief's legal team on Wednesday was denied permission to meet him ahead of the hearing.
Hours after the arrest, PTI Vice Chairman Shah Mahmood Qureshi convened a meeting of the "emergency committee" to review the situation from every aspect and announce a comprehensive plan of action.
Qureshi said in Karachi that the arrest was connected with the London visit of Prime Minister Shehbaz Sharif, alleging that it was a pre-planned attack by the government on the former premier.
Anger in London
In London, PTI supporters gathered outside Avenfield House, the Park Lane residence of PML-N supreme leader Nawaz Sharif, the former prime minister and brother of the current prime minister.
The United States has called for respect of democratic principles and the rule of law in Pakistan.
The European Union called for restraint and cool-headedness.
The United States, the United Kingdom and Canada issued new travel advisories for their citizens citing political unrest following Imran Khan's arrest, media reports said.
Also Read: Imran Khan faces 120 cases throughout Pakistan on various charges
The US Embassy in Islamabad cancelled consular appointments for May 10 due to "political traffic disruptions and restrictions".
American citizens have been advised to exercise heightened vigilance and avoid locations with large crowds.
The UK Foreign Commonwealth and Development Office advised their citizens to avoid all political demonstrations, large crowds, public events and be prepared to change plans as necessary.
The Canadian government warned: "There is a threat of terrorism, civil unrest, sectarian violence and kidnapping."
(With agency inputs)