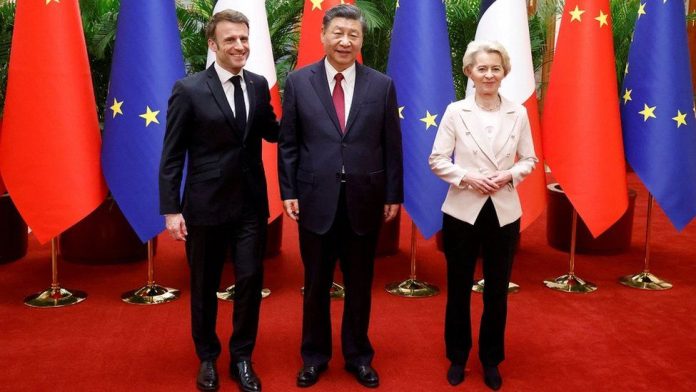 French President Emmanuel Macron has said that Europe must reduce its dependency on the United States and avoid getting dragged into a confrontation between China and the US over Taiwan issue.
The remarks follow a three-day state visit to China by Macron and other EU officials which included a meeting with Chinese President Xi Jinping. Among other issues, the leaders discussed tensions around Taiwan and Russia's invasion of Ukraine.
Reiterating his calls for the EU to maintain an independent foreign policy in an interview for a French business daily, Macron said, "We don't want to get into a bloc versus bloc logic," arguing that Europe "should not be caught up in a disordering of the world and crises that aren't ours."
Also read: China backs Putin's new foreign policy, says 'ready to boost ties with Russia, India'
'Escalation in Taiwan not in EU's interest'
Macron stressed that an escalation in Taiwan was not in the EU's interest. "The question asked of us Europeans is the following: Is it in our interest for there to be acceleration on the topic of Taiwan? No. The worst thing we Europeans could do would be to be followers on this topic and to adapt to the American rhythm and a Chinese overreaction. Why should we go at a rhythm chosen by someone else?"
Referring to the EU maintaining an independent foreign policy line, Macron stressed what he considered to be the need for the EU to develop "strategic autonomy," reported DW News. "Europe hadn't built this strategic autonomy for a long time," he said. But "now the ideological battle has been won. Five years ago, strategic autonomy was a pipe dream. Now everyone is talking about it," he said.
Xi Jinping and the Chinese Communist Party have enthusiastically endorsed Macron's concept of strategic autonomy and Chinese officials constantly refer to it in their dealings with European countries.

Also read: Chinese President Xi Jinping to visit Russia for talks with Putin next week
Bid to bring peace in Ukraine draws blank

Meanwhile, Macron's high hopes of making Chinese President Xi Jinping commit to pushing Russia to end the war in Ukraine didn't exactly pan out as he had expected. Macron's repeated attempts to elicit a response from Xi weren't devoid of diplomatic gaffe.
Macron took roughly twice as long as Xi – a protocol faux pas – which was noticed by the Chinese side. Xi himself at times looked impatient and annoyed as Macron continued speaking. "The Chinese leader heaved several deep sighs and appeared uncomfortable as Macron addressed him directly while apparently ad-libbing on the Ukraine war and their joint responsibility to uphold peace," said media reports.
On Ukraine, the Chinese state media said the two sides have expressed "support for all efforts to restore peace in Ukraine based on international law and the purposes and principles of the UN Charter".