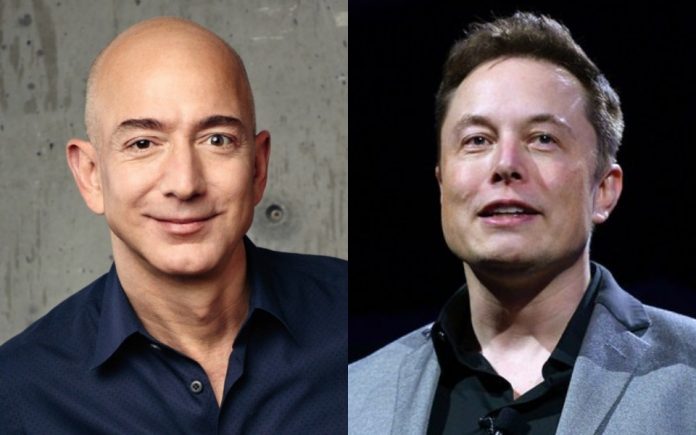 American internet entrepreneur, industrialist, media proprietor, and investor — Jeff Bezos — is not just very rich but "obscenely wealthy". The net worth of Amazon.com Inc. founder went past $200 billion on Wednesday (August 26) as shares of the e-commerce giant rose to a record.
The move pushed his former wife Mac Kenzie to the brink of becoming the world's richest woman, just behind L'Oreal SA heiress Francoise Bettencourt Meyers.
And engineer, industrial designer, technology entrepreneur and philanthropist — Elon Musk — became a centibillionaire. His Tesla Inc. shares rebounded on Wednesday, shooting his net worth to $101 billion, according to the Bloomberg Billionaires Index, a listing of the world's 500 richest people.
The gains by Bezos (56) and Musk (49) indicate wealth accumulation at a time of extreme economic uncertainties, defined by surging markets and catastrophic human and economic loss. The world's 500 richest people have gained $809 billion so far this year, a 14% increase since January, even as a global pandemic caused a record drop in gross domestic product and millions of lost jobs, the report said.
Tech companies boosted the S&P 500 and Nasdaq Composite indexes to new highs for a fourth straight day, buoyed by news that the Federal Reserve is likely to keep short-term interest rates near zero for at least five years.
As the rich got super-super rich, a company has emerged that gives you the exact numbers, as they apply to Bezos and 14 other tech moguls. The company says it uses data on salary, bonuses, earnings from equity and other forms of compensation from 2019 SEC filings to let you calculate just how quickly people like Zuckerberg of Facebook, Susan Wojcicki of YouTube and Reed Hastings of Netflix could pay off all of your expenses.
The data would tell you the 15 best-paid CEOs have a combined annual income of over $83bn — which is greater than the entire gross domestic product of several countries.
Related news: Black lives matter: How Amazon's Jeff Bezos schooled an angry customer
The World Social Report 2020, published by the UN Department of Economic and Social Affairs (DESA), shows that income inequality has increased in most developed countries, and some middle-income countries, including China with the world's fastest growing economy.
The challenges were mentioned by UN chief António Guterres in the foreword, in which he states that the world is confronting "the harsh realities of a deeply unequal global landscape", in which economic woes, inequalities and job insecurity have led to mass protests in both developed and developing countries.
"Income disparities and a lack of opportunities", he said, "are creating a vicious cycle of inequality, frustration and discontent across generations."
Related news: Face to face with future: Elon Musk, the dream architect
The study shows that the richest one percent of the population are the big winners in the changing global economy, increasing their share of income between 1990 and 2015, while at the other end of the scale, the bottom 40 per cent earned less than a quarter of income in all countries surveyed.
The inequality has sparked off sharp reactions from politicians and critics. American Senator Bernie Sanders earlier this month introduced legislation to tax 'extreme' wealth gains during the coronavirus crisis.
"We cannot continue to allow billionaires like Jeff Bezos and Elon Musk to become obscenely rich while millions of Americans face eviction, hunger and economic desperation," Sanders said in a statement. "It's time to fundamentally change our national priorities."