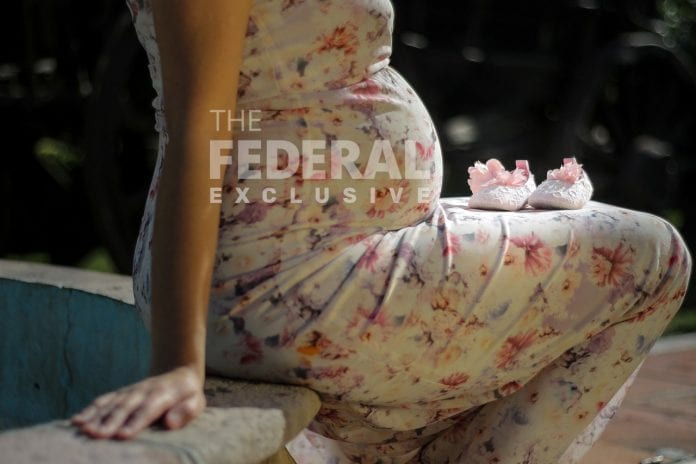 Indian authorities failed to keep track of almost 40 lakh pregnant women and 47.5 lakh new-born children during the nationwide lockdown imposed in late March to stem the spread of the coronavirus pandemic.
That's just 24.05 percent of the estimated number of pregnant women and 17.47 percent of newborns on a pro rata basis. In other words, 76 per cent of pregnant women and 83 per cent newborns didn't figure in government data sheets in these three months.
For perspective, India records an estimated 2.7 crore pregnancies every year. Of these pregnancies, 1.61 crore were registered with health authorities as of March 2020. However, the number of registered pregnant women was just 12.6 lakh as of June 12. (The Ministry of Health and Family Welfare has started updating the numbers now. According to it, the number stands at 18.2 lakh as of June 30.)
According to data accessed by The Federal from sources in the Ministry of Health and Family Welfare, a drastic decline was seen in the registered number of pregnant women and child births since the imposition of the lockdown in several states.
India had an estimated 2.45 crore children in the age group of 0-1 years, according to last year's figure. Of these, as many as 1.4 crore children were registered with health authorities. This number slumped to only 8.3 lakh as of June 12. (Ministry website shows this number rose to 12.2 lakh as of June 30).
Read: How lockdown spun medical nightmares for expectant mothers
The data highlights the problems pregnant women and newborns faced during the world's largest and harshest lockdown to battle the pandemic.It is also yet another indication of how little preparation the government had made to tackle the problems people could face when Prime Minister Narendra Modi said on the evening of March 24 that the lockdown would begin just four hours later.
Maternal health services went from bad to worse as the country went into the lockdown.
Volunteers working for non-COVID patients say most of the activities related to non-COVID medical conditions like family planning programmes, vaccinations, and antenatal care were put on hold during the lockdown. All ASHA and Anganwadi workers—who are the primary care providers to pregnant women and newborns—were overloaded with work in the battle against the virus.
So, nobody knows what happened to the rest of the pregnant women in the country. Did they deliver their babies at home? Did they get medical care on time? For the time being, nobody knows. Several cases of medical negligence involving women in need of antenatal care during lockdown have been reported from across states. With medical staff engaged in the fight against coronavirus, many pregnant women were either refused treatment or admission to hospitals. Many others failed to reach hospitals on time due to non-availability of ambulances, leading to their death or that of the foetus. In the absence of health care, many chose to deliver their babies at home.
The case of infants is scarier. It is not known whether the newborns (since April) have received vaccination and other required emergency medical care. The country does not even know how many of them have survived.
The states with worst registration numbers are West Bengal, Telangana, Madhya Pradesh, Jharkhand, Bihar and Uttar Pradesh. States like Kerala and Karnataka, however, have kept their numbers high, indicating that their maternal and infant health care system remained effective.
"This is very problematic. Going by this data, we are forced to assume that these pregnant women have been denied antenatal care," said Sandhya Gautam, director, Seher, and coordinator of National Alliance for Maternal Health and Human Rights, a collective of civil society organisations working for maternal health.
Read: Priyanka, Akhilesh slam UP govt as pregnant woman dies in ambulance
There are, she added, several central and state schemes like the Janani Suraksha Yojana providing incentives to pregnant women. "This data shows that a brutal majority of pregnant women are being denied the benefits of such schemes."
Who did well and who did not
The MoHFW data also points to a paralysis of the system in Bihar, Telangana, Uttar Pradesh, Madhya Pradesh and West Bengal, where the registered number of pregnancies and childbirth have been very low since the lockdown. From April 1 till June 10, Bihar has registered only 5 per cent of the estimated number of pregnant women and that of newborns. The numbers are 2.28 per cent and 1.17 per cent respectively for Telangana. Uttar Pradesh has registered only 11.68 per cent of the estimated number of pregnant women while recording 10 percent of the child births. Madhya Pradesh recorded 3.3 percent pregnant women and child births each.
The case of West Bengal is simply bizarre. The state has zero recordings pertaining to the estimated figures.
The silver lining is that states like Karnataka and Kerala, which have had a consistent history of good performance in maternal and infant care have managed to keep their records impressive. Karnataka recorded 74 per cent of the estimated pregnant women and 59 percent of childbirth amid the pandemic. The same is 74 per cent and 68 per cent for Kerala.
(For a more detailed story, read The Eighth Column here)