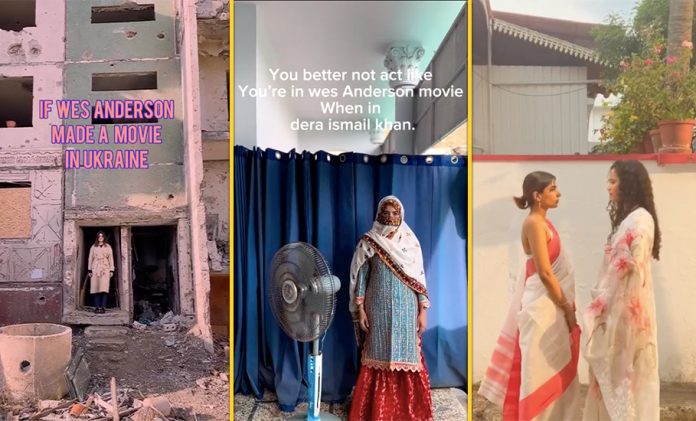 A surge of bright pastel colours, symmetrical frames, and deadpan faces has started flooding Instagram, welcoming users to the cinematic universe of Wes Anderson. Instagrammers are successfully replicating the distinctive visual style of the American filmmaker, using it as an opportunity to romanticize the mundane.
By employing Anderson's aesthetics, they create their own 25-second mini-movies, starring as the protagonists of their everyday lives. A girl's reel showcases her life in war-torn Ukraine. A woman navigates her day in the city of Dera Ismail Khan in Pakistan's Khyber Pakhtunkhwa. Two women, dressed in white and red floral sarees, go on a coffee date in Kochi. All of them have intentionally 'Anderson-ified' their lives in an alluring manner.
The trend was kicked off by Ava Williams, a 26-year-old photographer from Brooklyn. In early April, Williams crafted a TikTok video of a train ride from Connecticut to New York in Anderson's style. It features deadpan stares into the camera with quick shots of her sneakers and a ticket snub, weaved with the melody of Obituary by Alexandre Desplat, which was used in Anderson's latest film The French Dispatch (2021). Her quirky tribute to Anderson garnered millions of views within a few days. These fascinating elements were tossed in by other people on Instagram while featuring the dullest parts of their day. Gradually but effectively, Indians and other people from around the world also picked up the tune and started to reimagine their lives in Anderson's flair.
As Instagrammers harness their creativity to emulate Anderson's unique style, our curiosity is piqued to discover more about the mastermind behind this iconic aesthetic. Anderson's distinct template is so specific, so unmistakably his own, that he has transcended traditional genre boundaries and become a genre of his own.
His films are a whimsical journey through a meticulously crafted world of bold colours, meticulous symmetry, and dry wit. The Instagram community has eagerly embraced this enchanting visual language to add their own unique flair to their feeds.
The absurd style: Establishing a distance with his viewers
Along with symmetrical shots and sets that can leave architects shaking their heads in awe, watching Anderson's movies is akin to watching a recording of a staged play. But it's not just the sets that evoke a theatrical feeling; Anderson employs a range of techniques such as zoom ins and outs, whip pans, repetitive actions, rhythmic dialogues, linear movements, meta-narratives, and characters straight out of absurdity to create a wholesome theater in his films.
Also read: Dahaad review: A perfect antidote to toxic propaganda, unveils truths of our times
This theatrical distance between us and the screen embodies something that is experienced throughout humanity: loneliness. The distance is shoved on viewers' faces to say: you're not a part of this film. It is also to show that inside these ordered and flat frames, symmetrical buildings and often witty characters, feelings of innate chaos, emptiness and loneliness are buried — which creates a wry contradiction — and follows utter absurdity in his films.
You might find the previous sentence a bit lengthy and perplexing, but that's precisely how Anderson's films can feel at first. His dialogues are fast-paced, at times wordy, and may require some effort to grasp initially. However, why would a director deliberately make films that can be difficult to comprehend?
In an era where most filmmakers strategise to break the fourth wall — to remove any distance between viewers and screen — to make films feel believable and as real as possible, Anderson makes a deliberate effort to create a larger distance between the film and the audience. His dollhouse-like sets and unrealistic characters do not adhere to naturalism — giving a feeling that the film is constructed, a fantasy and unlike reality even if the plot seems plausible.
The states of loneliness
Most of Anderson's characters suffer from different states of loneliness. Let's pin The French Dispatch on board. Popularly claimed as the prime example of his style until now, the film finds a unique way of telling the story of its many characters with no protagonist per se. The film flips through the pages of a magazine known by the same name as the film. It visualizes three stories written by three exemplary journalists based on the citizens of the fictional French town called "Ennui", a word which translates to an extreme sort of weariness.
In the beginning, the magazine introduces viewers to the city of Ennui through its Local Section and narrates how the Editor-in-Chief came to found a publication that curates stories from around Ennui for each of its major sections: arts and artists, politics/poetry, tastes and smells. While the three stories have nothing in common, they all explore loneliness at its core. The loneliness of a creative profession.
Also read: Saas, Bahu Aur Flamingo review: Homi Adajania's latest blends crime with soap opera
In the first story, a modernist artist named Moses Rosenthaler (​​Benicio del Toro) falls in love with a female guard within the confines of isolated prison walls. Rejected by her, Moses sinks into despair and by the force of the unbearable pain of loneliness, he cements the guard by painting her on the prison walls.
In the second story, journalist Lucinda Krementz (Frances McDormand) covers the youth movement advocating for the right of access to girls' dormitories for all male students. However, when students find out that she has helped the lead student protester in making revisions to their manifesto, she is told to maintain journalistic neutrality and is outcasted from the narrative of student politics.
Journalistic neutrality, thus, serves as a metaphor for the distance that journalists must maintain for the sake of fairness. They must observe without getting too close. Thus, loneliness encompasses the act of distanced observation. In a poignant black and white frame, a tear drops from Krementz's eye, cleverly portrayed as tear gas by Anderson, masking her sadness. She declares, "Take me at my word: I live by myself on purpose. I prefer relationships that end. I deliberately choose to have neither husband nor children — the two greatest deterrents to any woman's attempt to live by and for writing." Despite the pain of alienation from the world, she chooses to live alone in order to alleviate her writing.
The last story is written by a companionless immigrant journalist, who was once behind bars. In an interview, he's asked why he chooses to write on food more than anything else. His reply: "I have so often shared the day's glittering discoveries with: no one at all. But always, somewhere along the avenue or the boulevard: there was a table. Set for me. A cook, a waiter, a bottle, a glass, a fire. I chose this life. It is the solitary feast that has been very much like a comrade, my great comfort and fortification."
He yearns for companionship but when his identity and profession do not allow for it, he resorts to one of humanity's essential needs: food. He shares his life with food because it provides him with unconditional acceptance, and an escape from his profound loneliness.
The misfits
Amid these whimsical sets, Anderson weaves tales of individuals who don't fit in and feel like outcasts in society. In his film The Grand Budapest Hotel (2014), we witness another immigrant protagonist's story. Zero (Tony Revolori), a young refugee, is appointed as a lobby boy in a prestigious hotel. He finds a mentor and brother in the hotel's owner and falls in love with a woman, who works at a nearby bakery. However, tragedy strikes as the hotel owner and his lover pass away, leaving Zero to grow old and lonely, recounting the chaotic story of his adventures in the poised and orderly sets.
In The Royal Tenenbaums (2001), Anderson presents another example of a neatly ordered and humorous world that masks underlying melancholy. The film follows the story of three gifted siblings — Chas, Margot, and Richie — who have grown up to be lonely, separated from each other, and disturbed because of their dysfunctional family traumas.
Also read: Pico Iyer broadens the idea of paradise, shows we are all bound up in our humanity
As adults, Chas is overprotective of his children, saving them from the world he finds terrifying, due to his own anxieties. Adopted Margot, who is deeply depressed and has chopped one of her fingers, has been secretly smoking since she was 12 years old. Richie feels lost in the world and even attempts suicide. Only when they reunite after many years apart do they find the possibility for them to be truly content.
The stories of lonely selves
Anderson values a sense of belonging in society and sympathizes with people who do not have one. His use of candy-floss-structured frames mask the stories of disorderly and eccentric people; it is a tool to give us a taste of their loneliness in comic reliefs. Through his intricately ordered sets, dialogues and his protagonists' rigid body language, he creates distance between the audience and the characters: watching the characters feel disconnected from the world around them evokes in us a sense of detachment from the film.
Anderson's template not only provides a feel-good experience but also serves as a façade that both conceals and reveals the nuances of a relatable human emotion. The trailer for his upcoming film, Asteroid City (2023), set to release this June, suggests that Anderson will once again use his vibrant and classic motif to explore the conditions of the misfits. His fans eagerly anticipate Anderson's latest offering, eager to be swept away on another enchanting journey — filled with whimsy and introspection — that will leave them thinking about the complexities of the human experience long after the credits roll.