One of the most well-known writers in Tamil literary world, Thoppil Mohamed Meeran, breathed his last on Friday at 1.20 am at his home in Tirunelveli, after a brief illness. He was 75 and is survived by wife and two sons.
Born on 24 September 1944 in Thengapattinam, a small hamlet near Marthandam, Kanyakumari district, he did his schooling in Malayalam medium. From the early days, he was influenced by the works of Malayalam writers like Vaikkom Mohammed Basheer, Thakazhi Sivasankaran Pillai and MT Vasudevan Nair. However, it was Basheer who had a greater influence on him.
Meeran's first short story in Tamil was published in a Chennai-based magazine called 'Pirai' in 1968. Titled 'Naragabhoomiyil,' it was originally written in Malayalam, and then translated into Tamil by Nilamudeen. In 2018, that story celebrated its 50th anniversary. One of his Tamil short stories titled 'Thalaikkulam', has been included in the new syllabus for class 12 in the Tamil Nadu State Board.
Meeran began writing in Tamil language only in the early 90s, when he got introduced to various themes of writing in Tamil through the novels of Ki Rajanarayanan and Sundara Ramasamy. "Until then I was dictating in Tamil for someone else to write," he had said in one of his interviews.
He was the first writer, who portrayed the lives and culture of Muslims, in Tamil literature. His debut novel 'Oru Kadalora Gramathin Kathai,' published in 1988, spoke of the fall of a Muslim family, set in pre-independence period. He often mentioned that the novel was based on the story his father narrated to him in childhood. Initially serialised in a magazine called 'Muslim Murasu,' he published the series in a tome spending from his own pocket, since all the publishers he approached rejected it. The book later transcended from being just a novel into an ethnographic study of olden day Tamil Muslims of Kanyakumari district.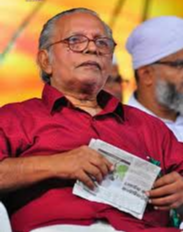 After the novel's publication, many equated Meeran to his own literary idol Basheer, since the latter also wrote about Muslims in his stories. Most of his writings were based on true incidents. "I wrote about violence that broke out in 1962 between fishermen and Muslims in our region. I wrote that in Malayalam, adopting a magazine reporting format and sent it to various Malayalam publications. But no one was keen on publishing it. However, Malayalam writer KG Sethunath and Mollywood actor Karamanai Janardhanan lauded the work and called it 'the best novel.' After 25 years, it was published as 'Koonan Thoppu' in 1993 in Tamil," he had said in the interview.
He always condemned Islamic fundamentalism in his writings. As a result, he was opposed by his own community. In 1997, he was awarded the Sahitya Akademi, for his fourth novel 'Saaivu Naarkaali.' He was the first Tamil Muslim writer who received the award. He has published 22 works that include short story collections, novels and translations. The novel 'Kudiyetram', which was published in 2018, was his last work.