KK Shailaja's autobiography, My Life as a Comrade: The Story of an Extraordinary Politician and the World That Shaped Her (Juggernaut Books), falls short of what could have been a fascinating life story of a female communist leader in contemporary India.
In 2021, when the CPI(M) leadership in Kerala decided not to repeat any ministers barring the chief minister in Pinarayi Vijayan's second cabinet, the social media and civil society ecosystem was enraged over the exclusion of a single name. KK Shailaja, the former health minister of Kerala, who gained significant attention and praise during her tenure for her handling of the Nipah virus outbreak in 2018 and the COVID pandemic, was the centre of attraction. She was widely hailed as a "rockstar" and received international recognition for her effective crisis management. She was given no special consideration by her party.
After two years, "Shailaja Teacher", as she is fondly called, reminisces about the party's decision to drop her in the autobiography, co-written with Manju Sarah Rajan.
"I've been asked many times since that election whether I was disappointed about not being part of the second LDF cabinet in 2021. I wasn't particularly surprised or concerned about the seat in the cabinet but it had been my dream to complete the process of renewing the health sector, and I was concerned that perhaps those changes would be left incomplete. It takes more than one term to finish a task as large as the one we'd undertaken. How can you revamp an entire system in less than five years on a shoestring budget whilst also fighting multiple public health crises? You can't, but you can start and hope that others keep the process going, follow the plan and finish the job. These are essential societal changes and a governmental responsibility. Since Kerala still has an LDF government, the modernisation drive we started in 2016 will continue and a vast metamorphosis will occur in Kerala's public healthcare system.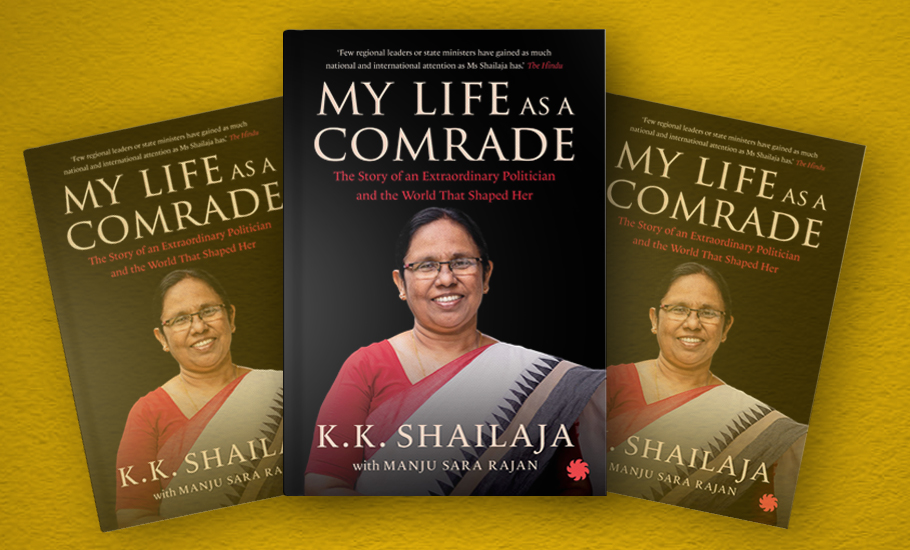 "Generally, I don't feel possessive about positions, or any circumstance of my life. Everything changes, and you must adapt. If I didn't adapt, I wouldn't be where I am today. I am an ordinary woman, but my philosophical roots are very strong.
"They are not shaken by the actions of others and the ebb and flow of politics. I understand that people are perplexed by my reaction or lack thereof. But my perspective is entirely different.
"So today, when I think of the opportunities that have come my way, I am truly grateful that I could be useful. I believe all political workers have stories like this. I put down my experiences in the hope that new people coming into the world of political work will find something of use in my anecdotes," writes the 66-year-old central committee member of the Communist party of India (Marxist).
Also read: How Kerala activist Rehana Fathima uses her body to battle patriarchy
This is how she looks at the decision to turn down the Magsaysay award that came her way in 2021.
"As the face of the 2016–21 health department in the Kerala government, I am proud of the work we did and the accolades we're offered, even when I turn them down. As happened with the Ramon Magsaysay Award. On 29 July 2022, I received an email from the Magsaysay Award committee in the Philippines, telling me I had been chosen as one of the four award winners for 2022. As a member of the Party Central Committee of the CPI(M), I discussed this development with my colleagues, and it was decided I should turn down the award for various political reasons. So, indeed, that is exactly what I did. In situations like that, when public and political considerations seem to pull in opposing ways, I like to remember what Mother Teresa once said: 'If you are humble, nothing will touch you, neither praise nor disgrace because you know what you are.'"
Born in a family of local communist party workers and under the great influence of grandmother M K Kalyani, a woman who stood up for the rights of the downtrodden, Shailaja finds inspiration in the work done by her Ammamma (maternal grandmother) during the small pox epidemic of the 1940s.
The book has a very touching narration of her grandmother Kalyani who dared the system and disregarded her own health to tend to the small pox patients who were abandoned to death by the entire society.
"Starting in the 1940s, the Communist Party held classes to teach people how to deal with this infectious disease. EMS, AKG, Krishna Pillai and N E Balaram frequently visited Kannur at that time and spoke on the subject. The party discussed smallpox (vasoori) in scientific terms, as a communicable viral disease, and the possible ways to prevent its spread. Party workers demonstrated the way to care for patients, how to administer food and water, and how to take precautions while handling clothing and other basic measures."
Shailaja makes a detailed description of how her Ammamma tended to and treated a 20-year-old local labourer called Koran and saved him from death using the information she picked up from the party classes.
"From the moment I accepted the job of minister for Health, Women and Child Development and Social Justice in Chief Minister Pinarayi Vijayan's government in 2016, I was conscious of the responsibility I was taking on. Especially as a woman. Because if one of us does a bad job, people criticize our entire gender. So, I felt this strong conviction that I had to make sure these portfolios made a significant contribution while under my watch, and that we put science — rather than biases and fears — at the forefront," writes Shailaja Teacher in the epilogue of the book.
Also read: Kerala doctor murder: State govt to issue ordinance amending hospital protection law
However, even when she discusses the initiatives made by the Women and Child Development department (which was established during her tenure as minister), such as the campaign against the menstruation taboo in the wake of the Sabarimala controversy, the actress attack case, and organising night walk events to raise awareness about women's right to be in the public regardless of time, and obviously a number of other initiatives, her book as a whole doesn't reflect this sense of womanhood any deeper than a conventional Marxian take of feminism.
It should be noted that the other seemingly feminist initiatives undertaken by the WCD, which smash patriarchy as the central theme, have been somewhat ignored in the book, aside from a few very passive references, despite the fact that issues like Sabarimala women's entry have been mentioned.
The book, which has 14 chapters and talks about her life from being a young communist leader to becoming an administrator with international acclaim, falls short of capturing any political or critical insights into the development of Kerala's politically imaginative society. When analysing social and political realities, she is neither critical nor does she delve deeply into anything outside the party narrative.
In addition, it seemed glaring to me as a reader that neither the majoritarian government and its policies at the Centre nor the Hindutva politics that dominate the nation are discussed. This is one area where the book falls short of its politics given that it was written by a top communist leader of the country.
My Life as a Comrade has the potential to be a fantastic work of life but it falls short of being a groundbreaking work of political literature or a fabulous life story. It is a missed opportunity to capture the story of a remarkable woman who has made a significant impact on Kerala.