Munawar Faruqui turns 30 on January 28, a day after his judicial custody in Indore comes to an end. On the other hand, a UP court waits to take him into custody in connection with a case filed in April 2020. All of this began with a show that was interrupted before it started and for jokes, the audience confirms, he did not crack. As per the dates on his tour schedule, released earlier this year, Munawar was due to perform in Chennai on January 16. The metros weren't his only stops and Faruqui's tour, which began in November, included several tier- two and -three cities.
Also read: Kamra should be proud; he could join a long list of persecuted satirists
The comedian arrived on Mumbai's chequered comedy scene as late as in 2018, through a series of open mics. He grew up in Junagadh city of Saurashtra region in Gujarat and first came to Mumbai, 13 years ago, after his mother's death. Comedy wasn't part of the plan. His stint in the city was dotted by many odd jobs, at a utensil store in Dongri and as a peon in a graphic design studio and eventually an internship at a comedy club.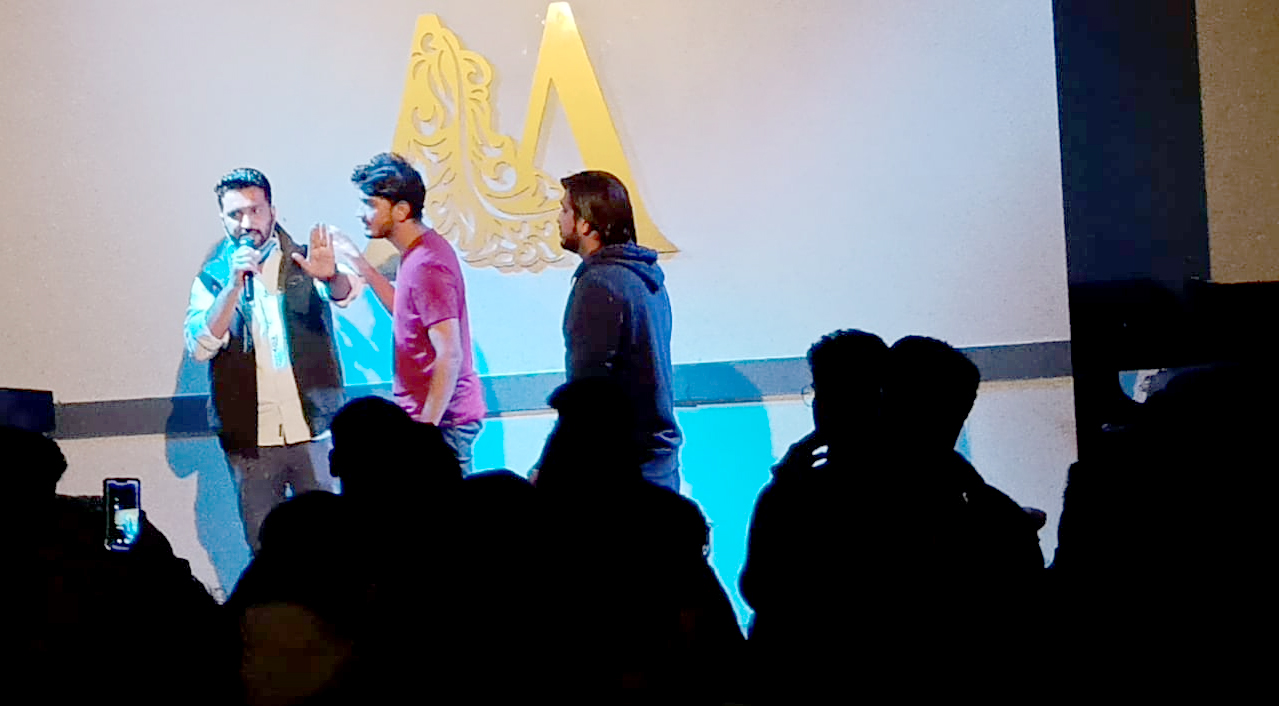 "He knew no Hindi or English and spoke only Gujarati. He had done so many odd jobs that he knew something about every kind of business. When he was a peon, he took up a course in graphic design. On a day the firm's designer was on leave, Faruqui filled in and began working as a graphic designer thereon. He used to watch comedy videos then, especially those by comedian Anirban Dasgupta," says Sagar Punjabi, who hosted Faruqui's first open mic night in September 2018.
Advertisement
Also read: No apology, no fine: Kunal Kamra responds to contempt charges
It was the beginning of his eventful career in comedy and of a friendship. "We did shows together. Both of us were emotional people. Over the next few months, a bond developed," Punjabi recounts. Fellow comedians Saad Shaikh and Anish Goregaonkar soon became a part of this close-knit group. They featured together in the video titled 'Dowry (Dahej) I Veg Biryani – Episode 1', released on Faruqui's YouTube channel, three months ago. Here, they used humour to talk about dowry in the Indian society, taking a jibe at it from across traditions and regions. It ends in a song that three of the four performers sing.
Shaikh breaks it down. "There are two kinds of comedians in Mumbai, ones who perform in certain upscale neighbourhoods and others who perform everywhere. We belonged to the second category and would perform everywhere from Khargar to Borivali," he said.
In his videos, Faruqui speaks freely and extensively about his Muslim identity and the community… something very few Muslim comedians do. "Life in his hometown, Junagadh, and people from the region were a recurring theme in his sets. He made the dialect sound cool. People could relate to him, but he did not want to be bracketed as a 'Muslim comedian', so he diversified his material eventually," explains Shaikh, adding that Faruqui has been a quick-learner and hustler all his life. "He was the fastest among us to build a one-hour-long set."
On January 1, all three friends heard of his arrest, through social media and phone calls, and were deeply shocked. Another close friend, Laveena Manwani, a Pune-based lawyer, had not heard of the arrest until January 3. When she did, she flew to Indore and has been the only person to have met him while in custody. "We were wearing masks but the look in his eyes broke my heart. He said to me, 'The show didn't happen and I've done no wrong'. I've never seen him so bereft and vulnerable," Manwani said.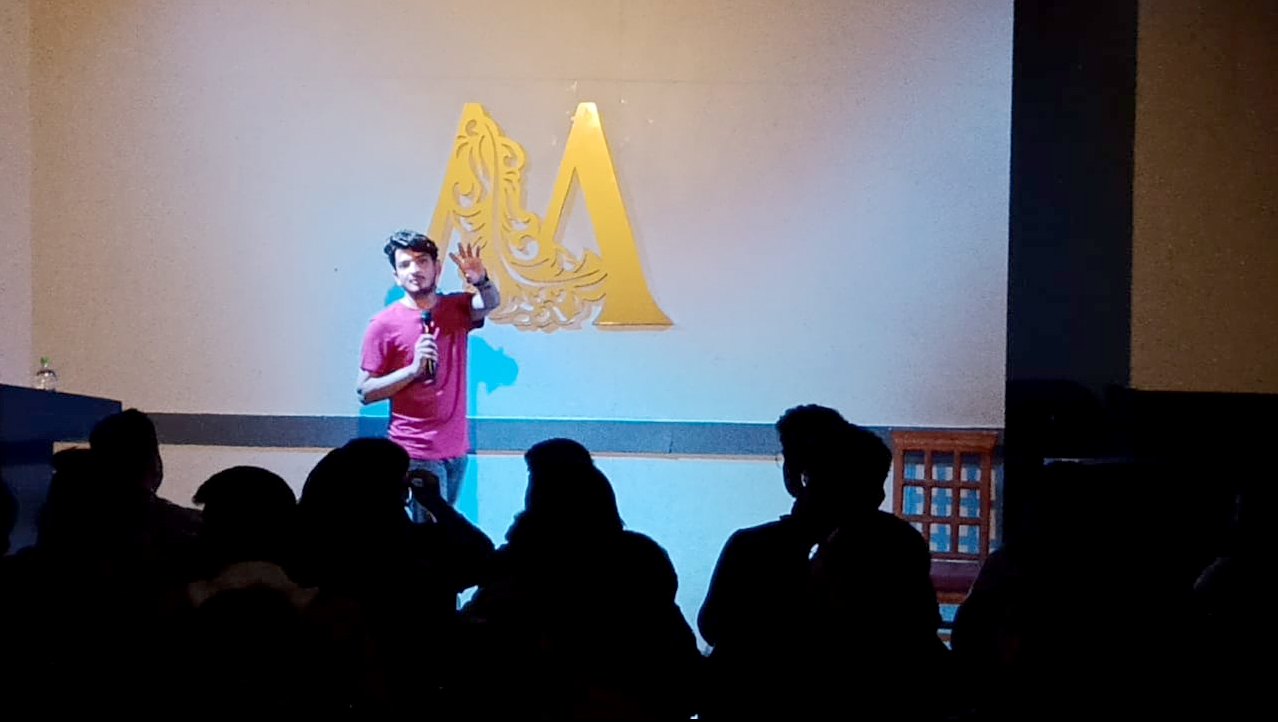 On the evening of January 5, when Faruqui was denied bail by the Sessions Court in Indore, the three friends (Shaikh, Goregaonkar and Punjabi), on a conference call, broke down. Once he returns, a lot is going to change, they admit. "For one, we are always going to look at the number of exits at a venue," says Shaikh, referring to Indore's Café Munroe where the fateful performance was due and its single exit.
On the day, seen in videos shared by audience members, Faruqui is reasoning with Aklavya Singh Gaur, convener of right-wing outfit Hind Rakshak and son of BJP MLA Malini Singh Gaur, ahead of his scheduled performance. He goes as far as assuring an accusatory Gaur that he wasn't there to hurt religious sentiments and offered to let him watch the show to make up his own mind. Gaur leaves, and in less than five minutes, cops arrive. Faruqui faces arrest with four others that include two Indore-based organisers and stand-up comics — Prakhar Vyas and Nalin Yadav, and a juvenile. A few days later, videos of a sixth arrest circulate on social media and the man was identified as Sadakat Liyakat Khan, a Mumbai resident and Faruqui's friend who had arrived at the show only to throw him a surprise.
Not his first such brush with trouble, Faruqui earlier received flak for a video (Yamraj, Dawood and Aurat) released in April 2020 amid the lockdown. "He was scared with the death threats and hate mails he was receiving. He went off social media for two weeks and wanted to pull down the video," says Punjabi. It was eventually edited to remove the joke that allegedly insulted Hindu gods. In the following video, he also issued an apology.
Now, Faruqui is no ordinary comedian. He achieved viral fame of a million views in a little over a year into his comedy career. "There is a moment in comedy when you find your voice, your motive. He found it early," Punjabi tells us adding that he was open to taking risks, putting his own money into shooting videos and anxious to make his mark in the scene.
The word 'hustler' crops up in several interactions with his contemporaries. Agrima Joshua is one of them. She points out though, that his fame was a result of much hard work and a carefully built audience. "He is like an old school comedian who would travel and test material with audiences. He would then record it and put videos out frequently," she says adding that his appeal surpasses the metros. "Mumbai comics don't always connect with the interiors of the country. No matter where I went, people had heard of Munawar".
Another aspect that distinguished Faruqui in the country's nascent but thriving comedy scene was his treatment of deeply personal, often tragic events. In one of his videos, he talks about the 2002 Gujarat riots that he witnessed as a child in Junagadh. His content is profoundly political without being conscientious. "He isn't doing political satire for the need to be political. A lot of his experiences are deeply personal and authentic. He wouldn't have built this audience if he was faking it," says Joshua who also believes Faruqui belongs to the big league of comedians, like Zakir Khan and Abhishek Upmanyu.
Also read: Kunal Kamra's behaviour not unruly: IndiGo pilot who flew comedian, Arnab
Talking of contemporaries, Balraj Singh Ghai, owner and founder, Habitat and Above the Habitat (Mumbai-based comedy clubs), believes that he actually belongs to a league of his own. "Faruqui is extremely passionate and hard-working. He sings, he raps, and he does comedy. No one else is doing so many things at the same time. He has paved his own way and nobody can take that away from him," he says.
Through several conversations, his friends speak of Faruqui the person, away from his comedy career with fondness and now, a sense of looming despair. Manwani recounts his generous spirit and humility. "Every time we went out and bought something off a street vendor, he would never take change back, however big the amount. There was a time when he worked 13-hour shifts for Rs 60, and it's something he understood," she says. "I also don't remember him ever being morose," she adds. Fan-turned friend, Manwani first connected with him on social media when he was new to the comedy scene. She says that fame didn't change him and he continues to honour every fan request that he can.
Shaikh believes that his reaction to the situation in Indore was also a strong reflection of him as a person. "I felt that his response was both smart and stupid. Smart because he wanted the show to go on and stupid because he put the audience before his own safety," he says recollecting his last call with Faruqui before the arrest. "He called me the previous night and we discussed his material for the show," he says.
During the lockdown, while the world was in disarray and comedy clubs shut, Faruqui used his time and social media clout to raise funds and distribute it to households in his locality. "Each house would then cook one dish and meals would be served to stranded migrant workers," says Balraj Singh Ghai adding that he always remained connected to the ground reality.
Joshua, who was shrouded in controversy last year after having allegedly insulted Chhatrapati Shivaji, remains concerned about the impact persecution can have on the artist's mind and career.  "Nobody wants this. This is not the identity you want to live with," she says.
Faruqui's friends too are at a loss of words about the rehabilitation process he will have to undergo once he is out on bail. "We will first take him to a counsellor," Shaikh says explaining that it is often humour that helps them deal with complex problems. "We joke about everything with each other. That sometimes is the bane of being a comedian," he says.