Natural. Organic. Paraben-free. These aren't just the latest buzzwords for our health but what pet parents are looking for in their dogs' shampoos, food, and treats. And while big brands still claim a lion's share of the market for these products, small and local businesses, fuelled by the social media, are stepping up to the challenge to provide our pets with the best possible lives.
India is home to 23 million dogs and 4 million cats, with 600,000 pet adoptions happening every year, according to a study by Televisory in December 2019. As the fastest growing pet market in the world, India's pet care and food market is expected to grow by 14% annually and eventually become a $490 million market by 2022. As of 2020, the market is valued at $310 million, according to PetEx India with 80% of it made of products for dogs.
A significant portion of the pet market is made of owners looking for better nutrition and healthcare products for their dogs. And while 80% of them (as of 2018) still depend on pet stores and veterinarian clinics to source food and nutritional supplements, smaller online businesses selling organic, natural, and ethical products have created a small but significant niche for themselves. This has been especially true during the pandemic when lockdown enabled people to explore new products and find the best possible ones for their pooches.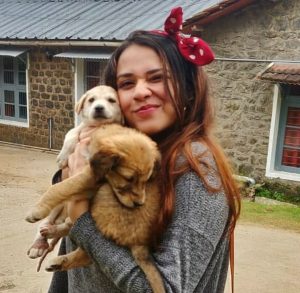 Dhrishti Brahmania, who began 'Happy Puppy Organics' two years ago, has created a line of holistic, paraben-and-fragrance-free grooming products for pets. Although she began selling last year, business has been booming since the pandemic lockdown began.
"There is no regulatory body that checks what goes into dogs' and cats' skin products, and so I began to do my own research, earned certifications, and started creating these products. It was done out of need to support my dog who was struggling with dermatitis," says Brahmania.
"We're the first brand in India to launch a Hemp-based line of products for dogs and it is one of our bestsellers. I wake up to messages from people every day telling me how my products have helped dogs with skin conditions and other issues," she adds.
Related news: Rescued 'desi' pooches walk the ramp at Great Indian Dog Show
As a believer in powerful stories, Chintana Gopinath created 'Back in the Day' around her journey to make sure her lab-rescued beagles lead clean, chemical-free lives. Her Instagram page is alive with customer reviews of Scooby Dub-Dub (tick/flea solution) and Quicky Clean (for natural, fuss-free baths).
"When I was creating my products, I blogged my experiments with finding the most optimal natural tick and flea solution and bathing mix for my dogs, and I had seven of them then. By the time I launched Scooby Dub Dub and Quicky Clean, people who were following me wanted to try them, and we grew organically," she said.
"When lockdown hit earlier this year, more people were at home and had the time and bandwidth to explore these natural solutions and more orders poured in," she added.
Her customer, Priyankaa Vir explains how it has helped her dogs Tara, Jordan, and Bunty. "For years, I bought so many varieties of shampoos for tick/flea issues and odor control, but none of them came close to what Scooby Dub Dub and Quicky Clean have done for my dogs. Their coats are softer, shinier, and tick-free and I use a lot less water for their baths than I used to."
Chintana believes it will take time for people to adopt these natural remedies, as opposed to the commercial ones. "Pet owners need to have a mindset change to explore these options because the results aren't overnight and it takes a little more effort.Our dogs are completely dependent on us to take care of their needs and we have to start thinking about what is going into their bodies."
Dr.Tanaya Pai, a veterinarian from Mumbai, agrees and explains that the extra effort is usually one of the reasons pet parents take longer to adapt to a species-appropriate diet for their dogs.
"Meal prep for natural diets is time-consuming, overwhelming, and often confusing. Of course, there is the 'ick' factor for those of us who aren't used to handling raw meat. So when they are recommended products like Canine India's, which are natural, preservative-free, and locally-sourced, where the owner tests her products on her own dogs and leads by example, they are more inclined to try it. These products are great for daily dietary use, dental hygiene, mental enrichment, and an added plus is the novel protein sources that are useful to dogs with food allergies," she says.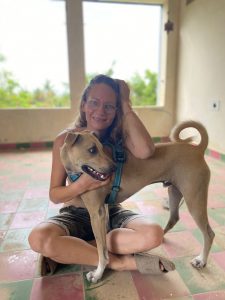 Canine India, started by Julia Pape, sells species-appropriate food, chews, and treats for dogs. A certified canine nutritionist, Julia saw a market for her products when she began to share her knowledge online.
"I started sourcing good meat to feed my rescue Indies. And one day, I thought that I should share my knowledge and posted some dried anchovies on Instagram and wrote about how they help dogs. People started writing to me asking where to source it, how to feed it to their dogs etc. That's when I realised that there are people out there looking for these products," she says.
"I know that raw meat and natural treats are new for people and they are afraid to try it. So, I do some hand-holding and give tips to get them comfortable with the idea. Over time, I have seen people who wouldn't allow fish and chicken in their homes post images of a fully raw diet," she laughs.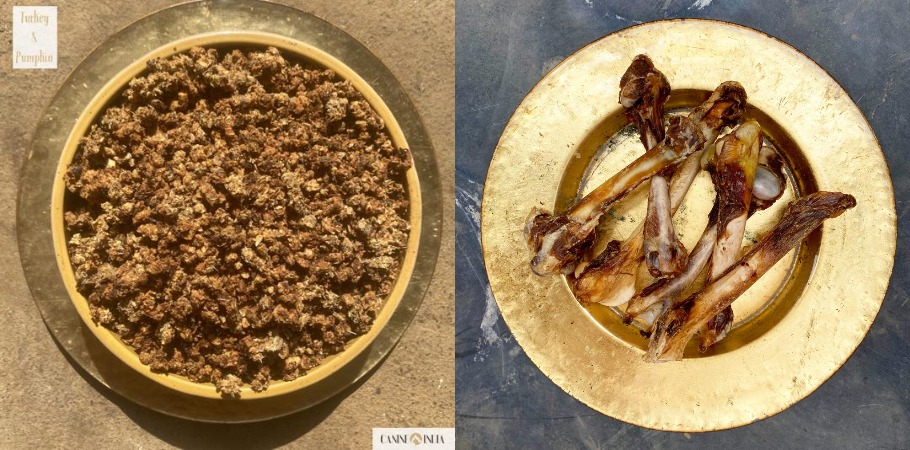 One of those people was Ashritha Siddantham. "We found Julia when we were thinking about feeding our dog, Asher, a raw diet but had no guidance on how to start. She helped us transition, and now Asher's coat and skin are healthier and he has more energy."
When owners make the switch, they are always astounded by the results, according to holistic pet nutritionist Lee Georgina, who runs Georgina's Kitchen in Bengaluru. She develops diet charts based on species-appropriate food, offers nutritional supplements, and posts useful information about diet and nutrition for dogs on Instagram.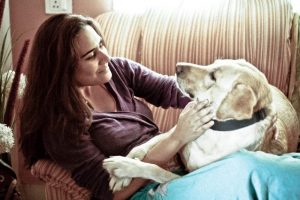 "When I first started, pet owners were convinced that commercial diets are balanced and fresh diets were not good in the long run," she says. "In the last few years, those who were convinced to make the switch, noticed that their dogs are healthier and have fewer skin problems on a fresh diet. They in turn convinced other pet owners to try fresh diets."
"I offer diet plans and nutritional supplements, and also recommend natural products that are preservative-free, have a known source and are created by small, impactful businesses. At the end of the day, my goal is to make sure my knowledge benefits as many dogs as possible," she adds.