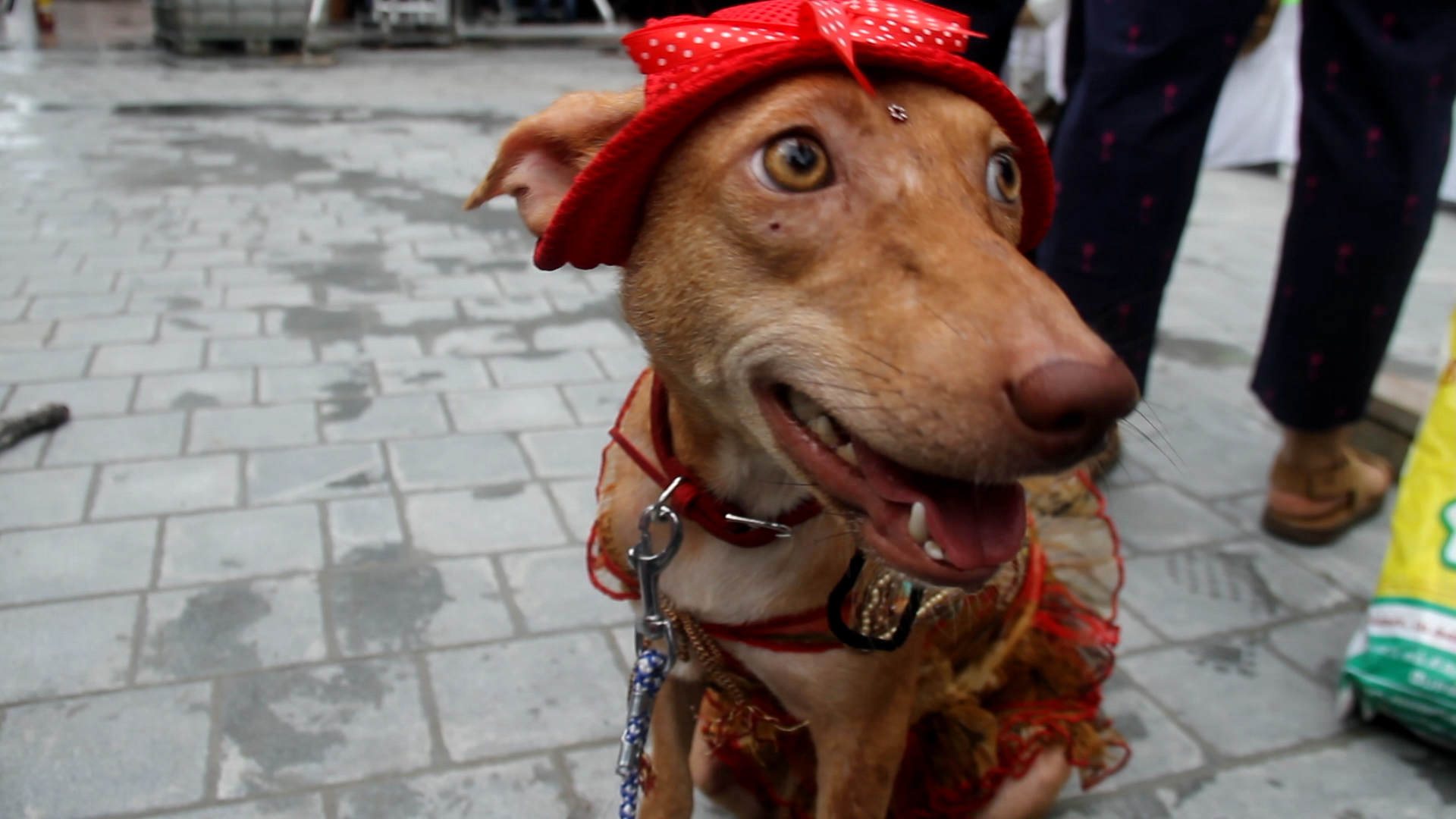 Rescued 'desi' pooches walk the ramp at Great Indian Dog Show
Oola, an Indie dog, was rescued four years ago and diagnosed with carrot disease (skin ailment for dogs). But now, she's no less than a supermodel as she walked down the ramp with her parents, Actor Nakul and his wife Sruthi .
Like her, several of her little furry friends spent a 'pawsome' evening at the 'Great Indian Dog Show', organised by the Blue Cross of India at the Phoenix Mall on Thursday (August 15).
Speaking to The Federal, Sruti Nakul, a baker by profession says, "Oola is a drama queen and an attention seeker. But she's also mumma's little princess. She's a jumper. She can jump really high fences and gates. Even after securing the boundary walls, she once jumped and couldn't come back in and we found her waiting for us to open the gate. She's the happiness we have."
More than 150 dogs walked down the ramp sporting colourful dresses at the 'Indie Doggie' fashion show, with their fellow humans, making the audience go 'aww'.
Be it Wonder Woman or Superman, the dogs aced all sorts of appearances at the fashion show. With tails wagging, they didn't mind playing with the visitors too.
However, the Lady in Red and the charming Romeo stole the show with their woofs and wags.
Blue Cross of India, a non-profit organisation, also conducted an adoption drive with the motto "adopt, don't buy". Over 50 furry babies found new homes that evening, making the initiative a grand success.
Sneha, a 21-year-old student of DG Vaishnav College, says, "I'd come to the mall to shop and I'm going back home with two beautiful kids."
"I already have a pug and was planning to adopt another dog. But I couldn't find the right one," says Vinod, a costume designer at Sun TV. "But, I saw this beautiful mongrel and instantly fell in love with him. He's my baby now," he adds.
Not just dogs adopted, but the show witnessed many of the dogs rescued from the streets and especially after Cyclone Vardah in 2016.
Two-year-old Saanjh has one such story. According to her human, Gayathri, who works at the British Deputy High Commission, Saanjh was found at the beach during sunset.
"She was ill and was all skin and bones. She had no fur on her. The veterinary doctors gave up on her, giving a max of 10 days to her, but we didn't. My daughter wanted to keep her and now she's the one who rescues us from all our sorrows," she says.
Many little furballs were given up for adoption with heavy hearts due to varied reasons.
The brother-sister duo Shwetha and Shashwat explain how they have to give up their two dogs as their house owner doesn't allow pets. "We rescued Khushi six months ago from the streets and fostered her, however, since our house owner doesn't allow us to keep pets we're giving them up for adoption."
Talking about why she chose an Indie dog when everyone demand to own a breed dog these days, Vijaylakshmi, HR at Sheraton Grand Hotel and a proud mother of four dogs, says "Indie dogs are very easy to manage. They are self-trained and only have more love to give back with each day. They can eat anything and adapt to the Indian weather easily."
"The biggest advantage of Indie dogs is that their immune system is very strong and their maintenance is low. They're easier to handle," says Pallavi, a doctor by profession.
Chilli, a 11-year-old, was adopted by Murali, the owner of an advertising agency, from Tambaram shelter for dogs when she was 35 days old. Murali always wanted Indie dogs is a proud father to nine rescued dogs. "I wanted to have Indie dogs and Chilli is the calmest of them all. I volunteer to rescue handicapped dogs too and it's the best thing in my life," he says.
The showstopper was Dr. Tulasi, a therapy dog from Saraswati Kendra for disabled children, Alwarpet. According to Dr. Nandita Krishnan, Tulasi is a very friendly dog and gentle with kids. She helps autistic and dyslexic children and because of her many children who never used to speak have got their voices back.