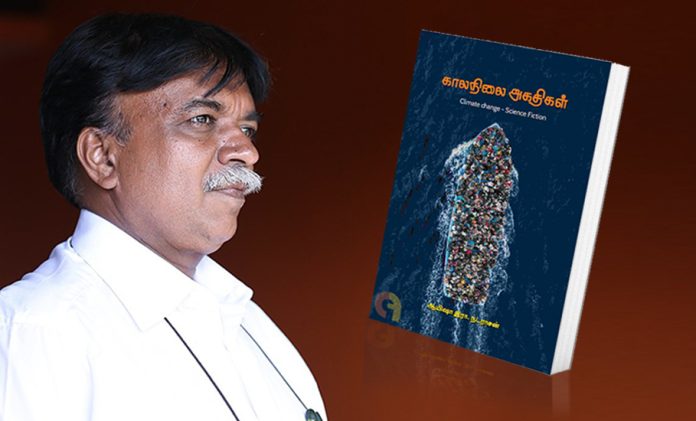 Have you ever imagined how the life of a refugee would be? No, we're not referring to refugees impacted by wars who, despite losing their livelihood, shelter and everything they own, may still hold onto hope of rebuilding their lives — in their own country or elsewhere. Rather, we're referring to those who have been displaced within their own country due to the catastrophic effects of climate change. Their experiences may be difficult for many of us to fully comprehend.
The idea of the planet becoming hostile to its inhabitants may seem like a far-fetched notion at the moment, perhaps even laughable. But the climate change projections based on various models by the scientific community across the world suggest that this could be unavoidable in the not-too-distant future.
On March 20, the Intergovernmental Panel on Climate Change (IPCC) released its Synthesis Report, which revealed that global warming has already surpassed 1.1 degrees Celsius and is projected to surpass the current target of keeping global warming below 1.5 degrees Celsius. This report, based on the last five years of research on climate change, also warned that it will be a challenge to limit warming below 2 degrees Celsius in the future.
The findings of this report serve as a sobering reminder that urgent action is needed to address the effects of climate change before it's too late. Against this backdrop, a new Tamil climate-fiction novel provides us with a glimpse into the potential realities of global climate refugees. The novel portrays a vivid picture of the struggles and challenges that individuals and communities could face in a world affected by climate change.
First cli-fi in Tamil
Undoubtedly, Tamil boasts a rich literary heritage, spanning various forms, including poetry, prose, fiction, and more. However, the state of science fiction in Tamil literature is appalling. While there were notable authors in the past such as Sujatha Rangarajan and P.N. Appusamy, and a new wave of writers, including K. Sudhakar and Tamilmagan, have attempted to introduce the genre, many still consider it to be in its infancy in Tamil literature.
Also read: The arid, defiant world of International Booker-longlisted Tamil writer Perumal Murugan
While a comprehensive climate fiction novel in Tamil may seem like a distant dream, an earnest attempt to bridge this gap has been made by 'Ayesha' Era Natarasan, a well-known science communicator. His book, Kaalanilai Agadhigal (Climate Refugees), published by Chennai-based Bharathi Puthakalayam, garnered significant attention among environmentalists, science communicators, and science fiction enthusiasts at the 46th Chennai Book Fair held in January 2023.
In the book, Natarasan provides a unique perspective on the effects of climate change and their impact on vulnerable populations, highlighting the urgent need for action to address this global crisis. The novel is a testament to the potential of Tamil literature to not only entertain but also educate and inspire change.
Life on a last ship 
The story takes place between 3040 CE and 3050 CE, four years after the devastating effects of global warming led to the disappearance of much of the world's landmass due to rising sea levels. With country borders now erased, the wealthiest members of society have fled to other planets through the corporate entity known as Bimbal.
After surviving the climate disaster in an unnamed country, a group of 212 people set out on their 21st journey as climate refugees aboard a ship. Leading the way is the protagonist Vairal, the genetically-engineered child of Saaral, born with the genes of three experts: Vaitheeswaran, a weather specialist; Rasool, a fisherman; and Lawrence, a soil expert. Vairal's name is a combination of the first letters of each expert's name (VaiRaL), representing the unique blend of skills and knowledge he possesses.
As the group navigates the treacherous waters of a world transformed by climate change, Vairal's unique abilities offer a glimmer of hope for a better future. Because of the genes, Vairal has a knack of predicting weather conditions, fishing and developing new kinds of farming methods. The refugees have become acclimated to use a new kind of fish to satiate their thirst and eat a new kind of mushroom developed by Vairal.
Vairal's genetic makeup grants him a unique set of abilities, including an innate talent for predicting weather patterns, fishing, and developing innovative farming methods. As a result, the climate refugees learn to rely on him for survival. Vairal introduces the refugees to new kinds of food sources, including a special type of fish and a mushroom species that he developed himself.
Also read: Meet the 'Indiana Jones of conservation' who wrote The Elephant Whisperer
Unable to gauge what the future holds for them, the refugees' primary objective is to rescue others who are similarly stranded in other parts of the waterlogged world. Failure to do so could result in the corporate Bimbal's exporting them as slaves to other planets, where their bodies would be exploited for their water through the cruel and inhumane process of disrupting homeostasis, the fundamental self-regulating mechanism that allows every organism to survive.
The refugees understand that their only hope lies in banding together and working towards a common goal, even as they navigate the challenges of their harsh and unforgiving new reality. The plot thickens when the refugees encounter a woman named Somina, who has been dispatched by Bimbal to spy on their ship and sabotage it. What unfolds thereafter forms the crux of the 65-page novel, as the refugees find themselves grappling with new challenges and obstacles in their quest for survival.
Facts blended with fiction
The author provides a comprehensive overview of the climate's evolution since the pre-industrial era and elucidates the devastating consequences it has wrought. Additionally, the book delves into diverse scientific fields such as biotechnology, gene-editing, and space science, among others, thereby offering readers a glimpse into the myriad possibilities of scientific progress in the face of climate change.
Also read: Writer's eviction from Chennai Book Fair unacceptable: Perumal Murugan
"The author's ability to blend contemporary scientific developments with imaginative storytelling makes the book an intriguing read," said Prof. P Rajamanickam, General Secretary of the All India People's Science Network, who was one of the first readers of the book. He also highlighted the irony that while scientific and technological advancements continue to progress, global warming has already crossed the tipping point, emphasizing the need to utilize these advancements for mitigating climate change instead of exploiting nature.
Talking to The Federal, Ayesha Natarasan said that the book was written for college students. "Explaining a complex global issue in simple terms within a limited word count of 4,000 words, especially to our target audience of college students and professors, was a challenging task. This book holds a special place in my heart as it demanded multiple rounds of editing and rewriting," said Natarasan, who has authored over 30 books on science and was awarded the Sahitya Akademi's Bal Sahitya Puraskar Award in 2014 for his contributions to children's literature.