Bestselling author David Baldacci keeps you on the edge of your seat with his intricately plotted and action-packed stories. With a career spanning nearly three decades, Baldacci (62) has carved out a niche for himself as a celebrated master of the thriller genre. His ability to balance character development and thrilling twists and turns shines through in each of his novels.
From his debut, Absolute Power (1996) — which was turned into a blockbuster film directed by and starring the legendary Clint Eastwood — to his latest work, Simply Lies (Pan Macmillan India, 2023), Baldacci delivers page-turners that you just can't put down. With over 46 novels — tales of danger, intrigue, and betrayal — under his belt and a legion of dedicated fans, Baldacci continues to cement his place as one of the leading voices in American crime fiction.
Across his many novels, Baldacci creates complex and memorable characters, weaving intricate plotlines. Whether he is exploring the world of corporate espionage, political intrigue, or international crime, he brings a keen eye for detail and a deep understanding of human nature to every story he tells.
Also read: Why Kannada writer UR Ananthamurthy did not want to live in Modi-ruled India
In his latest standalone psychological thriller, Simply Lies, he delivers a gripping tale of suspense and deception, exploring the dark side of human nature and the depths to which some will go to get what they want. "Every new book is a brand new challenge. It's a brand new world," Baldacci tells The Federal over phone.  
Inspiration and imagination
To him, creating something out of nothing, is a unique experience, unlike most other jobs that require repetitive precision to eliminate errors. He believes that creative arts are different in that they require a fresh approach every time. "Pilots and surgeons train to perform specific procedures for desired results, but for artists, it's all about inspiration and imagination. Whether it's writing a book or composing music, it all begins with a new idea and the process of bringing that idea to life," says Baldacci, adding that there's no set process for creating art; it's all about the artist's unique perspective and approach to their craft.
Simply Lies follows Mickey Gibson, a former New Jersey detective and single mother of two, who works for ProEye, a global investigation company tasked with chasing down the wealthy who refuse to pay their debts. Mickey's mundane life takes a dark turn when she receives a call from a colleague named Arlene Robinson to inventory the abandoned mansion of an arms dealer, who cheated ProEye's clients and disappeared. After she stumbles upon a long-decomposed body in a secret room and navigates the murder investigation, she becomes embroiled in an unusual and compelling cat-and-mouse game with Arlene Robinson, who seems to have no name, no morals, and no empathy.
In late last year, Long Shadows, the seventh instalment in his Memory Man/Amos Decker series, was released. It features the brilliant Amos Decker as its central character, a detective with a remarkable memory and a knack for solving even the toughest cases. "One of the reasons I write so many different series is that it helps keep me fresh and inspired and not running out of creative juices where I'm writing the same character over and over again," says Baldacci.
The Memory Man series and detective Amos Decker
In Long Shadows, Decker is back and better than ever, investigating the murder of Julia Cummins, a federal judge, and her bodyguard in their gated community home in Florida. But things aren't not all hunky-dory. Decker is facing a personal crisis, and with a new partner, the case becomes even more complex. As Decker delves deeper into the case, the mystery only thickens.
Also read: Defeating the Dictators: Charles Dunst on the roadmap to reform democracies
Judge Cummins had no known enemies, and there was no forced entry into her home. Everyone in the community claims they heard nothing, and her ex-husband and son both have solid alibis. With so many dead ends, Decker must first uncover why Cummins even needed a bodyguard and the significance of the peculiar calling card left behind by the killer. With Decker as your guide, you'll witness evil coming to light as darkness falls. And, despite the odds, you can always count on Decker to solve the case and bring the perpetrators to justice.
Decker, the central character in the Memory Man series, has a unique backstory that sets him apart from other detectives in the genre. In his younger years, Decker was a professional football player, but his life took a dramatic turn when he suffered a brutal head injury during a game. The traumatic incident permanently altered the wiring of his brain, leaving him with an incredible ability to remember every single detail of his life, from his wife's voice to the pattern on his childhood bedroom wallpaper. While this gift has helped him solve countless cases over the years, it has also left him with a number of challenges to overcome, including difficulty sleeping and intense bouts of grief over past traumas.
The Memory Man series came to Baldacci after he read a book about someone who had synesthesia and hyperthymesia. He looked at all the days of the week as colours: Tuesday symbolised blue for that person. "I was fascinated by this manifestation of the mind. I started to envision a detective who had a brain injury which can cause hyperthymesia, and he comes out of it totally altered, but with this incredible memory that would help him be a detective, but would also be a real burden as a person, because he can never forget all the bad things that happened to him. And I thought that would make an intriguing character," he says.
On creating flawed, relatable characters
Baldacci says he creates characters with flaws and struggles to make them more human and relatable. "Everyone has flaws, faults, and vices. I've never met anybody who's perfect. I met some people who thought they were perfect, but they weren't," he says. Readers, he underlines, can connect with characters who struggle and fall down, no matter what their profession may be. This connection creates a bond between the reader and the character, which makes them more invested in the story. Baldacci also acknowledges that heroes with flaws make for interesting reading.
In Long Shadows, Decker has a new partner, special agent Frederick White. One of the things that Baldacci tries to do in all his books is to create a sense of camaraderie between the characters. Even though they may come from different backgrounds, and have different experiences, there's always this sense of teamwork and of people coming together to solve a problem.
"I think that's what makes Decker and White such an interesting pair because they're very different people. They come from very different worlds, but they have to work together to solve this case. And in doing so, they come to understand and appreciate each other's strengths and weaknesses, and that's what allows them to succeed. So, for me, it's always about creating characters that people can relate to and care about, and then putting them in situations where they have to come together to achieve a common goal," says Baldacci.
As we discuss his new character, Frederick White, he acknowledges the importance of diversity and representation in literature, particularly with regard to race. He notes that the relationship between Decker and White, who is a black in addition to being single mother (like Gibson), is significant given America's fraught history with race and ongoing issues surrounding it.
The author expresses his hope that readers will be excited about this dynamic and the opportunity for two people from different backgrounds to work together and broaden each other's perspectives. While he wishes that labels like race weren't necessary, he recognizes the importance of showing diverse characters in literature and creating connections between them.
He sees this partnership as a positive step for both Decker and White: "Decker lost his partner years ago when he was a detective in Ohio. That really rocked him. And then he finds out he has a brand new partner because his old partner moved to New York to work for the FBI. He's never met anyone like White. He doesn't like change. And I wanted him to suffer through these changes, where he loses someone from his past. Along with a new partner to deal with, he's on a case he really doesn't want to investigate. I wanted to see how he would deal with all this."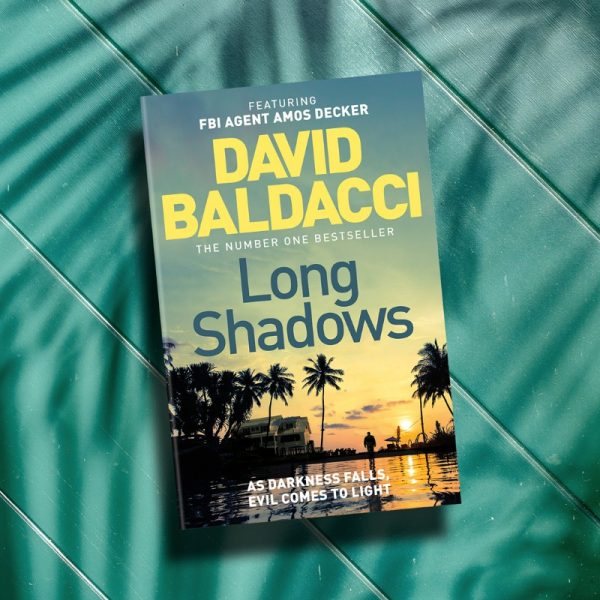 Also, he wanted to see how White would develop on the page. "Until you really get a character out there and you've written a few chapters about them, you're still feeling your way about who they are and what they're going to be in the story. White more than holds her own with Decker and shows him a slice of life he had never seen before and actually broadened his horizons as a character. Having White as Decker's partner was a way of getting him outside of his bubble," he says.
Writing about women like Gibson and White in male-dominated fields such as law enforcement and the military can be challenging. Baldacci maintains that women in these fields have to work twice as hard as men to get to the same level due to the way society is structured, and the challenges they face are often not understood or appreciated by their male colleagues. "There are a lot of challenges that women have in these fields that men never have to confront. Men fail to understand what women have to go through to do these types of jobs," he says. When writing about women in these professions, Baldacci takes this into account, striving to accurately portray the unique struggles and experiences that women face in these fields.
On writing two novels a year
Baldacci reveals that he has been writing two novels a year for the past 15 years, one in the spring and one in the fall. "This is what I love to do. Stories to tell and stories to write is not a job, but rather an addiction. When I finish a book, I don't take a break. I just try to figure out what I want to write next. I never looked at it as a way to earn money. I spent many years writing for free. No one bought any of my stuff. So, it's just something I get up every day thinking about. And I think I'm so prolific because that's how I've always treated it: because it is something that I really love to do, I do it a lot," he says.
Also read: How International Booker Prize spotlights world's under-represented languages
His love for writing began in childhood, and he has been writing ever since. He notes that writing in his genre of suspense novels does not necessarily become easier over time. His son recently showed him ChatGpt, which can generate a plot for a novel within seconds. While Baldacci acknowledges the usefulness of such technology, he stresses that there is no substitute for the inspiration that comes from personal experiences and memories.
"There's no substitute for the inspiration that a writer might see from somebody walking into a building that might trigger a memory from childhood. And, lo and behold, you have a story that you often go and write about," he says.  For Baldacci, writing always remains a challenge, and he believes that if it ever becomes too easy, he would be doing it wrong by relying on templates and becoming like an artificial intelligence writer. "I don't want to go there," he says.
Baldacci says he is never short of inspiration, as long as he takes the time to look at the world around him. "So many people go through life staring at their cell phones and not seeing the world around them," he laments. "The world is a fascinating place if you take the time to look."
He is always 'eavesdropping' on people's conversations, watching what they do, and taking in the scenery, whether it be the sky, trees, or cars passing by. You never know when something might strike you as inspiring, he notes, so you just have to be available to receive it. "When I walk through life, I'm actually looking at the world and not focused on an electronic device," he says.