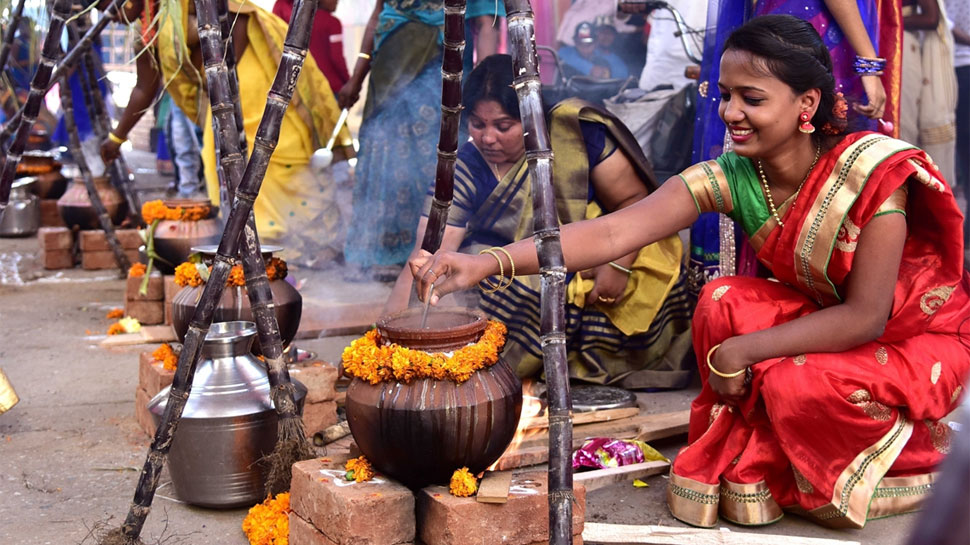 A harvest festival in myriad flavours marked across India
Makara Sankranti or Pongal, one of the few ancient festivals that are observed according to the solar cycle, signifies harvest and an auspicious new beginning.
Makara Sankranti or Pongal, one of the few ancient festivals that are observed according to the solar cycle, signifies harvest and an auspicious new beginning.
The festival is also called Uttarayan, with the sun moving towards the North, entering the zodiac sign known as Makara Rashi or Capricorn, marking the end of winter.
Celebrated pan India
Marked in mid-January, beginning January 13 or January 14 depending on the Hindu calendar, it is that time of the year, that signals the end of winter. The festival also ushers in the harvest season, with rabi crops in the North and in the South, paddy and sugarcane, ready for harvest. The festival is, therefore, an ode to the livelihood of masses across regions in India.
Known as Bihu in Assam, Lohri in Punjab, Makara Sankranti in Maharashtra, Goa, Gujarat (Uttarayan), Karnataka and Andhra, it is celebrated as Khichdi across Uttar Pradesh and Bihar, and Pongal or Thai Pongal in Tamil Nadu. In states like Karnataka and Gujarat, kite-flying sessions and events held on a grand scale are an integral part of celebrations, as spring beckons with gusty winds.
Also read: Festivals in Tamil Nadu are never complete without debates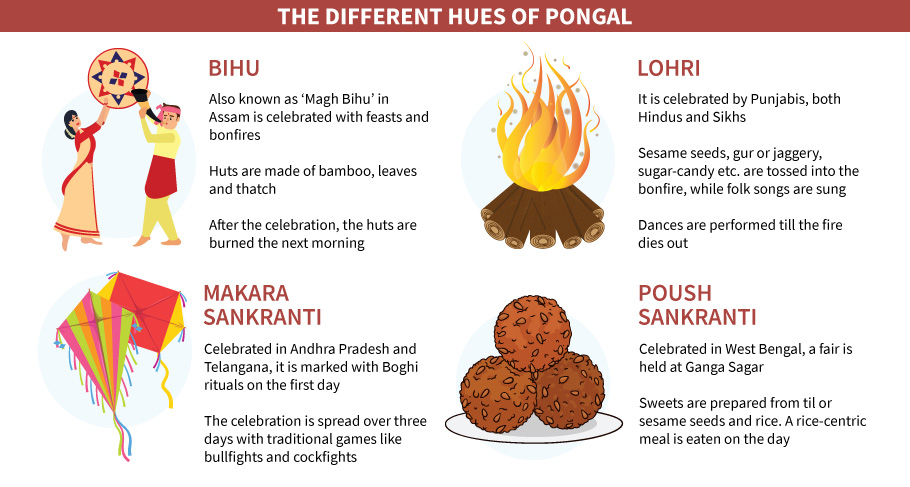 A six-day festival
Tamil Nadu has a long-standing tradition of marking Pongal or Thai Pongal, going back to Sangam era, points out, historian and writer TS Padmapriya. She adds, "There are references in Sangam poetry with Thai Neeradal (bath) and Thai unn (food)."
She explains that the Tamil month of Margazhi (mid-December-mid-January), which is before the Thai month (mid-January to mid-February), is full of fasting and the fast ends with the beginning of Thai with feasting, especially with ghee and milk.
Thai month is also significant with a long list of auspicious dates to solemnize weddings. Padmapriya elaborates on the extensive celebration of Pongal, spread across six days. "With Boghi or the first day, the whole house is cleaned up and the waste is discarded by burning them. Unlike the city ritual of burning tyres and plastic that are pollutants, the original involves household waste. Poola poo ( flower) that blooms in spring is displayed while harvested paddy is hung outside for birds to feed on them.
"On the second day of Pongal, newly harvested sugarcane is eaten and vegetables like pumpkin which are freshly harvested are cooked. The Pongal made of plain rice is cooked and made to overflow to signal harmony and prosperity.
Also read: In TN, the Jallikattu bull rages on three years after pro-sport protests
"Maatu Pongal or the third day has its own significance, as it is a gesture to thank the livestock like cows, by decorating them and painting their horns, before parading them around the village.
"Kaanum Pongal is celebrated with married women visiting their homes and being treated to money or Pongal paisa (money) given by family. In Brahmin households, different varieties of rice are offered on turmeric leaves, praying for a well-knit family and are in return treated to money and clothes by their brothers. This is perhaps a South equivalent to Bhai dooj and Raksha Bandhan of the north.
"The fifth day is veru naal (rest day) with labourers and the workers who have toiled in the fields and after Pongal festivities, are given rest.
"The last day is aaru thirunal with 'aaru' standing for six and river in Tamil, where the river and nature are thanked and the day is celebrated with the Pongal money being spent on food, clothes and accessories at the village fair," she said.