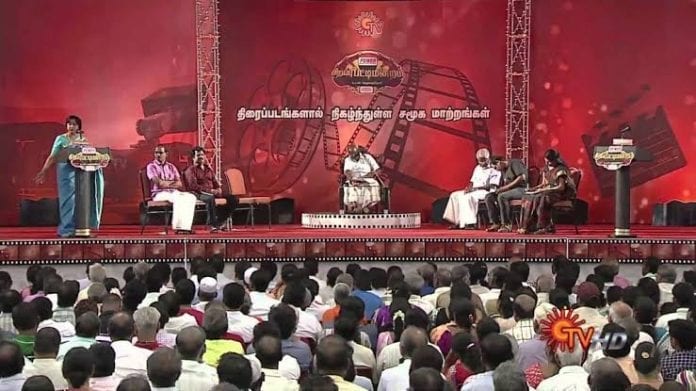 The festive season in Tamil Nadu, whether it's Deepavali (or Diwali) or Pongal (the harvest festival), is celebrated with crackers, traditional sweets, silk sarees, special magazine editions and of course, new star-studded films. However, one celebratory element that remains exclusive to the state is pattimandram (debates).
The Tamil language has three forms, Iyal (literature), Isai (music) and Nadagam (theatre), and pattimandram falls in the Iyal category. It may be noted that the debating culture in the state dates back to the Sangam period, from the sixth century BCE till first century CE.
Connoisseurs of Tamil movies must remember the scene from the film Thiruvilaiyadal, starring Shivaji Ganesan, where a Pandiya king wanted to know whether women's hair has natural odour or is it artificial. This leads to a war of words between poets. Though it is not a quintessential pattimandram per se, it presents a picture of how debates were conducted during those times. It was essentially a clash of knowledge and opinions.
Also read | Madras slang a unique concoction of Chennai, but it is not just Tamil
Pattimandram in those days were used for exchanging ideas about religion, says Prof Solomon Pappaiah, a popular judge in debating events. "In earlier times, monks and sages of different religions travelled from one village to another, where they built stages and preached their ideas. Those stages were referred to as patti mandapam, which was later called patti mandram (a platform where debate takes place)," he says.
"During such debates, some members from the public used to come up with opposing ideas and eventually, there used to be an exchange of ideas and opinions. That became the lifeline of pattimandrams," says Pappaiah.
Several references can also be found in the ancient Tamil literature relating to pattimandram. Manimekalai, one of the five epics in Tamil, states, "Patti mandapathu paangu arindhu yerumin (know the responsibility of how to act in a debate, before getting into the stage)". Similarly, Kamba Ramayanam states, "Panna arum kalaitheri patti mandapam (a debate stage is a place where people can analyse unusual ideas)".
Also read | The question of Tamil vs Sanskrit still a political hot potato
"The trend has changed over the years. After religion, literature came. Scholars, who were well-versed in various literary works, often came together to discuss about literary pieces like Ramayana," says Pappaiah.
It was during such debating programmes, people started opposing Periyar's views against Ramayana. The members of the Dravidar Kazhagam had even set ablaze Ramayana books in the public. "To counter such opposition, religious pontiffs like Kundrakkudi Adigalar (senior) took Ramayana to the masses through debates, via organisations like Kamban Kazhagam," Pappaiah added.
These pattimandrams often witnessed a low audience turnout since only the educated masses could understand the nuances of such debates. However, the trends slowly changed. In order to attract the common public, the organisers started coming up with topics related to social issues.
Also read | SC order to have safe Diwali of no avail, Sivakasi crackers are anything but green

"It was after the arrival of Solomon Pappaiah that the trends of pattimandram changed," says S Raja, who is often referred as 'Pattimandram' Raja because of his frequent appearances in debate programmes.
In earlier days, he adds, there used to three teams comprising four members each, who spoke for or against, or remained neutral on a subject. It used to go on for four or five hours, says Raja.
During those times, in order to attract commoners, people came out with topics like whether Lord Shiva burnt Kamadeva. There even used to be sides like 'Yerindha Katchi', who believed that Kamadeva was burnt, and Yeriyaadha Katchi, those who argued that he wasn't burnt, he adds.
Also read | Why the Deepavali buzz is fizzling out in Kollywood

"In 1950s, the trend changed. The organisers started coming up with topics comparing Gandhism and Marxism. In the 70s, after the arrival of Solomon Pappaiah, mundane topics, like whether marriage is happy or sad, were brought. Here lies the beauty of modern day pattimandram. When debates were organised on literature, women did not turn up. But when the debates took up family-centric topics, women started thronging the debate halls," Raja adds.
In the earlier times, pattimandram was seen as an esoteric activity. It was only in 1988 that due to the presence of Doordarshan's Kodaikkanal station, more people started watching pattimandram programmes. The art form was also popularised by the Sun TV.
Also read | Textbook for Tamil goes beyond literature; delves into films, history, science
"In 1993, Sun TV covered its first pattimandram, whose topic was, "what helps in choosing a LIC policy: money or mind?" It received a good feedback. Thereafter, Sun TV started conducting its own debate programmes on the occasions of Deepavali, New Year, Pongal and Independence Day," says Raja.
Pattimandram on audio cassettes
Television sets were not common in villages in the 1990s and people then used to rely on audio cassettes to listen to pattimandrams. The programmes used to be recorded on both sides of the cassettes and sold to the public. This spreading of pattimandram culture through audio cassettes is largely attributed to the arrival of Dindigul I. Leoni, whose speech was blended with songs and puns.
Also read | How Nadigar Sangam election gets the shades of political clout?
"Tamil Nadu has a rich heritage of stage speeches. During those days, besides pattimandram, political speeches conducted on streets and religious speeches in temples used to attract audiences. But now, the time has changed and the form of pattimandram has also evolved. Many youngsters, who have good oratory skills, now start their own YouTube channels. Now, political and temple stages are no more attracting people, but pattimandram is still able to get its audience because of its adaptability," says Leoni, who also judges pattimandram programs.
Participation of women
One of the main changes the modern day pattimandram has witnessed is the participation of women, that too in large numbers, either in terms of audiences or in terms of speakers.
Pattinappaalai, an ancient Tamil literary piece, says that during those days, flag posts were erected in some auditoriums where debates used to be conducted. "The uneducated, especially women, were afraid to visit those auditoriums," recalls Prof Parveen Sulthana, one of the prominent women debaters in the state.
Also read | Eco-friendly crackers: How green is your Diwali?

According to her, one cannot be called an orator just because she speaks well in a certain language, but it actually depends on whether her speech has a content.
"For women, it is their social background that has an impact on their oratory skills. Women must travel if they are interested in debates. But, in the midst of her family-related responsibilities, it becomes difficult to think of taking part in such programmes," says Sulthana.
The need for more relevant topics
While there are many pros attributed to pattimandram, the orators also mention how the culture has downgraded today.
Leoni claims that some of the pattimandram groups are still using age old topics, like "which songs gives more happiness: love songs or philosophical songs?" He says it is important for pattimandram groups to come up with new topics that are relevant to the current times.
Also read | On Madras Day, a tale of the first election and 'funny politics' 
Of late, television talk shows have also been perceived as a form of pattimandram. But, Raja rejects that claim.
"In television talk shows, people interfere when others talks. In pattimandram, an orator must put forth his ideas within a stipulated time. There should never be any interference when an orator is speaking. And Pattimandram still maintains this standard," he adds.