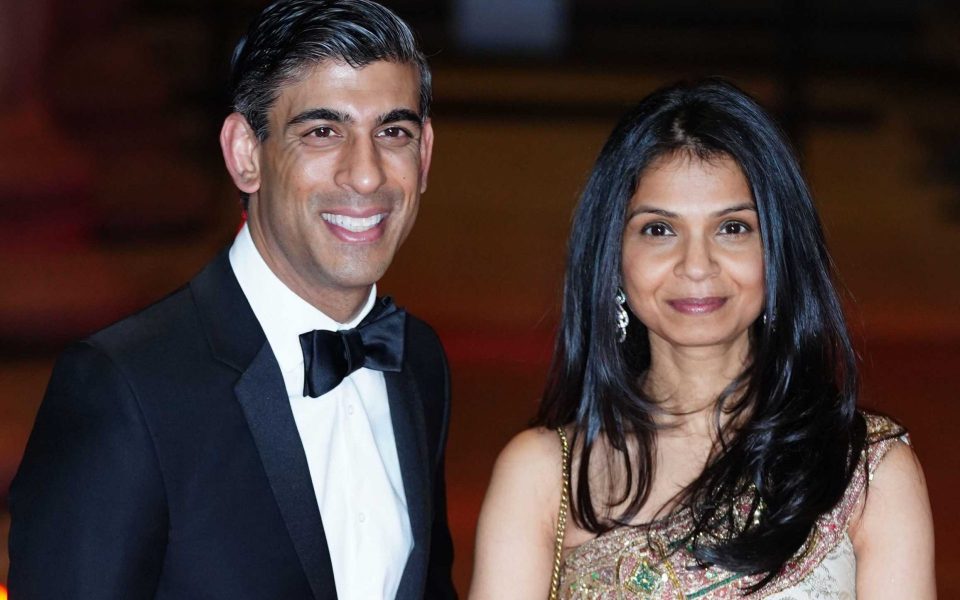 British Prime Minister Rishi Sunak finds himself in hot water yet again thanks to his Indian wife Akshata Murthy's business interests. Indian-origin Sunak is under investigation by Parliament's sleaze watchdog over a failure to declare his wife's interests in a childcare agency that received a financial boost in the first full-fledged budget announced by the Sunak government.
Akshata, daughter of the Infosys co-founder N R Narayana Murthy, believed to have an estimated worth of around £690 million thanks to her 0.93 per cent ownership of Infosys, also has shares in a childcare company in the UK called Koru Kids. During the budget last month, Sunak's Chancellor of the Exchequer announced incentive payments of £600 for childminders joining the profession, which doubled to £1,200, if workers signed up through an agency.
Koru Kids is one of the six childminder agencies listed on the government's website that will directly benefit from the incentives.
Sunak made the mistake of not declaring this conflict of interest when he appeared before a parliamentary liaison committee and was questioned by MPs as to why childcare policy was favouring private firms. At the time a Labour MP asked Sunak point blank if he had any interests to declare to which he said, "No, all my disclosures are declared in the normal way".
The Prime Minister was left with egg on his face when news of Akshata's stakes in Koru Kids emerged in the media. Sunak's team defended him by arguing that he had not been asked a specific question about Koru kids and could not be expected to know about every firm his wife has investments in – and she has a lot of investments.
Also read: British PM Rishi Sunak goes live on LinkedIn to push UK's growth plans
Not the first time
This is not the first time that Akshata's business interests have embarrassed Sunak. In April last year when Sunak himself was the Chancellor of the Exchequer, it was revealed that Akshata, still an Indian national, had non-domiciled status in the UK allowing her to avoid paying tax on her foreign earnings. It was then estimated that thanks to her non-domiciled status Akshata saved around £20 million in taxes on dividends from her shares in Infosys.
Around the same time an investigation by the Daily Mirror newspaper revealed that Infosys had been given a number of lucrative government contracts worth hundreds of million pounds since 2015, when Sunak became an MP, including some secured after Sunak became Chancellor in 2020.
There was public outrage at the time that a non-domiciled foreign national was living in a taxpayer funded flat in Downing Street – the most powerful address in the country – and not paying taxes on her income, when her husband was raising taxes to be paid by ordinary working people. Bowing to pressure, Akshata agreed to pay UK taxes on her worldwide income, but refused to give up her non-domiciled status as she planned to one day return to India to live.
Now her position is even more unusual – the wife of the prime minister of the country is not only a foreigner but non-domiciled as well! A more political prime minister might have asked his wife to give up her non-dom status even if it was only to show his MPs in England's working class northern constituencies that he is willing to take some financial pain to help them politically, but Sunak hasn't done this.
Also read: UK PM Sunak discloses tax returns, paid over GBP 1m since 2019
Not a man of the people
Sunak wears his own and his wife's wealth and financial interests a little too lightly. At a networking event with business leaders organised by Downing Street a couple of days ago, Sunak singled out luxury handbag maker Anya Hindmarch and thanked her for giving him gift ideas for his wife over the years. The London-based designer's bags are apparently a favourite of Akshata. Priced at around £2,600 a bag, they are hardly affordable for the average woman on the street.
With the couple's estimated fortune of almost three-quarters of a billion pounds, the prime minister has regularly struggled to present himself as a man of the people. Such off-the-cuff comments risks reigniting debate about Sunak's personal wealth which has been used by critics to paint him as out of touch with the public.
As Chancellor, Sunak was pictured preparing for the Budget in 2020 with a £180 "smart mug" that can keep drinks at a precise temperature. The flask was a gift from Akshata. A year later, he was seen wearing a £95 pair of plastic slippers made by Italian designer label Palm Angels. Ahead of the Budget in March 2022, Sunak was mocked after participating in a photo shoot where he was seen filling petrol in a modest family car that was obviously not his own.
Also read: Rishi Sunak cleared on wife Akshata's tax status
The British PM wears Prada
The former investment banker also had to be taught how to use a contactless bank card when buying a can of Coke last year. During the Tory Party leadership race last summer, Sunak was pictured wearing a bespoke suit said to cost £3,500 and Prada shoes. At a time when inflation and high energy bills have created the worst cost of living crisis for British people, such an insensitive display of wealth has not gone down well.
The Conservative Party has been in power in the UK since 2010, and its successive governments are being held responsible for the economic crisis.
Even as the spotlight has again been turned on Akshata's business interests, the media has highlighted that according to the government's 'Contracts Finder' website, Infosys has been given public sector contracts worth more than £172million since 2015. The latest was a £1.76m contract with Transport for London, which began in January this year when Sunak was Chancellor.
Sunak has been reluctant to talk publicly about Infosys or declare his household income from it, arguing that it was a matter for his wife alone and of no legitimate public interest. It is debatable if this argument can be sustainable now that the government's own database of public sector tenders and contracts, has shown Infosys's heavy involvement with public sector contracts.