Part II: CJI Ramana - media darling, government's friend, nation's 'Manchivadu'
Justice Ramana's tenure will be recalled more for the media presence and off-the-court optics than for sound constitutional interpretations of law, or balanced judicial administration, writes Justice K Chandru
Uploaded 20 September, 2022
Part 1 described the colourful career of NV Ramana, from his student-activist days to his elevation as India's 48th Chief Justice. Ramana had an esoteric judicial career growth despite a non-bailable arrest warrant that was pending against him for a long time, and his ties with the TDP.
Part I: Justice Ramana's rise to CJI post despite chequered legal history
Andhra Pradesh Chief Minister Jagan Mohan Reddy's attempts to thwart his appointment as CJI failed. In March 2021, the Supreme Court issued a statement saying it had dismissed Jagan's complaint against Ramana, next in line to be the CJI. Thus, Ramana reached the highest portals of power despite heavy odds against him.
Part 2 begins here
Earlier, when four judges of the Supreme Court held a press conference — the first time in the history of judiciary in India — to complain about the arbitrary nature of the CJI allotting court work in the guise of being the master of rolls, NV Ramana was never part of that controversy. As yet a Supreme Court judge, he had silently watched this from the sidelines. When he actually took over the reins of power, it was interesting to see how he exercised that power.
As a master of roll when routine matters are allotted to different benches, the "sensitive" matters require special order from CJI for allotment to different benches or to his own bench. Under that category, Justice Ramana had as many as 926 sensitive matters to be assigned and no one knows how he assigned matters and how many matters without assignment were kept pending. Also, one does not have details how he had distributed those matters to his brethren.
Little progress by Constitution bench
During Ramana's time as Chief Justice, the Supreme Court did not exercise its power of judicial review in 53 cases requiring a Constitution bench (which comprises five or more judges). These 53 cases saw no progress in Ramana's court, much like in his predecessors' courts.
Similarly, little or no progress was apparent in other cases. Among these pending cases are: The repeal of Article 370 withdrawing special status given to J&K (1,115 days), challenge to electoral bonds (1,816 days), Karnataka prescribing uniforms for school students and denying girls permission to wear the hijab (159 days), EWS quota (1,323 days), UAPA challenge (1,105 days) and Citizenship Amendment Act, 2019 (987 days). (The total number of days have been calculated from the date of institution till the date NV Ramana retired.)
During his tenure, except for a few interim orders, Ramana did not write many orders that have a bearing on a Constitutional interpretation of law.
On the other hand, he was busy lecturing in India and abroad. All said and done, the press was fully supportive of the CJI and gave wide coverage not only to his speeches, but also to the off-the-cuff remarks he made sitting on the bench. It can be said safely that he had the best press coverage of any CJI.
Media manager Suryadevara
In order to manage the media, the first thing Ramana did was to rope in Prasanna Kumar Suryadevara, an officer with the rank of joint secretary in the Ministry of Information & Broadcasting. He appointed Suryadevara as Officer on Special Duty to the CJI, with the rank of additional registrar. His deputation was for a period of three years.
Suryadevara had a chequered history. He joined as a news reader in the All India Radio and later served in the Lok Sabha and the Rajya Sabha. In 2017, he was appointed as the secretary to the Assembly Speaker in Delhi. But, his deputation was curtailed within a year and he was repatriated to his parent department by the Union government.
Angered by this, the Delhi Assembly Speaker moved the Delhi High Court and was rebuffed by the judge, who questioned his anxiety to protect one employee. Suryadevara joined his parent department without waiting, but faced certain disciplinary action. His attempt to move the CAT (Central Administrative Tribunal), Delhi, was not successful. But he could get the charges exonerated by filing departmental appeals.
After clearing his record, Suryadevara waited for Ramana's elevation and got into the Supreme Court on deputation. He was subsequently absorbed as a permanent cadre by the SC and also promoted as a registrar.
Power of social media
CJI Ramana became conscious of the growing power of social media when he was hearing a suo motu case relating to the death of Additional District and Sessions Judge Uttam Anand in Dhanbad, Jharkhand, in August 2021. He observed that judges were threatened through intimidating messages sent on WhatsApp and other social media posts in cases involving accused who were gangsters or high-profile individuals. He also said investigating agencies in the country do not respond when judges complain about the threats they receive.
In reaction to his observation, the very same month, the Central Bureau of Investigation (CBI) arrested five people for allegedly posting defamatory content on social media against the judges of the Andhra Pradesh High Court.
In November, the CBI named 16 persons in an FIR after the AP High Court directed the agency to investigate the matter. The accused were booked under Section 506 IPC (criminal intimidation) and Section 67 of the Information Technology Act. So far, the CBI has traced 13 of the accused and interrogated 11 of them.
Foes turn friends
Ramana's big achievement, however, was that he was able to not only silence his critics, but also get them to eventually sing his praises. For example, he got Andhra Pradesh CM Jagan Mohan Reddy to accord him a warm welcome in Vijayawada, as a son of its soil. At a high tea hosted for the CJI at the Corporation Stadium, Jagan heaped praises on him. A Telugu person had got the opportunity to become the CJI after a long gap of 65 years, noted Jagan. Justice Ramana, on his part, thanked Jagan for the rousing reception.
The irony was that before his elevation as CJI, Jagan had complained to the then Chief Justice of India, seeking action for Ramana's alleged misdeeds.
When Jagan was facing a serious challenge to his legislation for the trifurcation of Andhra Pradesh's capital into Amravati, Visakhapatnam and Kurnool, the matter was heard by a full bench of AP High Court. The CM flew in Dushyant Dave, a senior advocate and former president of the Supreme Court Bar Association, by a special aircraft to Vijayawada and paid him ₹50 lakh a day as fees to defend his government.
Before that, Dave had written two critical pieces in the Indian Express on Ramana. In one article, he wrote: "The new Chief Justice must seriously introspect and review the actions of his immediate predecessors, free himself of the bias in constituting benches and allocating cases and take concrete steps to revitalise the administration of justice."
Perhaps, this candid and clear position taken by Dave convinced Jagan to defend him in the High Court.
If Dave was initially suspicious of whether Justice Ramana could free himself of bias in constituting benches, and of his ability to take concrete steps to revitalise the administration of justice, it appears that Ramana's tenure as CJI convinced him those suspicions were without basis. In fact, at Ramana's farewell function, Dave was seen being helped with tissue paper by his colleagues to dab his moist eyes.
Judiciary vs executive
Activist Indira Jaising wrote: "Chief Justice NV Ramana belonged to a rare species of judges who did what they wanted to do without irritating the executive. He will perhaps be remembered more for his speeches outside the court than any judgments delivered in court."
After the Supreme Court struck down the 99th Constitutional amendment providing for the creation of the National Judicial Appointments Commission (NJAC), the BJP government did not go for a fresh Constitutional amendment.
Normally, when a Constitutional amendment (in this case 99th amendment) was held to be invalid, one would have expected a government with a full majority would have gone for a further amendment in the light of the judgment. But, in this case, the BJP did not do so. Even Indira Jaising in her Leaflet article dated August 16, 2022 had to say this:
"It is now clear why the Supreme Court's 2015 judgment striking down the National Judicial Appointments Commission was never reversed through legislation, even though the ruling party had the necessary majority to do so. Why bother to legislate if you can get appointments of judges by consensus, even if that consensus means the judiciary does not have the last word in the matter of appointment of judges?"
The BJP government, perhaps, felt it was easier to manipulate the appointments by the collegium system evolved by the judiciary. It seems it was more practical for them to pack the judiciary with people having the ruling party's orientation through secret deals.
Ramana made a tall claim after his retirement that he was instrumental in appointing 11 judges to the SC and for making recommendations for 255 appointments to high courts, out of which 224 were cleared by the government. But, he was able to fill up just 20 per cent of the vacancies to the high courts. He also claimed that he was instrumental in getting 15 Chief Justices to various high courts.
It is unnecessary to go into the merits of such appointments and transfers made for various positions. It is enough to look at one or two examples.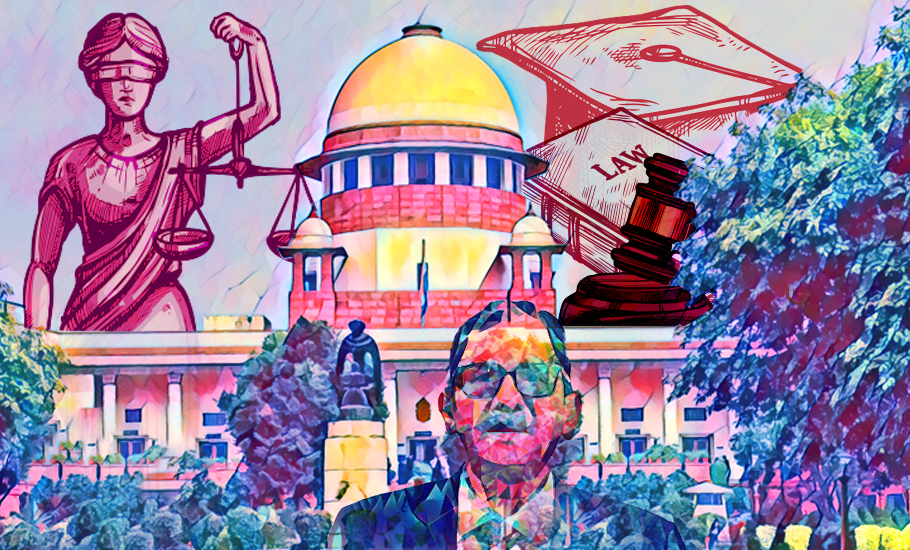 Judge appointments
When Justice Ramana transferred 28 judges, one of them was MSS Ramachandra Rao, who was the senior-most judge of the Telangana High Court. He was transferred to the Punjab and Haryana High Court in the position of 9th Judge. He happened to be the son of MJ Rao. (When Ramana was appointed as an Andhra Pradesh High Court judge in June 2000, consultee Supreme Court judge, Justice MJ Rao, had expressed his reservations.)
Was there any connection between the father's reservations earlier and the son's transfer later? The verdict is out on that one.
Everyone was lamenting over the punishment meted to Justice Akil Kureshi of the Gujarat High Court, who was denied Chief Justiceship of the Madhya Pradesh High Court on BJP's objection. But, after a great deal of criticism, he was finally made Chief Justice of the Tripura High Court. Being the senior-most person in the all-India category, and Gujarat not having any representation in the Supreme Court, one would have thought the injustice caused to Kureshi would have been set right by Ramana.
The only thing he did was to transfer him to Rajasthan High Court and deny him his due elevation. But, Justice JB Pardiwala, fourth in rank in the Gujarat High Court and far junior at the all-India level, was made a Supreme Court Judge, superseding several seniors.
Munishwar Nath Bhandari was transferred from Rajasthan to Allahabad in 2019. As per the Supreme Court collegium's decision, "it was in the best interest of the administration of justice". Though Justice Bhandari had asked to defer the transfer, the collegium did not accept his request. Therefore, the person who was considered not suited to be retained in Rajasthan High Court and promoted as Chief Justice, was shunted to Allahabad High Court, and later transferred to Madras High Court as its acting Chief Justice. He was eventually made the permanent Chief Justice of Madras High Court.
Further, Justice Bhandari was rewarded with a post-retirement benefit, when he was made the Chairman of the SAFEMA Tribunal.
In the absence of collegium records being made transparent, one can only guess the real reasons for such appointments and transfers. However, one can safely say that all appointments to the higher judiciary lack transparency and it seems more of a deal between the Union government and the top judiciary.
Ramana managed the bar, the media, and the government well. He managed to win over people who opposed him at first. And, in the end, he hung up his stirrups and won the popular title of 'Manchivadu' which, in Telugu, means a good man!
(Justice K Chandru is a former judge of the Madras High Court. After retirement, he writes extensively for leading newspapers and magazines.)
(The Federal seeks to present views and opinions from all sides of the spectrum. The information, ideas or opinions in the articles are of the author and do not necessarily reflect the views of The Federal.)