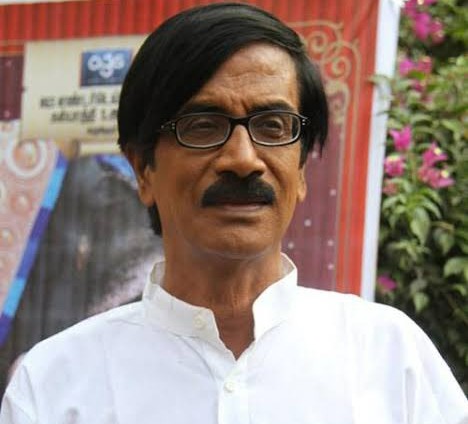 The film's main theme was about how not having property rights leaves a woman in the lurch. It also talked about women's fighting spirit against male chauvinism, a theme which was dear to Karunanidhi.
For the kids of the '90s, Manobala, the filmmaker-turned actor and producer, who passed away on May 2, would be remembered just as a comedian. But for the '80s generation, he may remain as a not-so-successful director, despite having made films which found their place not only in the Tamil film industry's history but also in Tamil Nadu's political sphere.
Though he directed more than 20 films, the works for which he would be remembered for his filmmaking includes Pillai Nila (1985), Oorkavalan (1987), Thendral Sudum (1989), and Mutrugai (1993).
Each film stands out for its own reason. The film Pillai Nila, for casting popular lead actors of that time such as Mohan, Radhika, and Nalini in a spooky film, since until then the Tamil film industry used the 'extras' or not-so-popular actors in such films. Of course, Oorkavalan is remembered only for superstar Rajinikanth, despite it being one of the mediocre films in the actor's career.
Also read: Sea memorial for Karunanidhi draws praise from DMK men, flak from environmentalists
For its environmental concern, Mutrugai found its place. The film's story was about a politician burning alive 16 people inside a house for opposing his decision to construct a factory in the middle of a village stream. The scene showing the arson being committed brought back the memories of the Keezhvenmani massacre, in which 44 people were burnt alive inside a hut by a landlord.
A Tamil warrior's Hindi embrace
The one film in the list that could stand the test of time would be Thendral Sudum. It is a fact that the story is an official remake of the Hindi film Khoon Bhari Maang (1988), which itself was loosely based on the Australian miniseries, Return to Eden (1983). Produced and directed by Rakesh Roshan, the Hindi film was a successful venture both critically and commercially. It became a comeback film for Rekha, who played the lead role.
"When Radhika approached me to remake this film in Tamil, I hesitated at first. Because I was not interested in remaking films. However, she convinced me that the screenplay would be slightly altered to impress the Tamil audience, and the writing would be done by none other than Kalaignar (the DMK patriarch M Karunanidhi). I immediately grabbed the offer," reminisced Manobala on his YouTube channel Manobala's Waste Paper.
It is interesting to note that Karunanidhi, a firebrand leader who fiercely agitated against Hindi imposition, did not have any reservations in writing for a Tamil film which was a Hindi remake.
Also read: Tamil cinema's beloved actor, director, comic Manobala no more
However, that was not the first time for Karunanidhi to write screenplay and dialogues for a remake film, said Balabharathi, author of Kalaignarin Thiraippayanam, a book on Karunanidhi's film contributions.
"Before this film, he wrote screenplays and dialogues for Tamil films remade from Malayalam and other South Indian languages. But as far as Hindi is concerned, Thendral Sudum could be his first Hindi film remake," he said to The Federal.
"Keeping the story intact, he wrote a screenplay that suited the Tamil audience, with his literary Tamil dialogues. Having worked in several films himself, he gave me a free hand to make any changes in his dialogues with a remark in the margins of the dialogue sheets," Manobala said.
Stills Ravi, a popular film industry photographer, remembered that during the release of the film's photo album, the film production house (GB Creations) had printed Karunanidhi's dialogues under each still taken during the film's shooting, which was a new kind of promotion at that time.
A slice of TN politics
The film starring Nizhalgal Ravi and Sarath Babu in the lead roles besides Radhika, shows how a woman becomes a prey for her husband's devious plan in getting away with her properties and wealth.
Kala (played by Radhika), a docile and unsightly woman, was pushed by her husband Anand (Nizhalgal Ravi) into a river infested with crocodiles during their honeymoon. Having survived the murder attempt, she underwent plastic surgery and took revenge on her husband.
Despite having popular stars of that time and music composed by Ilaiyaraaja and dialogues by Karunanidhi, the film turned out to be an average entertainer, and it was not commercially successful either. However, the film could make a mark as a slice of Tamil Nadu's politics. That's because the film was released on March 10, 1989, shortly after the DMK came to power for the second time, albeit for a year only. The year was important not only in the state's political history but also in Indian politics and culture. It was the year the DMK government enacted an Act that gave property rights to women.
Further, it is interesting to note that the film's main theme was about how not having property rights leaves a woman in the lurch. The film also talked about women's fighting spirit against male chauvinism, a theme which was dear to Karunanidhi, who emphasised women empowerment and freedom from his earliest films like Marudhanaattu Ilavarasi (1950), Manthiri Kumari (1950), Parasakthi (1952), and Poompuhar (1964).
Also read: Tamil actor, comedian, director Manobala dies at 69
"When we approached Kalaignar for this film, he first hesitated, since the film did not have any political undertones. But surprisingly, he accepted to write for a plain woman-centric film due to Radhika's cajoling" said Manobala. He also added that Radhika insisted that he should not alter Karunanidhi's dialogues even if the language sounded old-fashioned.
"Though the film's story lacked any political shades, the dialogues were political. He talked about women's rights, particularly about property rights," said Balabharathi.
Given the political condition of that time (it was AIADMK's rule while the film was being shot), working with Karunanidhi was quite a risky job, said Manobala, who many years later campaigned for the AIADMK.
Memorable songs
The film had four songs, out of which three were written by the lyricist Vaali, and one was written by Ilaiyaraaja. Songs like Dhoori Dhoori Dhummakka Dhoori and Oru Raja En Pinnodu Vandhaan by Vaali became chart busters.
Dr Sylvian Patrick, a lecturer and movie buff, said that the song Oru Raja En Pinnodu Vandhaan was like a competition song sung by two stalwarts – KS Chithra and SP Sailaja.
"In Hindi, the song was sung by Asha Bhonsle and Sadhana Sargam (a newbie at that time). Ilaiyaraaja's version is incomparable to the Hindi version. The song starts with an electronic beat that continues through the song, and the intro begins with electric guitar and blaring trumpets announcing the arrival of the two ladies. Apart from the electronic beat, there is a horse galloping beat in the background. The first interlude is like Spanish bullfight music. In contrast, the second interlude is a conversation between the female chorus and brass section. Of course, the singing is on point," he wrote on his blog Sylvianism.
Another music enthusiast and writer Kana Praba, in one of his social media posts, said that the song Kannamma Kannamma Onnu Naan Sollalama written by Ilaiyaraaja would have remained just as a piece of advice if it had been sung by any other singer.
"Since it was sung by Ilaiyaraaja with his rural voice and simple words, the song boosts the confidence of women and brings solace to them, both at the same time" he said.