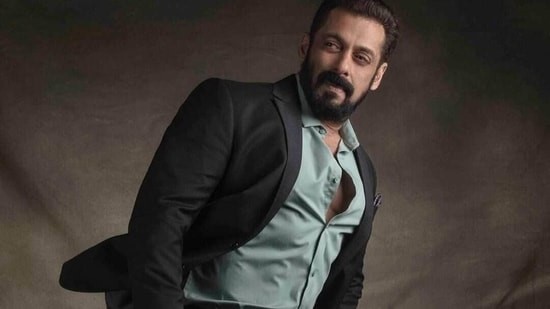 The 'Kisi Ka Bhai Kisi Ki Jaan' actor is on the target list of gangsters. The Mumbai Police has provided Salman Khan with Y+ category security after assessing the threat perception
Amid "serious" death threats to his life, Bollywood actor Salman Khan admitted that he has no choice but to go around with full security.
Sharing his experience on India TV's show 'Aap Ki Adalat', the 'Dabangg' star said that he knows "whatever is going to happen will happen no matter what you do."
"I believe that (points towards god) that he is there. It is not that I will start roaming freely, it is not like that. Now there are so many Sheras around me, so many guns are going around with me that I am myself scared these days," he admitted.
Salman Khan, whose last film 'Kisi Ka Bhai Kisi Ki Jaan' is not exactly setting the box-office on fire and is far away from hitting the coveted ₹100 crore mark, is on the target list of gangsters. The Mumbai Police has provided the 'Tiger Zinda Hai' actor with Y+ category security.
Also read: Salman Khan receives another death threat, caller says he will kill the actor on April 30
Further, he confided in the TV show that security is better than insecurity. Admitting to the security around him, he said that now it is not possible to ride a bicycle on the road and go alone anywhere.
And he added, that he has this problem that when he is in a traffic, he is surrounded by so much security that the vehicles are creating inconvenience to other people. "They also give me a look. And my poor fans. There is a serious threat that's why there is security," he explained in the TV show.
Also, he is doing whatever he has been told, and then went on to quote a dialogue from 'Kisi Ka Bhai Kisi Ki Jaan' to drive home his dire situation. "…they have to be lucky 100 times, I have to be lucky once'. So, I got to be very careful."
A threat call was made to the Mumbai Police control room on April 10 and the caller, who had identified himself as Rockey Bhai from Jodhpur in Rajasthan, had threatened to eliminate Salman Khan on April 30. The caller claimed he was a Gau Rakshak (cow-vigilante).
Also read: Salman Khan's office receives threat email asking him to meet Goldy Brar
Since the caller was a minor, the Mumbai police felt that as of now, they don't think the call should be taken seriously. But, they were investigating why the minor behaved in such a fashion.
Earlier too, Dhakad Ram, a resident of Luni in Jodhpur was picked up in a joint operation by the Mumbai Police and Luni police team. Ram had sent a threat mail to Salman saying the actor will meet the same fate as Sidhu Moosewala.
After assessing the threat perception, Salman Khan has been provided with Y+security, especially after he received a death threat letter from the Lawrence Bishnoi gang.