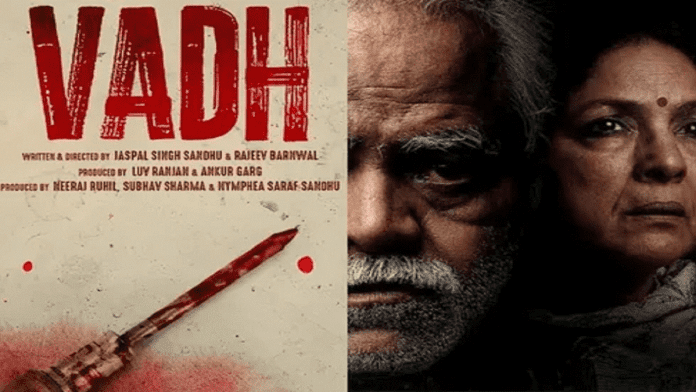 The Sanjay Mishra-Neena Gupta film, Vadh, which released in theatres in December, has released on Netflix this weekend
Jehanabad: Of Love and War is a love story set amid the backdrop of the real historic Jehanabad jailbreak incident in 2005. Created by the inimitable director Sudhir Mishra (Hazaron Khwahishein Aisi, Serious Men, Daas Dev), this series which is streaming on SonyLiv from this weekend, is picking up mixed reviews. While one reviewer said that if a viewer gets past the first few episodes which seem far-fetched, the series really picks up and ends with a typical Bollywood masala climax.
Co-directed by Rajeev Barnwal and Satyanshu Singh, this 10-part series, with episodes ranging in length from 35 minutes to 50 minutes, is a story about love, anarchy, caste politics, and Naxalism. Set in Bihar, the series tries to do a Mirzapur now and then but largely the plot moves back and forth from the love story to the insurgents plotting the rescue of their leader from jail.
So, a quick recap about the Jehanabad jail break that took place in November 13, 2005. In what is viewed as the "most daring attack" in the history of the Maoist or Naxalite movement in India, approximately 150 to 200 armed cadres of the Communist Party of India-Maoist (CPI-Maoist) along with some 800 sympathisers attacked the Jehanabad district jail in Bihar on November 13, 2005, and freed 341 prisoners.
The series does not concentrate on just this dramatic event. There are three tracks running parallel to each other in Jehanabad: one is that of the willful Kasturi Mishra (Harshita Gaur), who falls headlong in love with her English literature professor, Abhimanya Singh (Ritwik Bhowmik); secondly there's a group of Naxals plotting a deadly jailbreak to free their commander, Deepak Kumar (Parambrata Chattopadhyay) and in the third track, an upper-caste politician Shivanand (Rajat Kapoor) plays his own crafty games, even as caste inequalities are being played out.
Some of the characters, including Harshita Gaur (known for her role in Mirzapur as Dimpy), the hapless Sonal Jha and Rajesh Jais as Kasturi's parents stand out in this series, as much as Bollywood actor Satyadeep Mishra does, playing the role of a well-meaning police officer. Satyadeep who also played a hardened Indian spy in Zee5's Mukbhir, the story of a spy, made his debut in Bollywood with the 2011 No one killed Jessica and is a talented actor. He is making news for an entirely different reason now having tied the knot with the glamourous Masaba Gupta. Maybe, Jehanabad is not Mirzapur but is worth a watch.
Also read: Web series 'Pettaikaali' looks at jallikattu from class angle, busts some myths
Passable thriller but great acting
The Sanjay Mishra-Neena Gupta film, Vadh, which released in theatres in December, has released on Netflix this weekend. This film is about a Gwalior-based elderly retired couple whose middle-class, placid lives go awry and horribly wrong after Shambhunath (Sanjay Mishra) murders a local loan shark. An unfeeling son back in the US does not care a whit about their problems, which was incidentally caused by him.
There is no point beating around the bush after committing a sin. The couple, humble and helpless, decide to hide the crime and try to get away with the perfect murder. There's also a corrupt cop, Shakti Singh (Manag Vij), who is closely watching Shambhunath and his wife Manju (Neena Gupta) and will try to nail them at any cost. Seems to be on the lines of the hit film, Drishyam, that spawned so many remakes?
Vadh is written and directed by Jaspal Singh Sandhu and Rajeev Barnwal. The film is presented by Luv Films' Luv Ranjan (whose new film Tu Jhoothi Main Makkar with Ranbir Kapoor and Shraddha Kapoor is all set for a mega Bollywood release) and Ankur Garg.
What's class got to do with it?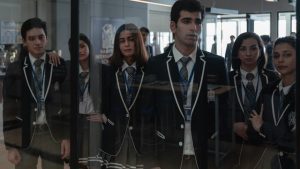 Not many Indian thriller series have been based in a school so far, (unlike American films), and one especially tackling the socio-economic divide among students. Class, an adaptation (is there any other?) from a popular Spanish series, Elite, is all set to premiere on Netflix on February 3.
Set in an exclusive, expensive school called Hampton International, it is about how the lives of three scholarship students who join this elite academy, turns tumultuous. The school is full of rich, spoilt privileged kids, who have the world at their feet. These poor kids who hail from the other side of the track, discover that the school has many dark secrets. What happens when these two stark worlds collide, and a murder is thrown into this mix?
Featuring an ensemble cast of youngsters, the series has been written by Rajesh Devraj, Kersi Khambatta, Raghav Kakkar, Kashyap Kapoor, and Bhaskar Hazarika and produced by Bodhitree Multimedia Ltd. The series showrunner and director here too is a well-known name from independent cinema, Ashim Alhuwalia (Daddy and Miss Lovely). The trailer gives a glimpse of the high-voltage drama as the dynamics behind "class" unravels in an exclusive school.
Also read: OTT: 'Trial by Fire' on Uphaar tragedy, a dog hunt, a Golden Globe winner
Gunther's Millions
This documentary reminds you of Tiger King that exploded on Netflix during the pandemic but it doesn't have the same bite. Remember the jaw-dropping exploits of Joe Exotic and how viewers in India could not have their fill of that documentary watching it with guilt-ridden pleasure? Gunther's Millions, which is all about a wealthy German Shepherd dog known as Gunther that owns luxury yachts, mansions and lives the life of a millionaire, however, is not so absorbing.
It's the story of how a German shepherd became "the richest animal in the world" after inheriting an $80m fortune from his doting owner, the late Countess Karlotta Liebenstein. But there's not much of the dog unfortunately who loves caviar and steaks and has its own personal chef in the docu. Instead it is more about his human handlers, especially the one who is managing Gunther's financial affairs: Maurizio Mian, the mercurial CEO of the Gunther Corporation, who somehow gets involved in setting up a cult using the dog's name.
If Gunther owns a Miami mansion once owned by Madonna, a villa in Tuscany, a yacht and a staff of 27, including buxomy, sexy blondes, it is not because he has expressed a desire for them, has he? So, it is all a twisted tale that unravels as Maurizio and a horde of people who took care of Gunther are interviewed by Netflix. But, the series is not as riveting as Tiger King and it seems boring to watch the weird goings-on of very wealthy, desperate people. There's a big reveal in the end which really robs the series of any little sheen it has.
The Last of Us
Episode 3 of the video game adaptation The Last of Us landed on Disney+Hotstar earlier this week. The director moved away from Joel (a brilliant Pedro Pascal who grows on you) and 14-year-old Ellie (Bella Ramsey) trekking through ghostly, broken down buildings of Boston dodging infected humans running wild, and instead concentrated on two lovers. They are survivors in a radically transformed world, where humans eat humans and they grab at whatever love and strawberries life has to offer. For lovers of the game, it is the backstory of Bill, one of the key characters.
This third episode which focusses on Bill, a survivalist who hates everyone and is happy people have been evacuated from his town, falls in love with Frank (Murray Bartlett, the awesome Australian actor from season 1 of The White Lotus), who stumbles into his traps set up for infected humans (humans have become infected by a fungus that takes control of them and makes them into human flesh eating monsters) If you have not caught onto this post-apocalyptic world, it is quite riveting with great music tracks thrown in.
The main plot revolves around Joel, a violent survivor, who is hired to smuggle a 14 year-old girl, Ellie, out of an oppressive military quarantine zone. But, what starts as a small assignment soon transforms into a brutal journey across the US. Cannot wait for episode 4 landing on February 6.