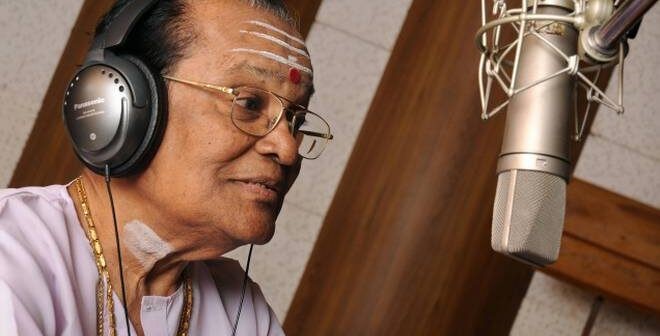 TMS' robust and full-throated renditions gave life to several songs by matinee idols MG Ramachandran and Sivaji Ganesan
The playback singing legend, TM Soundararajan, whose career spanned over six-and-a-half decades, dominated Tamil music for decades and sang over 10,000 songs. His robust and full-throated renditions gave life to several songs by matinee idols MG Ramachandran and Sivaji Ganesan, and also contributed in no small measure to help at least one of them to cement the image of being an ardent and honest champion of the poor.
What made TMS special is that he could deliver romance, philosophy, folk, classical and even songs with western tunes with aplomb. His rendering of devotional songs had a special quality to it – his song on Lord Muruga, 'Ullam Uruguthaiyaa' has often been described as having a "healing effect".
Most of his popular hit songs had been composed by music directors MS Viswanathan, KV Mahadevan and the Viswanathan-Ramamurthy duo. Born in Madurai, TMS started his singing career in 1946 and continued to sing till 2007. He made his debut in a successful MGR movie in 1950 – 'Manthiri Kumari' (The Minister's Daughter), scripted by the late former DMK supremo M Karunanidhi. He then went on to become the voice of MGR and Sivaji Ganesan from the 1950s to the 1970s.
In an interview with a leading daily, TMS said that he closely followed the voice of the actors and their tonal modulations when he sang for them. He used to sing in a voice that matched the actor's voice, his persona and the character he played in that particular film.
His songs helped to lend character to the roles essayed by the heroes, adding to their charm and intensity, the reason why the leading actors of that time such as Sivaji and MGR insisted that he should sing for them, he had said.
On his 101st birth anniversary, here is a list of some of his popular tracks from the movies:
Also read: How Naatu Naatu evokes life in the countryside, and a sense of identity
Engey Nimmathi
'Engey Nimmathi', a tearful, pathos-filled song from the 1964 movie 'Puthiya Paravai' symbolises complete loss of hope and despair. And, TMS manages to convey that abundantly and the way veteran actor Sivaji Ganesan rose to the occasion to display his acting prowess helped the song to become a cult classic. All the songs in this movie were a hit, including the song that has a jazz touch to it: 'Paartha Gnabagam Ilaiyo' picturised on Sowcar Janaki.
Unnai Arindhaal
This song, with lyrics penned by the great Kannadasan and music by K V Mahadevan, centres around the powers of "self-realisation". It was sung by TMS with a certain savoir-faire. This is from the film, the 1964 'Vettaikkaran', in which MGR clad in cowboy gear is on a horse following Savitri singing this song to her. The lyrics are filled with advice on the importance of being self-aware, which can then help a person to live life with your head held high. The song carries some lessons on leadership too.
Adho Andha Paravai Pola
This joyous, happy song by TMS from the 1965 'Aayirathil Oruvan' is one the film's most popular songs.  This film, which was inspired by many English films on pirates, was a huge hit. But, this song picturised on MGR, then newcomer Jayalalithaa and a host of others onboard a ship, is an all-time favourite with Tamil filmmakers. It was remixed and featured in the 2010 film 'Aayirathil Oruvan'.
Paattum Naane Bhavavamum Naane
This song by TMS is from the Sivaji Ganesan and Savitri starrer, 1965 film 'Thiruvilayadil' (Divine Game). In this scene, Sivaji's character pours all his energy into singing this song to prove a point. It is a soul-stirring song.
Puthiya Vaanam, Puthiya bhoomi  
This evergreen, rousing number by TMS, which has lyrics that praise the beauty of nature is picturised on MGR dancing around in a hill station, in his 1966 box-office hit, 'Anbe Vaa'.
Also read: 'Naatu Naatu' not a Bollywood song: Irate netizens slam Oscar host Jimmy Kimmel
Pachachaikili Muthucharam
This romantic and peppy song from MGR's 'Ulagam Sutrum Valiban' is a treat to listen to revive memories of the melodies of that time. It was sung by TMS and P Susheela.
Aadaludan Paadalai Kettu
This jaunty, peppy song is from the 1968 MGR's film 'Kudiyirundha Koyil'. Directed by K Shankar, this film, crossed more than 100 days in Chennai and other major cities. 'Aadaludan Paadalai Keetu' involves a dance sequence with MGR and Rajashree. Another song from this film, 'Yennai Theriyuma' is also sung by TMS and has some memorable moments with Jayalalitha in a figure-hugging gown doing the twist.
Parama Sivan Kaluthilrunthu
This song sung in his characteristic strong voice and full of double meaning, TMS sent the message that a husband (Muthuraman) wanted to convey to his wife (Jayalalithaa), who is more successful than him. This song is from the movie 'Suriyakanthi', in which the husband's male ego had been ruffled and this song is meant to tell the wife, not too subtly that she must not cross the line. The lyrics by Kannadasan explored emotions with depth and literary flair.
Naan Aanaiyittaal
This rousing song, which blared out of tea shops in every corner of Tamil Nadu and probably cemented MGR as the champion of the poor, was sung by TMS. This song, which  became a legend, was from the 1965 'Enga Veetu Pillai'.  It starred MGR, B. Saroja Devi, with MN Nambiar, Rathna and Pandari Bai in supporting roles. The film is about two identical twins who are separated at birth and what happens to them when they cross paths later in life. And, this film went on to inspire many such films.
The footage of this song 'Naan Aanaiyittal' was used in the 2009 Tamil film 'Villu'.
Adi Ennadi Rakkamma
This fast-paced, rustic and peppy song sung by TMS is from Sivaji Ganesan and Jayalalithaa's family drama 'Pattikkada Pattanama', which released in 1972. It also has a sad version which is haunting. The song 'Ennadi Rakkamma is set in the Carnatic raga known as Shanmukhapriya and features in most cultural festivals in Madurai. The song was later remixed by D Imman in the 2010 'Vaadaa'.
Chiththiram Pesuthadi
This romantic number sung by TMS is from the film 'Sabash Meena' starring Sivaji Ganesan, B Saroja Devi and Malini, which released in 1958.
Thirudathey Paapa
This song on MGR teaching morals to a bunch of kids and sung by TMS is from the 1961 'Thirudathe' directed by P Neelakantan. The music is by SM Subbaiah Naidu and lyrics by Patukkottai Kalyanasundaram.
Also read: Top 10 most profitable Tamil movies of 2022
Vasantha Mullai Pole
This melodious romantic song is from the 1958 'Sarangadhara' starring Sivaji Ganesan and P Bhanumathi. Based on the epic of the same name by Gurajada Apparao, it has music by G Ramanathan. The song 'Vasantha Mullai Pole' sung by TMS set in Charukesi raga became hugely popular was later remixed by Mani Sharma for the 2007 'Pokkiri'.
Kaasethaan Kadavulappa
This unhappy song from the flop 1968 'Chakkaram' ( Wheel) has been composed by S M Subbaiah Naidu, while the lyrics were written by Vaali. The song does not pull any punches and comes out with home truths like money is god and god even knows that. It became very popular, maybe, people resonated with the lyrics of this song sung by TMS with fervour.
Ninaithen Vanthaai
This is a catchy, tuneful number from the MGR Jayalalithaa spy action film, the 1967 'Kaavalkaaran'. The film became a major success, with MGR considering it to be one of the many turning points in his career. The song, sung by TMS and P Susheela, is a dream sequence and is set amid pyramids and majestic sphinxes with MGR and Jayalalithaa appearing as Cleopatra and Antony and later, as Laila and Majnu.
Kannai Nambadhe
This song, picturised on MGR and Manjula, is from the 1975 film 'Ninaithadhai Mudippavan'. It is a remake of the 1970 Hindi film 'Sachaa Jhutha'. The songs, composed by MSV, in this film were all chartbursters like 'Poomazhai Thoovi', 'Kannai Nambathey' and 'Oruvar Meethu'. The song 'Kannai Nambathey' was later remixed by G V Prakash Kumar in his 2016 film 'Enakku Innoru Per Irukku'.
Ponmagal Vandhaal
This TMS song is from 'Sorgam' (Heaven), a 1970 Tamil film starring Sivaji Ganesan, K R Vijaya, Rajasree, R Muthuraman and K Balaji. The film was directed by T R Ramanna. 'Sorgam' became a major success, running for over 100 days at the box-office. And, the song 'Ponmagal Vandhaal', in which Sivaji is seen in a glittering purple suit, was parodied in the 2003 'Pithamagan' and remixed by A R Rahman in the 2007 'Azhagiya Tamil Magan'.
Kann Pona Pokkile
This song is from 'Panam Padaithavan' ( The one who has money), a 1965 Tamil film produced and directed by T R Ramanna. The film starred M GR, Sowcar Janaki and KR Vijaya. This song has MGR clad in a natty suit playing the piano and singing the tuneful number.
Muthukkalo Kangal
This song that TMS sung with P Susheela is a deeply romantic duet. It is from the 1967 'Nenjirukkum Varai' (As long as there is a heart) directed and produced by C V Sridhar. The film stars Sivaji Ganesan, Muthuraman, Gopalakrishnan, K. R. Vijaya and Geetanjali. It revolves around a man struggling with poverty, who then falls in love with his house owner's daughter. The song is picturised on the lovers, Sivaji and K R Vijaya.