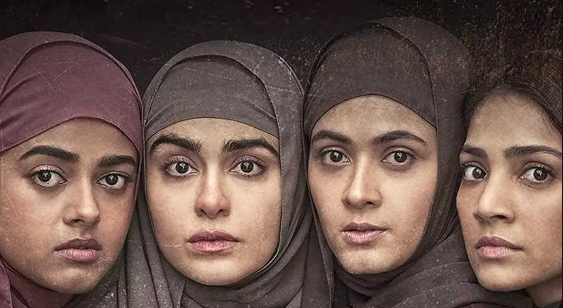 There are two 'Kerala stories' in theatres this Friday to choose from: The Kerala Story, a propaganda film directed by Sudipto Sen and, the Jude Anthany Joseph-helmed 2018, on the floods that ravaged Kerala five years ago. The Kerala Story only got a limited release in Kerala, after the PVR group decided to pull the plug on releasing it in their multiplexes, fearing protests.
In Kochi, the film was shown only at the iconic Shenoys complex, which had more police officers and media professionals in its premises than people queuing up to watch the film. There were a handful of protesters too, from the Nationalist Youth Congress, and the Fraternity Movement, the student wings of the Nationalist Congress Party and the Jamat-e-Islami, respectively.
Also read: Karnataka polls: Citing 'Kerala Story', Modi says Congress kneeling before terrorism
One could figure out the plot and the storyline from the trailer itself, which left almost nothing much to the imagination. But what actually unfolds before you is a juvenile cringefest that would severely test your endurance levels.
The film begins with Adah Sharma's Shalini Unnikrishnan alias Fatima Ba in captivity, narrating her story and how she got there. The image pans to some beautiful frames of Kerala followed by a Malayalam song and a few scenes which do not give you an inkling of what is in store.
Cut to Kasaragod. Shalini takes admission in a nursing school in the northern end of Kerala (probably to allow director Sudipto Sen to take the liberty of shooting in Mangalore) where the walls are scribbled with "Free Kashmir" and other Urdu/Arabic slogans. Her hostel mates and their backgrounds are spelt out clearly so that there's no confusion to the target audience.
Also read: The Kerala Story: Will show film to 100 girls to save them from love jihad, says UP BJP leader
There's Geetanjali from Kochi who was raised a communist, Nimah Mathews from Kottayam (why, you may ask? Because Nimah is a Catholic and Kottayam is one place Sen surely knows Christians abound) and then Shalini finally meets her last mate – a hijab-sporting Asifa – who is greeted with, "let me guess your place – Malappuram, right?".
Sen's bogus claims of having researched exhaustively for the film gets exposed in the process and he merely perpetuates certain stereotypes of Kerala prevalent outside the state. Sen's over-the-top representations make it amply clear that he is catering to that section of the audience which can't distinguish 'karela' (bitter gourd, a vegetable) from Kerala.
Sen also seems to be inspired by the likes of hate preachers such as Zakir Naik to present his binaries, for his formulations comparing Islam and Hinduism, are as amateurish as the televangelist's. The scenes where Shalini and her hostel mates go through indoctrination are hilarious, and you might be forgiven for laughing your guts out in these portions.
Geetanjali, Nimah and Asifa are played by Siddhi Idnani, Yogita Bihani and Sonia Balani – all of Sindhi origin, which I found curious – on screen. They don't have to utter Malayalam lines but Adah who plays the lead has to mouth a fair number of Malayalam dialogues which she makes a hash of, despite tracing her ancestry to Kerala, from her mother's side.
Also read: Rs 1.11 crore reward offered to prove claims made in 'The Kerala Story'
The characters are all made to speak their Hindi lines in the generic 'Madrasi' accent than a Malayalam or standard Hindi accent, and their lack of Hindi proficiency is made evident by poor grammar. There's communist bashing as expected but the kind of Islamophobia on display – Sen shares the writing credits with Suryapal Singh and producer Vipul Amrutlal Shah – is almost unbelievable.
Sen presents the Muslim community in poor light by casting aspersions on their nationalism and portraying them as libidinous wolves on the prowl working towards a greater goal of turning India into an Islamic State. The trope of Hindus not being militant enough in their faiths and the catholic character withstanding the indoctrination are all adopted from the standard Hindutva playbook.
At the intermission, I ran into BJP leader CG Rajagopal, who had contested to the assembly on a BJP ticket from the city earlier. To my question on what he felt about the film, Rajagopal merely replied – "bheekaram" (atrocious or scary depending on the context) which I interpreted to be disappointing. The crowd had a fair share of orange thread-sporting (a mark of Sangh identity in Kerala) folks.
Also read: The Kerala Story: State up in arms against Sudipto Sen's 'right-wing propaganda film'
The gory violence and graphic scenes of women getting violated would leave you disturbed. If Sen really wanted to make a propaganda film, he could have gone about it in a slightly more intelligent manner. Such dumbing down of the screenplay might work for the 'Karela' audience, but stands no chance in Kerala. No wonder Sen didn't come down to Kerala to promote 'his' story of the state.
Verdict: Avoid at all costs.