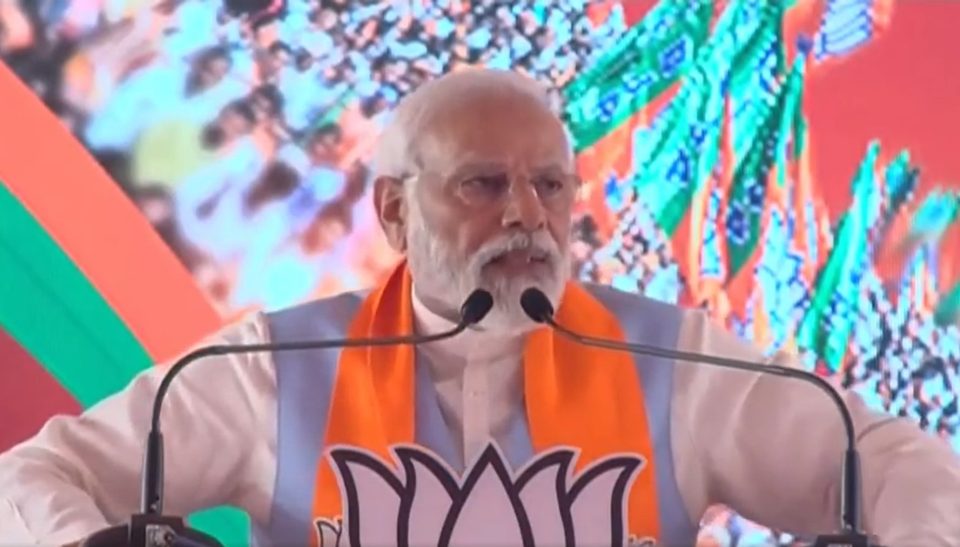 Launching a scathing attack on the Congress, Prime Minister Narendra Modi on Friday charged the Congress with "kneeling" before terrorism to save its vote bank. In an election rally in Karnataka's Bellary, Modi accused the Congress of opposing the controversial film 'The Kerala Story', which he said is based on a terror conspiracy.
The Congress, he said, is supporting those who are defending terrorism by trying to ban this film.
"Bombs, guns, and pistols make a lot of sound, but there is no sound of a terrorist conspiracy which can hollow the society from within. Even the court has expressed concern over this form of terror. There are a lot of discussions these days about the film 'The Kerala Story' based on such a terrorist conspiracy," media reports quoted him. The Congress is opposing the film made on terrorism and standing with terror tendencies, Modi added.
Also read: Fractured Karnataka electorate keeps Congress, BJP on tenterhooks
'Congress kneeling before terrorism'
"This Kerala Story film brings out terror conspiracies happening in that state," he said. "It is unfortunate that Congress can be seen standing with this terror trend that is seeking to ruin the country."
He further said that while the BJP has always been harsh against terror, the Congress gets a "stomach ache" whenever there is action against terror.
"Terrorism is anti-human and regressive. But to save its own vote bank, Congress has kneeled down before terrorism. Can it protect Karnataka?" he asked adding that under the climate of terror, the industries, the IT industry, farmers, and rich culture and heritage in Karnataka will be destroyed.
Dismissing pre-poll surveys
On pre-poll surveys giving an edge to the Congress in coming Karnataka assembly elections, Modi said the Congress is "using disinformation to fool the people and win the election."
Modi yet again brought up the Bajrang Dal issue. The Congress in its manifesto has promised to ban those organisations that promote "enmity or hatred, whether among majority or minority communities", and named Bajrang Dal and PFI in that regard.
Bajrang Dal issue
"The Congress is shuddering to see the support we are getting. They get scared even if I say 'Jai Bajrangbali'," the report quoted him. Like in his last rally in the state, he asked the audience to repeat the slogan with him.
Also read: Karnataka polls: Bajrang Dal row divides Congress, gives ammunition to BJP
Retorting to the Congress jibes of "40 per cent commission" aimed at the Bommai government, he said, "Rajiv Gandhi had said that when the central government sends Rs 1, only 15 paise reach the people. This means that he himself had accepted Congress as 85 per cent commission party."