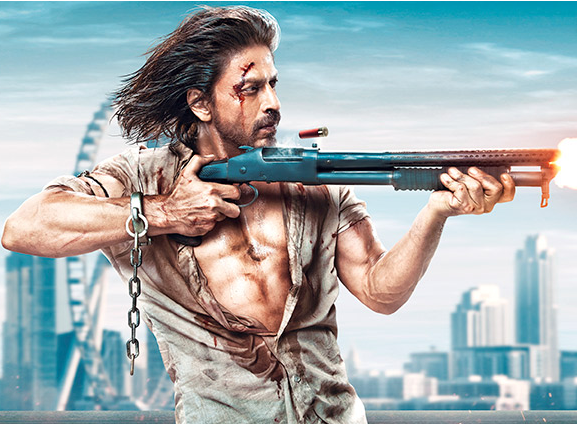 Shah Rukh Khan, the 'Baadshah' of Bollywood, is back with a bang with his latest film Pathaan. The movie received a massive opening worldwide and had the biggest release for a Hindi film ever in the history of Indian cinema.
As per reports, the movie released in over 5,500 screens in India and more than 2,500 screens overseas. It is said that the film simultaneously released in nearly 100 countries across the world. The number of screens kept getting added due to huge public demand.
Pathan Review | Bollywood roars back with SRK's spy thriller  
As per reports, Pathaan managed to rake in around ₹55 crore at the box office on Day 1. The numbers are phenomenal given the fact that it was released on a non-holiday.
Films like Baahubali – The Conclusion, War and KGF Chapter 2 earned more on the opening day of its release. However, all these films released on a holiday. It is being said that Pathaan would have beaten the records if it was released on January 26 which is a holiday. However, the makers are not complaining as they know that the numbers will increase on Day 2.
Interestingly, Pathaan has managed to collect nearly ₹25 crore on Day 1 from national chains alone. Movie critic and analyst Taran Adarsh took to Twitter to share the numbers across national chains.
#Pathaan at national chains… Day 1… Update: 8.15 pm.#PVR: 11.40 cr#INOX: 8.75 cr#Cinepolis 4.90 cr
Total: ₹ 25.05 cr
SUPERB.

Note: Better than #War [₹ 19.67 cr], #TOH [₹ 18 cr] and #KGF [₹ 22.15 cr] – *entire day* numbers at multiplex chains. pic.twitter.com/bHmdT5Qd46

— taran adarsh (@taran_adarsh) January 25, 2023

The film is expected to reach the 100 Crore Club on Day 2, making it one of the biggest openings for a Shah Rukh Khan film.
Relief for Bollywood
Pathaan has certainly come as a big relief both for Shah Rukh and Bollywood, which of late has been grappling with boycott trends. It has proved that the Hindi box office is still alive and kicking. Interestingly, Pathaan has broken the myth regarding movie promotions and lower ticket pricing.
Also read: SRK-starrer Pathaan's morning shows cancelled in Indore due to protests
Shah Rukh didn't promote the film as much as he did for his previous films and the ticket prices were normal if not more. The movie collections has shown the audience are willing to pay premium pricing for a movie if they like it.
Pathaan is Shah Rukh's first outing after more than four years. The 'King of Romance' will be seen in the role of a RAW agent in the action flick. The film also stars Deepika Padukone and John Abraham in pivotal roles. Salman Khan plays a cameo and is an interesting element in the film, say fans.
Also read: 'Pathaan' release: 4 held in Indore for 'anti-Prophet' slogans; 9 detained in Faridabad
The movie is expected to break several box office records by the end of the weekend and has certainly come as a big relief to Bollywood which had a pathetic run at the box office in 2022.
Performance in Bengaluru
"Pathaan is doing well at our multiplex," said Janardhana Reddy of Swagath Enterprise, co-owner of Swagath Garuda Mall, Bengaluru. "Even though we are not distributing the film, we gave four screens and had more than 50% occupancy, yesterday which is a positive sign as it was a Wednesday. Today, the morning and afternoon shows have anywhere between 70%-80% occupancy. We are expecting all screens to be full for the evening and night shows."
A representative of Orion Mall, Bengaluru, who didn't want to be named, claimed the response to film has been extraordinary. The mall had 41 shows on Wednesday and most shows had 60% occupancy, he said. However,  the number of shows was reduced to 21 on Thursday as Kannada star Darshan's Kranti was released. "The numbers for Pathaan are better on Thursday compared to Wednesday. The shows are filled mostly with a young crowd and hopefully we will see grown ups make it over the weekend or starting next week," he said.