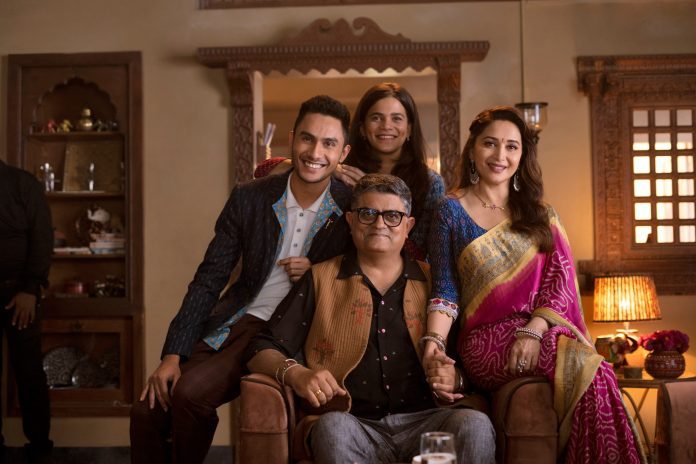 Maja Ma', streaming on Amazon Prime Video, is not a typical family entertainer and can get tedious at times
Bollywood's fancy to be 'woke' of late can get tedious at times. Tackling same sex love has become quite the norm and nobody is really batting an eyelid as OTT films and anthologies effectively explore the theme in myriad ways.
The excellent 'Geeli Puchi' on a Dalit lesbian in the Netflix anthology 'Ajeeb Dastaans'; and 'Modern Love Mumbai's episode 'Bhai', with Pratik Gandhi enacting the anxious gay grandson shying away from confessing his sexual orientation to his grandmother are some recent examples. Tamil cinema too ventured into this space with OTT series 'Anantham', where gay love was portrayed with care.
The last thing you expect to be tossed about in commercial cinema's former diva Madhuri Dixit's new film 'Maja Ma' is LGBTQ+ rights. The film is indeed centred around same sex love but the movie plays it extremely safe and never really dives into what it means to live in a closet and finally, relegates it to some divine, pure realm.
Small-town diva
The story starts off quite innocuously with a middle-class wife Pallavi (a glamorously decked up Madhuri), lording it in a small town in Gujarat. She's a great cook and  a dazzling dancer and the star of the resident's society they live in. Her daughter Tara (Shruti Srivastava, who is one of the saving graces of the film) holds a torch for LGBTQ+ issues and is married to an understanding bloke.
This idyllic world is all set to fall apart as her son Tejas (Ritwik Bhowmik) working in the US falls in love with an American NRI Esha (Barkha Singh), and brings her family to meet his parents. Esha's mom and dad, Bob (Rajit Kapur) and Pam Hansraj ( the talented Sheeba Chaddha is sadly misused), with their atrocious, fake and loud American accents seem to have a penchant for the lie-detector test, which is handled by an expressionless American called John. So, god forbid if you have any skeletons rattling in the closet that can be nailed by this lie-detector.
Also read: Madhuri Dixit buys Mumbai apartment worth ₹48 crore
Bob and Pam Hansraj want their daughter to marry into a sanskari Indian family and even want only a virgin son-in-law. Pallavi and her husband (the never failing solid husband Gajraj Rao) pull out all the stops to welcome this fastidious rich NRI couple, but Pallavi is harbouring a secret for many years that may become a hurdle in her son's engagement.
On lie-detectors and truths
This secret unfortunately tumbles out and how the members of her tight-knit family deal with it forms the rest of the film. Pallavi too has to come to terms with her real identity, which was submerged while building a loving family and a strong foundation with her husband. There's also the entry of Simone Singh and Ninad Kamat, their old family friends who come visiting and add to the heavily fraught atmosphere.
But the script journeys down a muddled road and the viewer is kept in the dark about Pallavi's real feelings. Everyone else is giving some garbled reasoning for who she is. The problem with this film is that it skirts along on the surface with this hot button of a topic and seems content to use it as a ploy to push some other trite agenda. Like the time Pallavi tells her anguished son that by idolizing her and putting her on a pedestal he had quite forgotten that she's human too.
Maybe, the film balks at taking the film any further because it has Madhuri Dixit in the centre of it all (it doesn't help that she sports a blank look). This 1990s heroine was every male movie-goer's fantasy dream girl and maybe, the writers were told not to mess with that 'maja' aura. 'Maja Ma', streaming on Amazon Prime Video, is not a typical family entertainer and can drag in parts, despite the garba dances and colourful backdrop, so watch out!
On OTT: Mighty tale of India
Here's an interesting docu-series that doffs a hat at the mighty tale of India and has the legendary Amitabh Bachchan helming the show as the sutradhar. Streaming on discovery+ from October 10, this docu-series, 'The Journey India' showcases the splendours of India's legacy with first-hand accounts from personalities such as Anand Mahindra, Kajol, Karan Johar, Rana Daggubati, AR Rahman, Nandan Nilekani and Naina Lal Kidwai among others.
It will talk about the influences, accomplishments of India during the past 75 years; from advancements in science and technology and successful space missions to the world of cinema. The first episode of the series titled 'The Land of Flavours', will tap into the diverse culinary offerings of the country starting with Udupi in Karnataka with renowned chef Vikas Khanna as the host and Amitabh Bachchan as the master of ceremonies. Check it out!