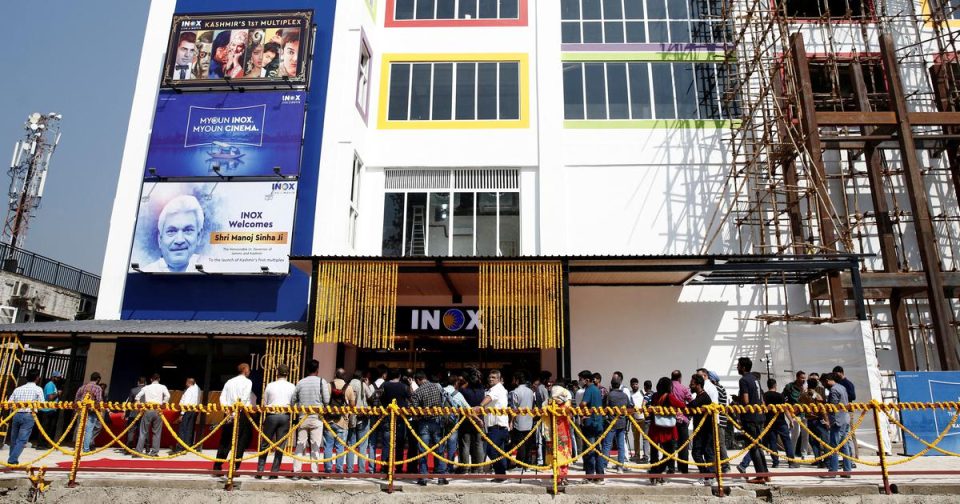 After Pathaan, Oppenheimer records bumper opening at Kashmir's only cinema hall
Hollywood blockbuster Oppenheimer has opened to a phenomenal response in Kashmir, with capital Srinagar's lone multiplex reporting record sales on Friday, the day the Christopher Nolan biopic was released.
Srinagar's only multiplex is sold out for the next three days, making Oppenheimer the biggest release in Kashmir after Shah Rukh Khan's Pathaan. This is the first time a Hollywood epic thriller has achieved full house in Kashmir's only multiplex where Cinemas remained shut for 33 years, as per an NDTV report.
Also read: Oppenheimer review: Breathtaking visuals, enigmatic Murphy make for a flawed yet thrilling fare
Even before the film was released tickets at Srinagar's INOX – the only multiplex in Kashmir- its tickets got sold out. Vikas Dhar, the owner of the INOX, said that the overwhelming response of people has surprised him. "Tickets are sold out for another few days. It has surpassed our expectations. We had never thought that a Hollywood film will get such a response," he said.
INOX in Srinagar opened in September last year ending an entertainment draught in the Valley that was enforced following rise in terrorism in 1989. According to Dhar, the release of Shah Rukh Khan's Pathaan was the turning point that attracted people to cinema in Kashmir and now it's Oppenheimer which has achieved house full.
Watch | You can't experience Oppenheimer to the fullest in India | Christopher Nolan | Cillian Murphy | IMAX
Kashmir's cinema legacy is as old as Bollywood in India. The first cinema "Kashmir Talkies" opened in Srinagar in 1932, two year before Bombay Talkies' movie studio was founded in Mumbai. It was later named as Pladium Cinema.
Eventuality, Regal Cinema and several other movie theaters came up in Kashmir. Many of them were showing Hollywood films as well. However, with the rise of terrorism backed by religious extremism, all cinemas were shut in 1989. Several attempts to reopen cinema failed due to fear and lack of moviegoers in the valley.
Also read: Who was Oppenheimer? Read about genius scientist, a bundle of contradictions
Oppenheimer is a film on the life of American physicist Robert Oppenheimer (called the "father of atomic bomb") who developed the first atomic bombs that were later dropped on Hiroshima and Nagasaki in 1945, during the Second World War. The lead role in the R-rated film is played by Cillian Murphy, the star of Peaky Blinders.