Venkat Prabhu's 'Custody' is a non-stop action flick that unfolds in the span of 48 hours. It is the story of a simple constable stuck in an extraordinary situation
Venkat Prabhu is unarguably one of the most exciting filmmakers of our times. Known for his quirky entertainers like 'Mankatha', and films that have experimental plots such as 'Maanaadu', he's finally foraying into Telugu cinema with his upcoming bilingual film, 'Custody', which releases on Friday (May 12).
The project also marks Venkat's maiden collaboration with Telugu actor Naga Chaitanya, who plays a constable encountering a most extraordinary situation. In a chat with The Federal, Venkat opens up about making a full-fledged bilingual, working with Naga Chaitanya and joining hands with his uncle, music maestro Ilaiyaraaja for the first time.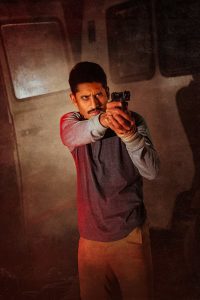 On making Custody as a bilingual 
At a time, when films dubbed into other languages are sold as pan-Indian projects, Venkat Prabhu chose to shoot 'Custody' as a bonafide bilingual. He says, "I've always tried to make films in different genres within the commercial template. When I got an opportunity to pitch this idea to Chay (Naga Chaitanya), it was a no-brainer to make it as a bilingual."
He continues, "Chay has been waiting for the right project to get launched in Tamil and I was looking for an opportunity as well to enter the Telugu market. This felt like the perfect film. We've shot 'Custody' as a proper bilingual film. We literally shot every scene twice in two languages. I enjoyed the process because Chay knows Tamil well. Therefore, I didn't have to struggle much and could extract what I exactly want."
Talking about making a bilingual film with an actor who's already an established name in Telugu film industry, Venkat said, "We've treated the film in a way that appeals to both audiences. Telugu cinema is known for their exaggerated moments to appeal to the masses but we chose to treat it in a more realistic way. In fact, we shot an action sequence exclusively for the Telugu version. After seeing the rushes, Chay requested that I should not include it in the final version. He doesn't like larger-than-life characters. We re-shot that action sequence and made it more realistic this time."
'Custody' is a relentless action-thriller with some high-octane stunt sequences. "The film really takes off after the 40th minute. It turns into a non-stop action flick that unfolds in the span of 48 hours. The plot is simple. The hero, who plays a cop, has to ensure the villain doesn't die."
Also read: Jailer release date: Rajinikanth starrer to hit theatres on August 10
'Custody' and 'Midnight Run'
Venkat Prabhu has always been open and vocal about the influences in his work. Talking about whether 'Custody' is based on the Hollywood action-comedy 'Midnight Run', he replies, "It belongs to a genre of films where two people from two ideologies have to depend on each other. Here, so films like 'Midnight Run', 'The Hitman's Bodyguard' or even 'Due Date' come to mind. All these films are very similar in terms of ideology."
And he adds, "The film 'Custody' may remind you of these films but has far Indian elements than the Hollywood counterparts."
Making Naga Chaitanya play a constable
Stars rarely play the role of a mere police constable. Heroes who play men in khaki usually flex their muscles and display superhero powers. So, how did Venkat convince Chaitanya to essay the role of a constable? "As I mentioned before, Chay is not too keen about playing larger-than-life characters. He liked the idea of a simple constable stuck in an extraordinary situation. The character has a good heroic story to elevate him but we've treated everything realistically."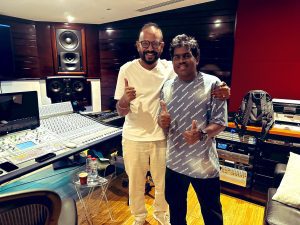 Working with Ilaiyaraaja for the first time 
'Custody' is a project of many firsts for Venkat Prabhu. This is his first Telugu film as well as a bilingual. It's his maiden collaboration with Naga Chaitanya. The director is also teaming up for the first time with his uncle Ilaiyaraaja, who has scored music for the film along with Yuvan Shankar Raja.
"I usually collaborate with Yuvan on my films. This time, I felt like approaching Raja pa, and he immediately agreed. Usually, when I work with Yuvan, I give him references of Raja pa's music and ask him to come up with something. This time, I couldn't do that and I wasn't even sure how to ask him. So, I would explain the scene to Yuvan, who would in turn tell Raja pa and he would compose a tune in just five minutes. Overall, it was an amazing experience," he recounts.
Also read: Why Mani Ratnam's Ponniyin Selvan will be praised as a masterpiece of all time
The future of bilinguals and crossover films 
With 'Custody', Venkat Prabhu is the latest director to jump on the bilingual bandwagon. It is a trend that is ruling south Indian cinema in recent times. From Dhanush's 'Vaathi' to Prashanth Neel's upcoming project with Jr NTR there will be a huge influx of bilingual and multilingual projects in the future.
Prabhu sees nothing wrong. "This is a healthy trend, no? When you're making a film in two or more languages, the business scope also grows. You're covering multiple markets with a single product. We will see a lot of crossover films in the future. We are already seeing the lines between industries have started to blur," he points out.