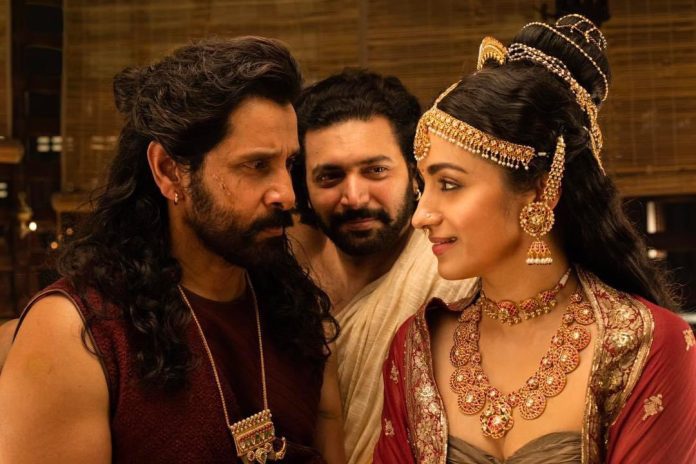 Here's a confession. 'Ponniyin Selvan 1' did not quite make an impression on me. I did not understand why everyone was raving about a film I thought was ordinary (Okay, you may not appreciate something you don't understand, and considering I hadn't read Kalki Krishnamurthy's celebrated work that may have had something to do with it).
However, I absolutely loved 'Ponniyin Selvan 2'. (I caught part 1 on Amazon Prime, right before the day of the sequel's release)
'Ponniyin Selvan 1' came to a close with stunning underwater shots, when we caught a peek of Oomai Rani, also known as Mandakini (played by an ageing Aishwarya Rai). Arulmozhi Varman aka Ponniyin Selvan (Jayam Ravi), and Vandhiyathevan (Karthi), are both sucked in by the sea. When part 1 ended, we were not sure if they were alive.
Ponniyin Selvan 2: Young love and role of water 
'Ponniyin Selvan 2' opens with the sea once more ('Aazhi Mazhai Kanna' playing in the background), and tells the story of a young Nandini (Sara Arjun), and young Aditha Karikalan (Santhosh Sreeram), and their unsettled love affair. A lovely song by AR Rahman tells us everything we need to know about the duo's doomed love, with few or no words at all.
'Ponniyin Selvan 2' is fuelled by water and its many mysteries. Arulmozhi Varman, later known as Raja Raja Chozhan, drowns in the river, more than once. But, each time, a woman (Mandakini) saves him. As a result, he becomes Ponniyin Selvan, the child of Ponni. Mandakini is the name of the river that feeds into the Ganga. Like the mighty Ganga, Mandakini is resilient, pristine, and compassionate.
Naturally, the river (Cauvery) takes on the role of the main silent character, in both parts. The river is still and so is Mandakini.
Similar to how Kalki's 'Ponniyin Selvan' draws readers in each time, acclaimed director Mani Ratnam's interpretation of political intrigue and drama, warms the heart with pride and makes you love the literature and history we already adore even more.
Also read: Ponniyin Selvan: The Federal captures the mystique of the novel and film
Conspiracies are rife as most people believe Arulmozhi is dead. Some plan to assassinate his siblings Aditha Karikalan and Kundavai (Trisha), while others plot to overthrow the sickly king Sundara Chola (Prakash Raj). His brother Periya Pazhuvettaraiyar (Sarathkumar)'s wife Nandini is also working on a diabolic plan to overthrow the Chola dynasty.
Later, as depicted in the first instalment, Karikalan had killed the Pandya king Veerapandiyan (Nasser) in front of Nandini, eliminating any chance of the two former lovers ever making amends. What takes place next is what drives a politically charged race to the throne.
Using historical fiction in films
The popularity of Mani's 'Ponniyin Selvan' has sparked debates about historical fiction and how it may be used to reimagine and revitalise stories on screen. This franchise is even more special because history is deployed as a useful ideological prop. The audience is lured into the world of troubled individuals, their goals, ambitions, love, hate, and heartbreak as Mani puts his distinctive touch to the story.
'Ponniyin Selvan-2', which Mani has superbly directed, immediately draws you into its drama. It takes you to the battlefield, the courtroom, the Chola culture, the private chamber, and—most importantly—into Nandini's head and heart, where she struggles with betrayals and insecurities.
I don't know whether magnum opus is the right word to describe 'Ponniyin Selvan-2', but I felt privileged, as an audience. I'm fortunate that such a movie existed and that it was made in our times, allowing us to give our judgments about it, as opposed to adopting the point of view of the earlier generations, which is something we are compelled to do whenever we see older classics.
In my view, the 'Ponniyin Selvan' franchise, a historical drama, stays true to the facts while keeping viewers engaged in the narrative.
Also read: Ponniyin Selvan lures all — from MGR to Kamal Haasan to Mani Ratnam
The film is set in the distant past, in the eleventh century, under Chola's reign in pre-modern Tamil Nadu, in contrast to the majority of Mani's films, which are set in urban, present day milieu. A cinema auteur, Mani, fills his movie with gorgeous elements. There are plenty of stories here, but 'Ponniyin Selvan' has more immersive visual imagery than narrative traction.
Aishwarya Rai dominates sequel
'Ponniyin Selvan-1' belonged to Aditha Karikalan (Vikram) and others, while Nandini (Aishwarya Rai) owned the sequel. Aishwarya Rai Bachchan looks stunning. She carries off even difficult scenes with unexpected fluidity; her eyes convey the pain of a woman, oscillating between love and spite. Her wonderfully restrained performance makes 'Ponniyin Selvan', one of her finest outings on screen.
'Ponniyin Selvan', the film, is as much about the struggle for the throne, as it is about the conflict between its protagonists.
The sequel gives the spectator plenty of room to comprehend and identify with Nandini's desire for vengeance, revealing a sense of reality that gradually emerges throughout the story.
Mani Ratnam's dream comes alive
In multiple interviews, Mani recalled he had read the book a very long time ago when he was in school. "Even then, I was captivated by it. It is intended to be seen on the big screen, up there. You get the impression that Kalki is personally telling you the narrative from the way he writes. The spectacle is right in front of you, and it's vivid," he was quoted, as saying.
Bringing Ponniyan Selvan to life on celluloid was Mani's dream project film. Not many know that the maverick filmmaker and his brother G Venkateswaran attempted to adapt Kalki's 'Ponniyin Selvan' into a movie in 1989, but they ran into financial difficulties.
If there is anyone who can bring the magic of history to the big screen with the utmost grandeur, it is Mani. 'Ponniyin Selvan' is an epic tale that compels its audience to reflect. And, Mani's adaptation preserves the spirit of the book with omissions and changes.
Although history is typically considered to be boring, it helps people feel more connected to their national and cultural identities. And we must celebrate people like Mani who serve as a reminder of how significant our roots once were.
The tastefully written novel is filled with mystery, excitement, romance, unexpected turns, and humour. And, Mani was drawn to the book by all of these elements as well as because of Kalki's satirical, bottom-up perspective on politics.
A visual masterpiece
'Ponniyin Selvan 2' takes off faster than PS 1. You get a glimpse of what's in store early on. Mani does justice to every single detail and every single actor and seems to be in complete control over a complicated plot that needs multiple movies. Historical details have been integrated into the narrative in such a way that viewers won't become lost in the period's historical specifics while watching the film, losing track of the plot.
It is unbelievable how he transitions deftly between verbal feints and battlefield action, showcasing wide angle broad vistas that highlight Thota Tharrani's majestic production design, and intimate close-ups that offer every important and supporting character the chance to make an impression.
The sequel to 'Ponniyin Selvan' is much more than just a historical drama. Thanks to Mani's skillful interpretation of Kalki's work both films stay on the surface and avoid delving too deeply into any potential subtexts.
Yet, 'Ponniyin Selvan' has enough drama to keep you engaged. But the sequel works the most (like a dream), when it focuses its energies on the relationship dynamics between two people. Like it does on Nandini-Aditha Karikalan, Sundara Cholan-Mandakini, Vanthiyathevan-Kundavai. These are moments that stay with you long after you've left your seat.
'Ponniyin Selvan 1' performed successfully not just in Tamil Nadu but also in other states and international markets. Now, both parts are being well received by the audience, as the movie has prioritised the plot over pandering to star power.
Much will be said about the film's daunting length, and the truth is, it could have been shorter. AR Rahman's effective background score helps 'Ponniyin Selvan 2' move ahead, along with Ravi Varman's splendid cinematography.
Fact or fiction, 'Ponniyin Selvan' puts Mani right up there on the very short list of India's finest filmmakers. There is ample evidence of the fact that Mani once again assembles the perfect team to realise his vision. Ravi Varman's cinematography is one of the key strengths of the Ponniyin Selvan franchise. His visual treatment of the film's songs is another masterstroke!
The 'Ponniyin Selvan' franchise will also be remembered for its production design and costumes. The level of detail in the film's visuals is awe-inspiring.
The actors and their career-defining performances
The soul of 'Ponniyin Selvan', however, lies in the superb acting. In a recent press conference, Mani noted that, if done correctly, casting is "50 per cent of the job" done.
"Choosing the most suitable actor for a role is not the sole factor to consider. The project should materialise, the actor should be available, and he or she should be interested. You choose the best you can from it," Mani said.
Karthi oozes confidence and delivers his career-best performance, and makes a lasting impression as Vandhiyathevan, but the film belongs to Aditha Karikalan and Nandini. Not only does Vikram transform physically to become the part, but he also gets under the emotional skin of the character and makes it his own. I cannot think of any other actor who could play this better. However, under the masterfully assured direction of Mani, all actors shine, equally.
In another conversation, Mani was quoted, as saying, he has never adapted a five-part book before either, so that was a challenge. "It was similar to diving into uncharted waters. This keeps you constantly aware and on your toes. Even though the book is an epic with a broad scope and scale, it still deals with many smaller human emotions," the filmmaker observed.
It's no secret that Mani is fond of epic films. In 'Thalapathy', he masterfully transformed the 'Mahabharata' into a modern-day gangster tale. The 'Ramayana' was transformed by the director into 'Raavan', which depicts a confrontation between a righteous cop and an oppressed community leader. Mani also enjoys making films based on the lives of legends, as 'Iruvar' and 'Guru' show.
Pan-Indian films
The excitement surrounding the "pan-Indian films" has contributed to 'Ponniyin Selvan's soaring popularity. However, Mani's 'Roja' in 1992 was the catalyst for Hindi-language markets to accept dubbed films.
Mani insisted that making pan-Indian films should be a choice, noting that neither performers nor filmmakers should be forced to produce a particular genre of movie. "We've been doing it since 'Chandralekha' (1948). But those films were never referred to as pan-Indian back then. We recognised the nature of our films long before the rest of the north began to watch, appreciate, support, south Indian cinema," Mani cheekily observed.
'Ponniyin Selvan' is no 'Baahubali', as Mani acknowledged. "You put all of your efforts into making the best movie you can. But when it comes to period dramas, you try to get as close as you can without fantasising about it or including irrelevant information. You make an effort to make it as realistic as you can," the filmmaker added.
All said and done, Mani has pushed the envelope more than any other popular Indian director has over the last 35-plus years. He establishes new standards that only he can surpass. With 'Ponniyin Selvan', it wouldn't be an exaggeration to say Mani succeeded, because he dared and he dared in a big way.