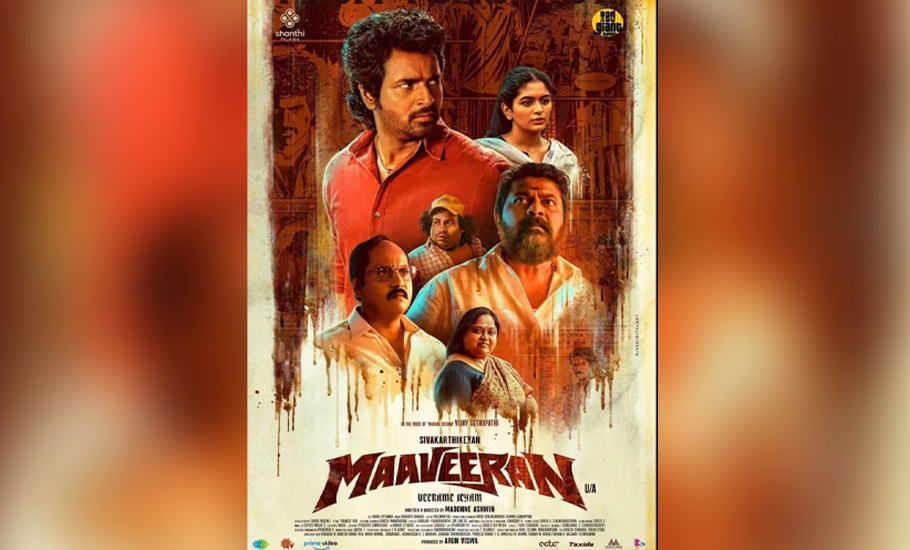 Maaveeran review: An effective fantasy political drama with a message
Director Madonne Ashwin, who delivered an enjoyable hard-hitting political satire Mandela starring Yogi Babu, is back with a large-scale fantasy political drama Maaveeran with Sivakarthikeyan. Though the visual grandeur is evident, Ashwin has tried to stay as real as possible with the characters of the film. The backdrop is set in a slum, depicting the lives of the people.
Sathya (Sivakarthikeyan) is an innocent cartoonist in a newspaper. He is often mocked at for being timid and not raising his voice when needed. After he meets with an accident (when he was about to commit suicide), Sathya starts listening to a voice that guides him to become a valiant warrior that begins his battle against a corrupt politician, Jeyakodi (Mysskin). How Sathya saves people from a massive accident forms the crux of the story.
Sivakarthikeyan, who generally stays out of hard-hitting action sequences, has effectively pulled off the fast-moving stunts in the film. Also, the actor's expressions and dialogue delivery (Chennai accent) look refreshing and completely different from his previous movies. Mysskin is a complete surprise. The maverick filmmaker plays a powerful antagonist, and his unique voice and solid screen presence make the movie more interesting.
Also read: Sivakarthikeyan interview: On Maaveeran, Bollywood, and not doing comedy
Veteran actress Saritha, who plays Sivakarthikeyan's mother, has done an excellent job while Sunil (a quirky yet interesting character with limited screen time). Yogi Babu brings the roof down with his witty one-liners. His combination scenes with Sivakarthikeyan are hilarious.
War on corruption
Vidhu Ayyana's cinematography is not glossy but stays true to the film's backdrop and captures the moments. As Maaveeran is a realistic fantasy film, Vidhu's close-to-reality visuals have certainly helped to justify the director's vision. Music composer Bharath Shankar's songs are passable but his exemplary background score has elevated the overall mood of the film.
On the downside, the film's runtime could've been trimmed by 10 to 15 minutes, especially when the pace gets slower and the scenes also become predictable in the second half.
Besides the fantasy angle, Maaveeran also carries a subtle message handled by Madonne Ashwin. His narrative is not preachy yet we learn that raising voice against corrupt politicians is necessary.
Overall, Maaveeran is an effective fantasy drama with a socially responsible message!