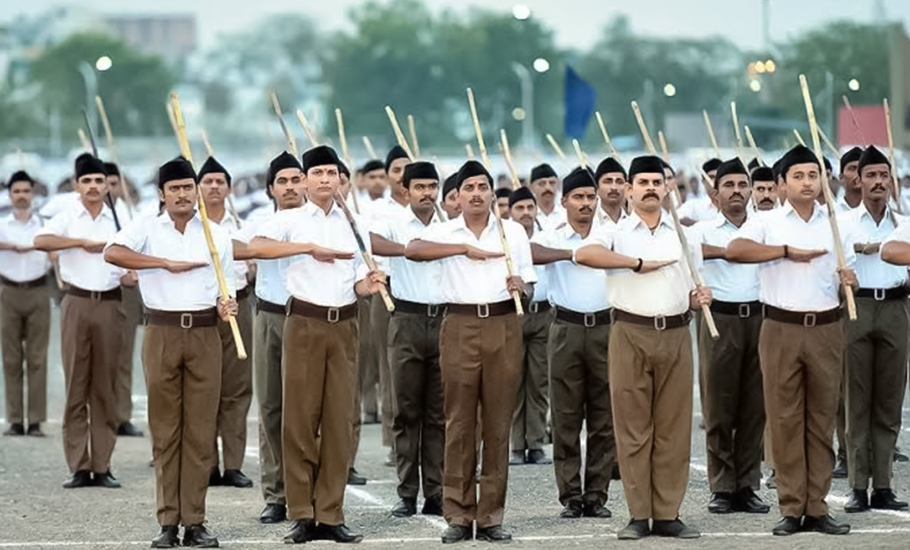 Lahari Velu eager to launch film on RSS; hunt for director delays project
A proposed film on the Rashtriya Swayamsevak Sangh (RSS) had created ripples in both political and cinematic circles during the run-up to the 2019 Lok Sabha polls. With hardly 10 months left for the 2024 polls, it's back again in discussion.
Film producer and hardcore RSS worker and BJP functionary Lahari Velu says he is set to make a film on the RSS with the "perfect" script in hand, but is waiting for a suitable director to helm the project.
If everything goes as planned, an ambitious, multilingual, multi-starrer film on the 98-year-old Indian right-wing volunteer organisation — presumably dictating terms for the present political dispensation to realise its dream of a "Hindu rashtra" — will hit the screens before the 2024 polls.
Also read: RSS mouthpiece on Karnataka lesson: Modi charisma, Hindutva not enough
Lahari Films LLP, a prominent Bengaluru-based film production company headed by Lahari Velu, has the script ready too. None other than V Vijayendra Prasad of Bahubali and Bajrangi Bhaijaan fame penned it after consulting RSS Sarasanghachalak Mohan Bhagavat and RSS ideologue S Gurumurthy.
Stumbling block
So then, what is preventing Velu from launching the project? He revealed to The Federal that he is yet to zero in on an eminent director who can do justice to the RSS visually, without compromising on the organisation's history, ideals and philosophy.
"Confusion surrounding the film on RSS has unclogged recently, and our wait is for a sensitive director who can handle the subject with dignity and do justice to all those RSS workers who sacrificed their lives to build the organisation brick by brick," said Velu, whose name cropped up during Rajya Sabha polls last May.
Watch: V Vijayendra Prasad speaks on RRR, RSS, Modi and being Rajamouli's father
"Yes, my name was sent to the BJP high command during the Rajya Sabha polls. But, unfortunately, it didn't happen," he admitted.
But why make a film on the RSS? "There are misconceptions about the ideology and principles of the RSS. But, as a swayamsevak since childhood, I know what RSS is and will be in future. People who sacrificed so much for the country have been forgotten. I decided to pay tribute to all those workers."
Rajamouli's 'hands are full'
When asked whether Lahari Films has any plans to rope in SS Rajamouli, who has made blockbusters like Baahubali and RRR out of scripts written by his father V Vijayendra Prasad, Velu replied: "If Rajamouli agrees, we will feel fortunate. Rajamouli had said last year that the script moved him to tears. But it seems his hands are full right now."
He added that though it would be difficult to find an alternative to a talent like Rajamouli, their search was on and they hoped to find a "fortunate" filmmaker.
Watch: RSS wants to destroy Nehru's vision of egalitarian India: Manish Tewari
In the run-up to the 2019 Lok Sabha polls, Velu planned to make the film on RSS with a budget of Rs 180 crore. The Sangh Parivar was thrilled to learn about the project that would undoubtedly boost the organisation's image. But it did not happen at that time. However, he again took up the project last year.
The 'communication gap'
But, in a surprising development, Vijayendra Prasad claimed in August 2022 that he would make a film and a web series on RSS. In a video interview given to The Federal in March this year, Vijayendra Prasad expressed his hopes of directing the film.
"Vijayendra Prasad's claims rattled me, as he didn't speak about the genesis of the project," said Velu, adding that the film on RSS was his brainchild and it was he who asked Vijayendra Prasad to pen the script. Lahari Films was already preparing to produce the film and trying to get an acclaimed filmmaker on board.
"When I had approached Vijayendra Prasad about the script, he did not have any clue about RSS. I opened an office in Hyderabad and drafted the services of 27 writers to work on the script. Renowned music composer Ricky Kej agreed to score the film's background music," Velu said.
However, now this "communication gap" has been sorted out, he said. "Vijayendra Prasad has 'verbally' agreed that he has no objection about our choice of director. But, the real challenge is to find a suitable director to do justice to the brilliant script he has penned," Velu said.
He added that the Adipurush debacle at the box office has made them doubly cautious about the project. "We don't want to take any risk," he said, explaining his wait for a suitable director.
However, Velu is confident of launching the project in the next few days and releasing the film before May 2024. "Our intention is to release the film at least 15 days before the polls," he asserted.