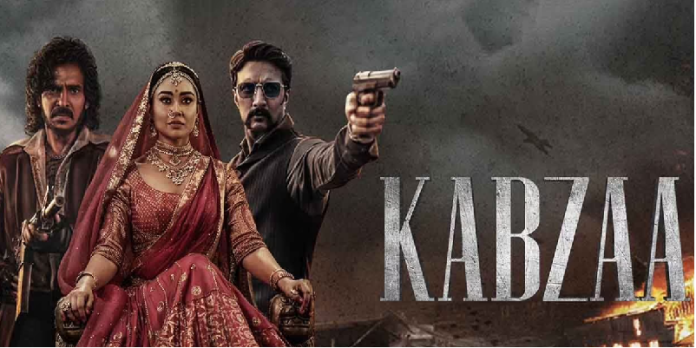 It will be a miracle if the Hindi audiences sit through 'Kabzaa'
If Kannada filmmakers want a blockbuster win like gangster drama 'KGF', they probably think all they need to have in their films are low angle shots of the best of classic cars, dark visuals of men in fancy suits, 1,000s of junior artists milling around, a gun-toting lead actor either shooting or beheading people and loud, ear shattering music.
Unfortunately, this is what the director of 'Kabzaa' believes and ends up serving up a pale imitation of 'KGF'. The film is an extremely ambitious and expensive attempt aimed at coming up with yet another south blockbuster. But, despite adding dollops of these so-called winning ingredients in the film, 'Kabzaa' is a huge let-down.
Directed and produced by R Chandru, the filmmaker who probably had everything at his disposal, does not even make proper use of his star cast, which includes Upendra, Kichcha Sudeep, Shiva Rajkumar and Shriya Saran, along with a dozen well-known actors.
The film starts with Sudeepm a police officer being introduced and narrating the story of one of the greatest dons to have lived in India. The don Arkeshwara, a former Indian Air Force pilot, happens to be none other than Upendra. The movie moves into flashback mode to the pre-Independence era narrating how Arkeshwara's family faced atrocities and ended up in the underworld.
Also read: 'Kantara' makes it big on global stage, to be screened at UN in Geneva
Arkeshwara makes his first kill nearly 70 minutes into the film. Until then, all you get to see are gang killings. The gang war story is so complicated that you forget who belongs to which gang. There is also a slice of Arkeshwara's love story with Shriya Saran, which is meant to tug at your heart.
In the second half, Arkeshwara's character continues to fight to dominate over the gangs.
There's a lot of bloodshed in the movie and the loud background music makes it hard for the audience to hear the dialogues at places. 'Kabzaa' is 134 minutes long, but most of it is wasted in showing gangs mindlessly killing each other without providing the audience a proper storyline.
The director ends the film wanting the audience to wait for 'Kabzaa 2' to know who wins the battle in the end. The film made on a huge budget is visually appealing. It's clear that the makers have splurged a lot of money to ensure a grand look. It is all style with no substance. Nearly half a dozen other actors like Nawab Shah, Dev Gill and Kabir Dulhan Singh make an appearance, but their characters have no impact.
Also read: KGF-2, Kantara make a splash: Is Kannada cinema's golden era back?
Massive sets, 1000's of junior artists and the dominant dark visual pattern depicting the underworld, remind audiences of the 'KGF' franchise in every frame. There is also a mother-son sentimental story in the film, which is also similar to 'KGF'.
It won't be wrong to say that director R Chandru was inspired by several characters from other Kannada, Telugu and Bollywood films for his film. Also, he completely fails in telling a story, which is loosely held and doesn't hold the audience at all. The deafening music by Ravi Basrur adds to the woes.
Upendra, Sudeep, Shriya Saran and Shiva Rajkumar have gamely done justice to their roles. But, even they cannot save this wannabe 'KGF'. It will be a miracle if the Hindi audiences sit through this film.