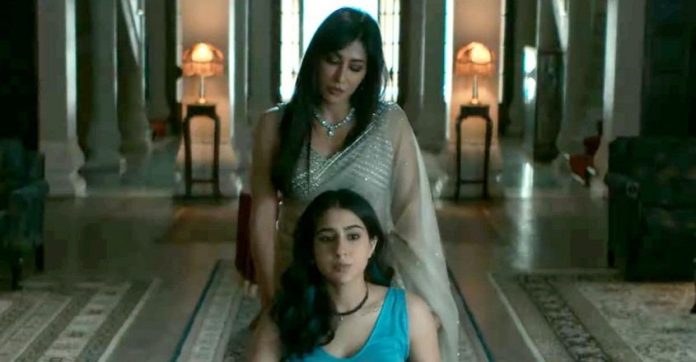 Bollywood director Pawan Kripalani's last outing, the 2021 Bhoot Police, dealt with the paranormal as fierce spirits or 'kichkandis' crept up on people and crawled on walls. Besides being a comedy about two ghostbusters, the film was a horror fest like the director's earlier 2014 Darr @the Mall. In his new movie, Gaslight, Kripalani, however, serves up a typical whodunit with horror elements thrown in.
A woman sets out on a quest for justice and retribution in Gaslight, as Hindi cinema often likes nothing better than seeing a criminal get his or her just desserts. Back in 1980, in Subhash Ghai's Karz, the reincarnated hero similarly returns to his mansion to avenge his murder in a previous life in the hands of the woman he loved. Gaslight has nothing to do with reincarnation, but the good has to triumph over evil. And don't people end up meeting the same fate and punishment they mete out to others in reel life in popular Hindi cinema?
Unlike the 1944 American film, Gaslight, in which the legendary Ingrid Bergman so effectively played the role of the tormented wife who was being systematically bullied by her mean husband to believe she was slowly going mad, its Hindi namesake just toys with being a psychological thriller. It ventures into that space as mind-games get played on the protagonist in a meandering, slow-paced script, but the filmmakers pull out and focus on building up a spooky feel.
Initially, the film with an ominous background score suggests a vengeful, sinister ghost may be in the offing, as the paraplegic daughter Meesha (Sara Ali Khan) returns to her palatial home after many years to make peace with her father. Her father, a royal, however, seems to be missing and Meesha has to deal with her beautiful stepmother Rukmini (Chitrangada Singh). Meesha hates Rukmini for taking her dead mother's place and blames her for everything, including her mother's suicide.
Also read: Priyanka claims she was "pushed into a corner" in Bollywood
Gaslight, without much ado, tries to whip up an atmosphere of suspense and the setting is a large-sized mahal, (the Wankaner Palace in Gujarat), complete with antler heads on walls, creaky doors, mysterious knocking at doors at night and the silhouette of a man with a top hat holding a gas lantern (which is probably a nod to the Ingrid Bergman-starrer which was set in old London). But the sinister shadows on walls and the play of light and dark does not provide any jump scares at all. Vidya Balan's 2007 Bhool Bhulaiya set in a mahal was scary and so was the 2011 Tamil horror comedy Kanchana.
Kripalani desperately tries to evoke fear from the strange goings-on the palace which strategically has a stepwell. An uneasy Meesha is convinced her father has been murdered. She takes the help of the father's manager Kapil (Vikrant Massey) and suspects a local royal Rana (Akshay Oberoi) and a local cop Ashok (Rahul Dev) for being in cahoots with her mother. Is her father really murdered? Or, is she a victim of someone gaslighting her?
Gaslight, however, is not engaging as a murder mystery at all. It is saved in the latter half by a dramatic twist and a nerve-tingling ending with the murderer stalking Meesha. But its shoddy screenplay and Sara Ali Khan and Chitrangada Singh's insipid portrayals make the film a strain to watch. Khan mostly sports an expressionless face and fails even to whip up basic emotions like fear, essential in a thriller with a murderer on the loose. Chitrangada, who veers from trying to be sexy and remorseful, seems ill at ease.
The actor who salvages the situation in this drama is Vikrant Massey, who heroically toils to lift the film a few notches higher. There is a scene in which the murderer stalks Meesha with chilling intent with a long iron rod trailing by his side, a weapon used in Aamir Khan's revenge drama, Ghajini. And, it evokes the same kind of fear.
Also read: Bas Kar Bassi review: Anubhav Singh Bassi regales with trademark wit, punchlines
The film picks up pace in the latter half and by then the viewer is not really invested.
In the end, Gaslight, which is streaming on Disney+Hotstar from March 31, is an uninspiring thriller. It has nothing new to offer. Fortunately, there is no song or dance number in the film. Cinematographer Ragul Dharuman's efforts to play a lot with light to throw up shadows time and again get tedious.
The story has been penned by Kripalani along with Neha Sharma. One of the film's producers is Akshai Puri, who had bankrolled memorable films like Badla and Fanaa and is all set to make the film adaptation of Devotion of Suspect X directed by Sujoy Ghosh and the Hindi remake of Thiagarajan Kumararaja's debut feature Aaranya Kaandam (2011). The expectations were high for Gaslight but it truly fails to fire up at any point.