The title of Don Palathara's new film is an invitation to read between the lines as much as it is a distraction from the tension that lurks but never fully breaches the surface. Set in Idukki, the filmmaker's native village in Kerala, Family unfolds as a calibration between the things we choose to see and the actions we look away from, content in dressing them up in veneers of social morality.
Both as an unsettling portrait of a rural Christian community bound by faith and hypocrisy as well as a relentless character study of human transgressions, Family sees Palathara return to his assured form of filmmaking. Working with Sherine Catherine, the filmmaker charts out a lyrical screenplay that alternates between revealing and withholding uncomfortable truths while eschewing the temptation to deliver grand statements. In that, the film's title ultimately transforms into an indictment of a socio-religious culture invested solely in defending its outdated belief systems.
Mystery and social mores 
Heightening the film's sense of mystery is the topography at its centre — a lush, mountainous rural village home to a close-knit Catholic community where informal networks of gossip blur the lines between people's private lives and their public image. In this village, the church reigns supreme and families extend beyond nuclear units, becoming synonymous with the community-at-large.
Also read: Bheed review: Anubhav Sinha's sombre portrait of migrant exodus during lockdown
This is the kind of pastoral paradise that demands its residents to conform to the collective even if it comes at the cost of repressing their individuality. An opening scene aptly demonstrates the social mores native to this milieu: As part of a traditional Christian wedding ritual, a barber asks the crowd whether he has their permission to "beautify" the groom. Only when consensus is reached does he proceed with the ceremony.
Still, even in this crowd, Sony (a tremendous Vinay Forrt) stands out as someone who is considered indispensable to the village. A graduate who used to run a failed tuition centre, the devout Sony is the community's ultimate do-gooder, someone accustomed to having everyone on his side.
It helps that he is always around — whether it is helping a pregnant relative (Divya Prabha) with household chores, arranging a funeral, counselling the youth, teaching high-school children, or helping a young girl who is weak in Maths. "He is like a son to us," a nun says at one point, alluding to Sony's kind, genial demeanour. It's perhaps why when murmurs of a predator spreads around the village, Sony never becomes a suspect.
A gnawing atmosphere of dread
Composed of clinical static shots filled with clues and intimations of danger, Palathara utilizes the film's imagery to conjure up a gnawing atmosphere of dread — as if confirming that something is indeed not quite right although Palathara (also credited as editor) never gets ahead of himself, allows the film's unhurried pace to slowly peel off its layers.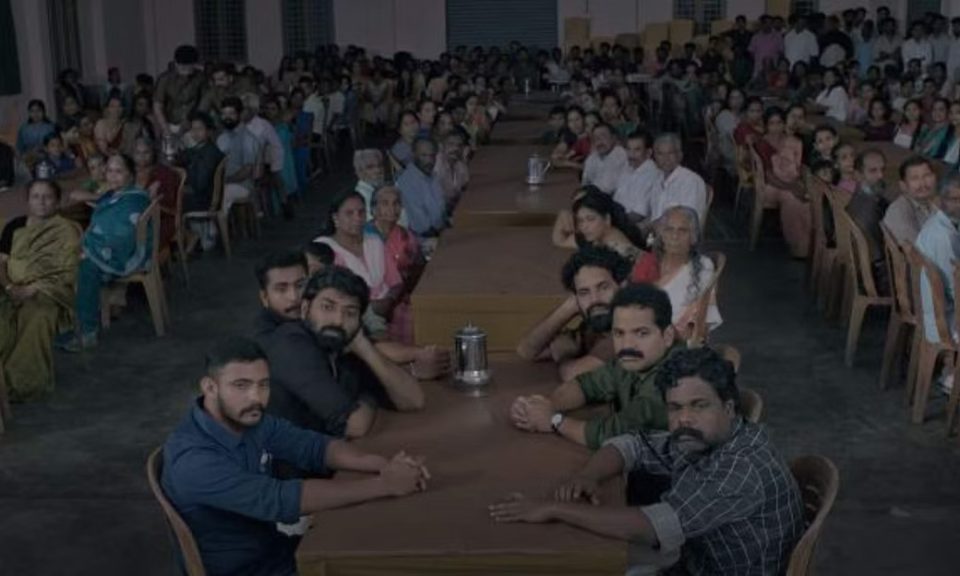 His keen eye for detail and world-building is on full display here, elevating the film's slow-burn storytelling, one that gains momentum through the slightest tremors and minor gestures. Shot in warm, muted colours, the camera (the cinematography is by Jaleel Badusha) aids his cinematic language with its calculated distance, letting the viewer observe and absorb the larger picture. Every frame, minimalistic to a fault, is heavy with meaning.
Also read: Why Catholic groups in Kerala want ban on Malayalam play 'Kakkukali'
In that sense, Palathara pitches Family, which had its world premiere at the International Film Festival of Rotterdam earlier this year and was screened at the Bengaluru International Film Festival which concluded on March 30, as a horror film, one in which predators prey on their helpless victims with full impunity. One of the film's most terrifying scenes involve a terse exchange between a pregnant woman and a nun, the latter admonishing her for speaking about a crime that could possibly threaten the sanctity of the church.
In another wordless scene, there's instantly a chill down your spine when we witness a teenage girl being left alone with Sony. Palathara doesn't insist on questioning the backstory of violence and instead, trains his gaze on the normalized language of gaslighting and the hold of patriarchy that enable such an eventuality, making the film's dissection of a repressed, conservative society that much more riveting.
The understated performances that he draws out of Forrt and Prabha make a startling case for the duplicity of loyalty. Indeed, Family is a directorial triumph for Palathra, not only as a storyteller but also as a filmmaker who can sustain tension without any gimmicks.