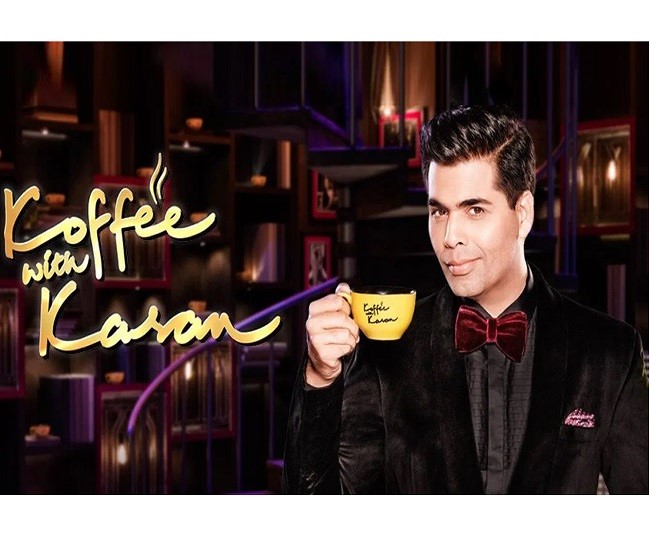 'Koffee with Karan', which first went on air on November 19, 2004, had the suave Karan Johar, making his celebrity guests "spill the tea on love, work and everything in-between"
Bollywood filmmaker Karan Johar's (in)famous chat show, Koffee with Karan, which had young cricketers getting suspended, superstars spilling the beans, exes blushing and viewers all agog about getting a peep into their favourite celebrity's lives, is bowing out of television.
And, in sync with the times, it is moving to OTT. As is wont, there is no dearth of drama.
The filmmaker shared the OTT plunge news on Twitter, hours after he had announced that the show was wrapping up. In a rather misleading tweet, he claimed the show was ending after six seasons but it turned out to be a ploy to grab eyeballs. His fans and the industry were quick to shed some tears on social media.
The show will now directly steam on Disney+Hotstar, instead of being on television. Though the details of the OTT format are not available, looks like Karan will go for an updated version, in tune with the new platform. Just for the record, the show, which first premiered on Star World in 2004, ran for six seasons on the small screen till 2019.
Key controversies
As 'Koffee with Karan' ends its TV avatar, here are some of the key controversies that rocked the show. How could it not be if good friends Shah Rukh Khan and Kajol came on the couch to flag off this show, talking about their famous pairing onscreen?
Karan Johar has had SRK apologising to Salman Khan on his show and had the latter saying in a tongue-in-cheek fashion that he is still a virgin. He drew out the sauciest come-back from his old pal Twinkle Khanna. Ms Funnybones did not disappoint him in her trademark caustic reply to the question, "What does Akshay have that the Khans don't?"
She replied, "Some extra inches," and apparently, she was not referring to Akshay's height. Johar was suitably thrilled and blushed and the ratings of his show shot up.
Also read: Karan Johar at centre of debate for endorsing matrimony website
Most controversial episode
One of the most controversial episodes of the Koffee with Karan show involved Indian cricketers Hardik Pandya and KL Rahul, who stirred up a tsunami for boasting about hooking up with multiple women. Pandya opened up to share that he would tell his parents when he had sex.
"When I lost my virginity, I came home and said, 'I had sex today'. At a party, my parents asked me 'acha tera wala (women) kaun sa hai [who is your interest here?], so I said yeh, yeh, yeh (pointing out women)' and they were like 'waah proud of you beta'," Pandya boasted.
The 25-year-old also said things like, "I like to watch and observe how they (women) move. I'm little from the black side so I need to see how they move," when Karan Johar asked him why he doesn't ask women for their names in nightclubs.
There was a nationwide uproar and the cricketers were slammed for their misogynistic remarks. The Baroda all-rounder, and KL Rahul were suspended by the BCCI for their "loose talk," and later fined ₹20 lakh each by the BCCI Ombudsman DK Jain for their sexist comments. Gillette too terminated Pandya's contract. Pandya was also replaced in the Indian cricket team by Tamil Nadu all-rounder Vijay Shankar for an ODI series in Australia and India's limited-overseas tour of New Zealand.
The duo was also slammed by legendary batsman Sunil Gavaskar and World Cup-winning spinner Harbhajan Singh for their controversial remarks.
Many A-listers have graced Karan Johar's show, including Amitabh Bachchan, Alia Bhatt, Deepika Padukone, Ranveer Singh, Ranbir Kapoor, Varun Dhawan, Ajay Devgn, Aamir Khan, Salman Khan, Kareena Kapoor, Priyanka Chopra and Saif Ali Khan and talked about their work, personal life and also made revelations that made headlines the next day.
Also read: Pandya, Rahul fined ₹20 lakh each for their sexist comments
'Flag-bearer of nepotism'
Karan Johar, who always eagerly egged on the guests on his show to be as candid as possible, (quickly arching an eyebrow if they don't dare answer truthfully), got the shock of his life when actor Koangana Ranaut, who made her Koffee With Karan debut alongside her Rangoon co-star Saif Ali Khan in Season 5, accused Karan of being the 'flag-bearer of nepotism.'
When Johar asked her who has given her unnecessary attitude in the industry, Kangana replied without batting an eyelid, "In my biopic, you'll play that stereotypical Bollywood biggie who is snooty and completely intolerant of outsiders. The flagbearer of nepotism." Even today, Johar, who reportedly avoids Kangana if he can in public forums, has trouble living down that tagline.
In the same show, she shared that Shahid Kapoor was a "moody co-star".
Hitting out at Ranbir Kapoor
This was an episode that apparently got the late actor Rishi Kapoor and his wife Neetu Kapoor so angry that they called Karan Johar and ticked him off.
Sonam Kapoor and Deepika Padukone had both dated Ranbir Kapoor, and in 2010 appeared on the third season of Koffee with Karan. The two merrily took potshots at Ranbir with Deepika confessing that Ranbir had cheated on her. In the rapid fire round, when Karan quizzed her about what Ranbir should endorse, she responded with 'condoms'. Deepika also said that Ranbir "needs to work on his boyfriend skills."
Meanwhile, Sonam Kapoor also blithely made her gaffes on the show. In her view, "the thing with this industry is that if you are not good looking, they think you are a good actor." And made matters worse by adding, "just because you look ordinary and you talk loud doesn't mean you're a good actor".
Kareena vs Priyanka
What can stir up the froth if you pitch one actress against another or one Khan against the other. And sit back and sip the coffee. So, when Kareena was asked on the third season of Koffee with Karan, what is the one thing she would ask Priyanka Chopra, she gamely played along: "Where did PC get that accent from?"
The following season, Chopra appeared on the show with Kareena's ex Shahid and hit back, "I get my accent from the same place her boyfriend does." Kareena was dating her husband, Saif Ali Khan, at that time.
Rating actress' skills and sex appeal
Before roasts became popular and before people would protest against  this kind of objectification of women, Ranbir Kapoor and Imran khan stirred up a controversy when they rated Sonam Kapoor as last in terms of sex appeal.
Biggest faux pas
The Student of the Year cast appeared on the couch, and during the rapid-fire round, Alia fumbled to name the President of India. That's history but she went on to became one of Karan Johar's favourite protegees. Win some, lose some.
Stirring up trouble
During the rapid-fire round, Karan asked Emraan Hashmi to tell the first thing that pops up in his head when he names certain actresses. He took it literally, and when he was given Aishwarya Rai Bachchan's name, Emraan said "plastic". For Shraddha Kapoor, he said that she should probably eat something.
Filmmaker Mahesh Bhatt too was asked to name the most overrated director and he named Sanjay Leela Bhansali (ironically, his daughter Alia Bhatt's biggest hit, Gangubai Kathiawadi, has been made by Bhansali).
There was also a remark that was made about the late Sushant Singh Rajput on the Karan Johar show after his suicide, which was dug up and quoted repeatedly to prove Bollywood's callousness to "outsiders". Kareena was the fall guy because she was shown laughing and advising Sara Ali Khan to not date Sushant, her first hero.
Her comments caused outrage on social media, with many slamming Kareena for "targeting" and "bullying" newcomers and outsiders "to no end." Some also pointed out that Kareena had once refused to call Kartik Aaryan, another outsider in Bollywood, "classy" on Koffee With Karan.
Things fans don't know
We did not know that Shah Rukh Khan spent hours in his bathroom or he would prefer waking up with Karan rather than waking up as Karan.
When Karan asked Ranveer Singh to tell him three things that nobody knows about the actor, the irrepressible actor responded by saying that he doesn't wear underwear after 10 pm. Anushka, who accompanied Ranveer on the show, looked scandalised.
When Karan Johar asked director Anurag Kashyap what advice he would give Kareena Kapoor, Kashyap said: "Next time you should ask what is the film and not who is in the film". Touche.Bollywood filmmaker Karan Johar's (in)famous chat show, Koffee with Karan, which had young cricketers getting suspended, superstars spilling the beans, exes blushing and viewers all agog about getting a peep into their favourite celebrity's lives, is bowing out of television.