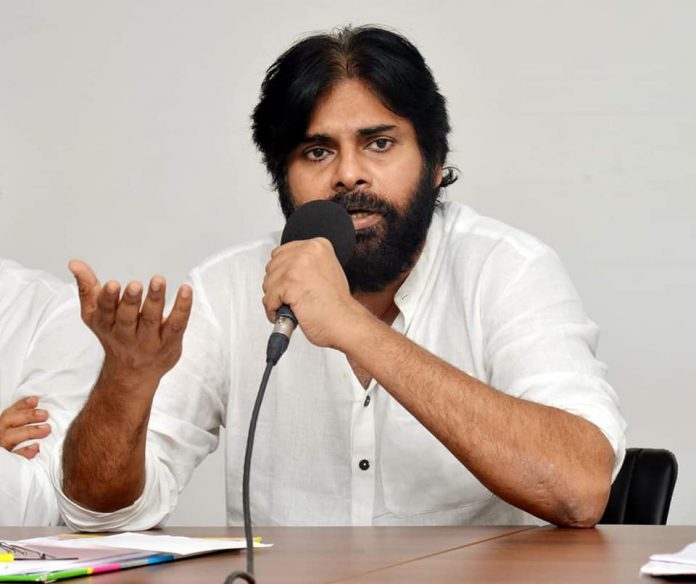 The popular Telugu film star Pawan Kalyan's tryst with electoral politics has ended in a disaster.
His Jana Sena Party has bombed at the ballot box office in Andhra Pradesh. Such was the scale of its drubbing on its electoral debut that the actor himself lost both the Assembly seats he contested in the Kapu community dominated coastal region—Gajuwaka and Bheemavaram–while the party candidates lost deposits in a majority of the constituencies.
The five-year-old party won just one seat—Razole—out of 140 it contested in the 175-member Assembly while it drew blank in the Lok Sabha. The party had fielded candidates in 18 LS seats out of the total 25. It had an alliance with the BSP, CPI and CPI (M) and none of them could open an account.
Contrary to the expectations that the maverick star who went to the polls promising to usher in "change and new age politics" would emerge as a king maker in a tight race between the Telugu Desam Party and YSR Congress Party, the actor has failed miserably at the hustings.
Despite enjoying massive following among the youth, particularly belonging to the numerically strong and influential Kapu community, the 46-year-old mercurial star failed to convert his star appeal into votes due to lack of a cohesive political strategy, organizational structure and credible agenda.
Reminiscent of Chiranjeevi's flop show
Pawan Kalyan's spectacular failure is reminiscent of his elder brother and megastar of Telugu cinema Chiranjeevi's political flop show nearly a decade ago.
Amid much hype and fanfare, Chiranjeevi had floated Praja Rajyam Party in August 2008 but failed to make much impact on the voters in the 2009 elections. After raising expectations that he could repeat the feat of the Telugu matinee idol N T Rama Rao's swashbuckling political entry in 1982, Chiranjeevi's political foray came a cropper. The megastar himself lost one of the two Assembly seats he contested while his party won just 18 Assembly seats, in the 294-member united Andhra Pradesh's Assembly, and bagged 18% vote share.
Chiranjeevi subsequently merged his party with the Congress and became a Rajya Sabha member. He was made the campaign chief for Congress in Andhra ahead of the 2014 elections but the party was completely routed in the polls, drawing a blank both in the Assembly and the Lok Sabha. Since then, he has been keeping himself away from active politics and did not even come out in support of his brother's party.
Like his brother, Pawan Kalyan also faced humiliating drubbing on his debut but asserted that he would remain in politics and strive to serve the people. "Jana Sena was founded on the idea of new age politics. We stand for clean and corruption-free politics. I will remain in politics till my last breath and fight for people's issues and stand by them," said the actor, unfazed by the disastrous results.
Plays spoilsport
Contrary to the expectations that the presence of Pawan Kalyan in the poll fray would lead to a split in the anti-incumbency vote and also Kapu vote base and benefit the ruling TDP, the Jana Sena Party has actually played a spoil sport and damaged the prospects of the TDP. An analysis of the voting pattern reveals that in at least 30 assembly segments, spread over East Godavari, West Godavari, Krishna, Guntur and Visakhapatnam districts, the presence of Jana Sena adversely affected the ruling party due to split in Kapu votes.
Overall, the fledgling party has managed to get 5.5 percent vote share. Its appeal was restricted to Kapu-dominated belt comprising East Godavari, West Godavari districts and parts of urban Visakhapatam.
It has now emerged that only the YSRCP has been the real beneficiary of the anti-incumbency factor.
Unconventional politician
Known for his impulsive ways and outspoken views, Pawan is not a politician in a conventional sense. His party still does not have a proper organisational structure nor is he a 24/7 politician. His brand of politics is marked by a burst of activity followed by a prolonged lull.
Pawan floated Jana Sena in March 2014 but has been largely inactive and reclusive since then. Barring a few public appearances in support of certain public issues and social causes, he kept himself busy with shooting assignments.
In the run-up to the 2014 elections, the mercurial star had supported the NDA, saying he was a big fan of Narendra Modi. He had even campaigned for the TDP-BJP combine, a factor that played a key role in the TDP coming to power in AP.
The critics point out that Pawan Kalyan has been at best a freelance politician and lacks seriousness, strategy and organisation building capacity that is required for a full-time politician.
Icon of Kapus
Despite Pawan's disdain for caste identities, he is largely seen as an icon of kapus, a numerically strong and influential community in coastal Andhra yearning to take control of the levers of political power.
Accounting for over 20 percent of the state's 5 crore population, the community had overwhelmingly voted for the TDP-BJP combine in the 2014 general elections, for which the actor had campaigned extensively.
Restless, Brooding
Having made his debut in 1996 with "Akkada Ammayi, Ikkada Abbayi", Pawan has a string of hits and awards under his belt. Known for his penchant for unconventional style of film making, he has produced and directed a couple of movies.  He was listed by Forbes among the top 100 Indian celebrities while he was the most searched Indian personality on Google in 2014 when he had launched Jana Sena Party.
For someone who had five consecutive mega hits that earned him fame, fortune and fans, Pawan comes across as a brooding and lonely person yearning for some higher purpose in life.
"Sometimes, I used to feel completely out of place in the movies. I used to wonder why I am running around the trees, romancing heroines and dancing. Somehow, I was really not into it. I always used to slip into my own shell of introspection," the actor had once said during a long conversation with this correspondent.
Behind the veneer of glamour and stardom, Pawan comes across as a restless young man awe-struck by history of revolutions and struggling to find an identity of his own and an ideology of his own.
"From ultra-left revolutionary literature to spiritual teachings, I have read everything that I could lay my hands on. I still read. I feel deeply disturbed by the social disparities, miseries and exploitation," he says. However, the actor's prescription for social change appears stuck in the romantic notions about socialism and represents a throwback to old school communism, particularly on wealth distribution and state control.