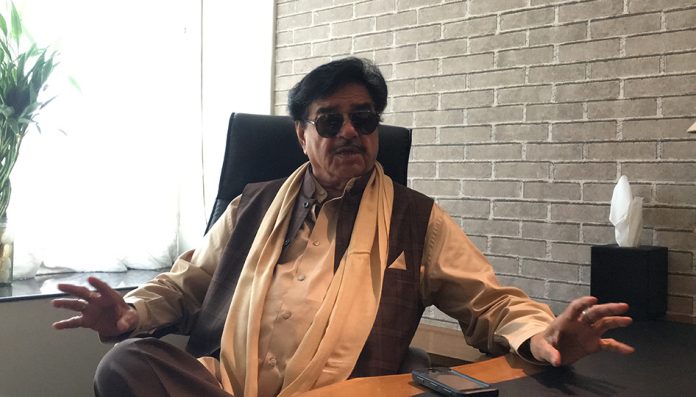 "He is dashing, dynamic, futuristic, able, respectable, a visionary and a 'dabbang' action hero". This is how Shatrughan Sinha, the actor-turned-politician from Bihar, had described Prime Minister Narendra Modi, in an interview during the 2014 general elections.
Five years later, he took a U-turn. Sinha, a two-time BJP MP from the Patna Sahib constituency, shifted his allegiance to the Congress to contest as its candidate from the same constituency.
He still talks about Modi. Only his speeches are of a negative strain. Sinha talks about Modi's 'false promises', his 'failed' GST policy, the failure of demonetization and how it affected people as well as how the BJP has sidelined him and people like Advani and Murli Manohar Joshi.
Banking on theatrics 
"The situation has changed, but the place remains the same," Sinha says.
Addressing a rally at Kathphul in Patna town, Sinha in his Bhojpuri accent, takes on the BJP with punchlines and 'shayaris'. He says 'न हिम्मत कभी हारी है, जज़्बा है परिवर्तन का. न थके है अभी पावं, इसलिए सफर जारी है!' (Neither did we ever lose the courage, as we have the passion for change; nor have our feet and body tired, which is why our journey continues).
And a loud cheer follows. On stage, he woos audience with his theatrical performances. People clap after every dialogue, and many click his pictures on their phones. The actor's image still works for him.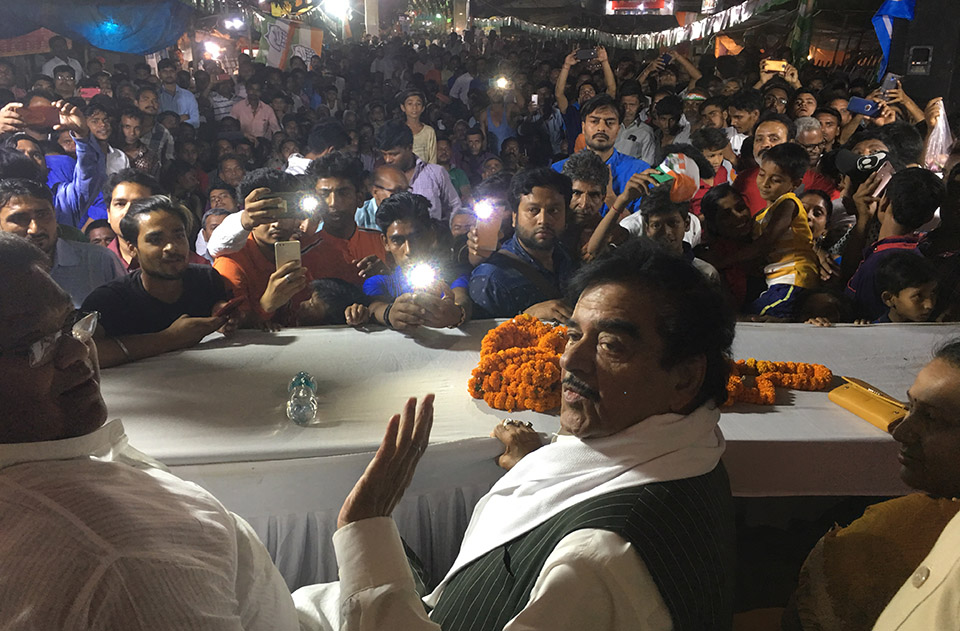 Sitting in Patna's Maurya Hotel, opposite the Gandhi Maidan which has India's tallest statue of Mahatma Gandhi at 70 feet, Sinha describes himself as a 'Bihari Babu' who is loved by everyone.
But will the love for this image materialise into votes?
Nand Pal, a daily wage labourer, sitting in a crowd of 400 people attending Sinha's rally, says, "If I work for 10 days, I don't have job for another 10 days. That's the situation we live in. Let's see if he addresses the unemployment crisis." "Last time, we had voted for the BJP, not Sinha or his persona," he adds.
Another voter, 50-year-old Valmiki Mathur, resting on his cycle-rickshaw near Gandhi Maidan, says he voted for the BJP in 2014 and will vote for them again as he feels there has been some development over the years. Also, he says the Bihar Chief Minister's move to ban liquor worked in his favour as he sees less squabbles on streets, of late. The ruling Janatal Dal (United) and BJP are allies.
Not Bihari enough
Off-stage, ask Sinha about the unemployment or migration crisis, or why he failed to push for more funds for Bihar, he has no answers. "To change the scenario for better, the priority is to bring a new government and a new Prime Minister. Then we will think about the other aspects, which is all a team work," Sinha says.
When asked about lack of funds for Bihar, while he acknowledges it hasn't worked for several reasons, he goes on to praise BJP and Nitish Kumar's JD (U) for taking up the Metro and power projects in the state.
Sinha, who belongs to the 'kayastha' community, a dominant upper caste in Patna where he contests, takes on BJP's Ravi Shankar Prasad, who hails from the same community.
While Sinha, to an extent depends on the upper caste votes, he rides high on anti-BJP sentiments that persists with the JD (U)-BJP alliance.  Sinha is part of the 'mahagathbandhan' (Grand Alliance) in Bihar.
Of the 40 seats, RJD contests in 20 seats, Congress in nine, Upendra Kushwaha-led Rashtriya Lok Samata Party in five and Jitan Ram Manjhi-led Hindustani Awam Morcha (Secular) and Mukesh Sahni-led Vikasheel Insaan Party in three seats each.
But Sinha's detractors accuse him of spending most of his time in Mumbai, and not in Patna, thereby conveying that he's more an outsider than a 'Bihari Babu'.
Though Sinha secured over 50% of votes in the last two elections, it may not be easy for him this time. Sinha know he faces a tough battle and the upper caste (kayastha) votes will split between him and Prasad. He talk about the injustice meted out to Rashtriya Janata Dal's chief Lalu Prasad Yadav and seeks to strike an emotional card with the voters who sympathise with the jailed leader.
Prasad, a senior BJP leader, contesting elections for the first time, banks on Modi's development initiatives, apart from the self-image he has built as a lawyer fighting against Lalu and others in the Fodder scam. Lalu was jailed for his involvement in the scam. Prasad faces internal ire as Rajya Sabha MP RK Sinha, expressed unhappiness over not getting ticket from Patna. He faced black flags when he first arrived in Patna after the BJP announced his candidature. RK Sinha, too, is a 'kayastha', and a few BJP cadres were upset with him not getting ticket. However, analysts feel this may impact much.
Commenting on the political development, professor Shyam Nand Singh, head of Centre for Political Studies and dean at Central University of South Bihar says Shatrughan Sinha's shift to Congress would mean a loss to him.
"Sinha cannot bank on his actor image alone anymore. People have observed him in the past two terms, and with his absence in the constituency, they might want to see a change. He's taking on a mighty opponent – Prasad – who enjoys a strong RSS support on ground," S N Singh said.
"Traditional BJP supporters are vocal about their support and they will not side with Sinha. And 'kayastha' voters and pro-Lalu supporters might not necessarily vote for him. So, it will hamper his chances," Singh adds.