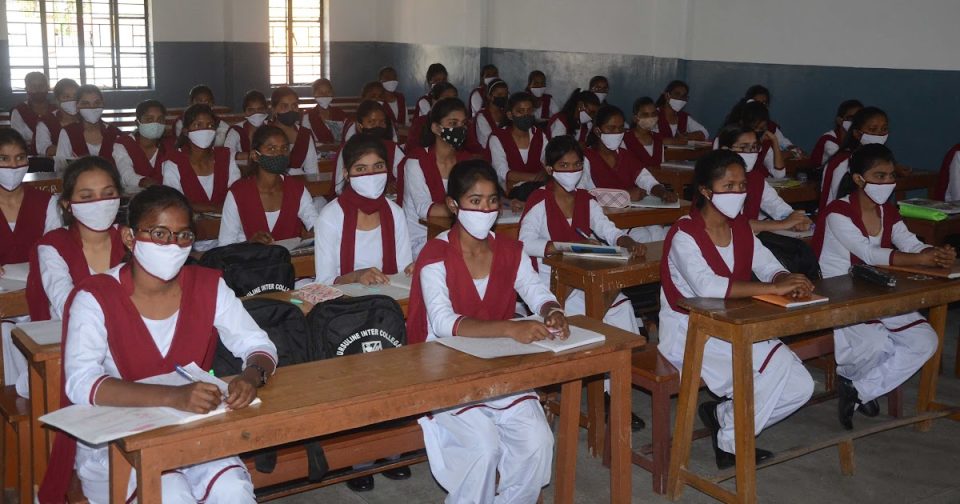 Assuming that PARAKH presents a fair picture of where the students are today, we need a follow-up action plan. Representational image
PARAKH, a new national-level testing mechanism for school students across India, has arrived on the scene. But experts wonder if it is the answer to the ills that plague the country's education system.
Expanded as 'Performance Assessment, Review, and Analysis of Knowledge for Holistic Development', PARAKH will set the standards and guidelines for student assessment for the over 30 school boards in India.
The Educational Survey division of the National Council for Education Research and Training (NCERT), which advises the Union government on curriculum and learning quality improvement in school education, will transform itself into PARAKH.
What will PARAKH do?  
As a first step, last month, the globally renowned Educational Testing Service (ETS) based in Princeton (US), which conducts standardised tests such as the GRE (Graduate Record Examination) and TOEFL (Test of English as a Foreign Language), was given the mandate to run PARAKH. ETS is headed by Amit Sevak, an Indian-American.
Education | Board exam fever? The scores barely matter for admissions; here's why
PARAKH will take over the responsibility for conducting large-scale assessments such as the National Achievement Survey (NAS), which is due in 2024. It is expected to bring uniformity in assessment across various state and central boards. Eventually, PARAKH will become a single window source for all assessment-related activities in school education across India.
Standardised assessments of children's learning levels in a country like India, with explosive diversity in languages, religious practices and cultures, would be a minefield for any agency, however competent. In addition, one has to deal with gross inequalities based on gender, caste and socioeconomic background.
Key challenges
Even if we assume that ETS is capable of creating assessments after somehow allowing for the enormous diversity, it would face a few challenges.
First is what lies beyond scholastic assessment. While PARAKH does include the term 'holistic', we don't know what exactly 'holistic' means here. It might include creative thinking, higher-order cognition, problem-solving and much else, but all within the academic domain. 'Holistic' might also point to facets of a student's personality not measured in academic testing — the ability to collaborate with others, integrity, attitude and values.
So far, in India, large-scale assessments to evaluate abilities in reading, calculating and reasoning have not included the important non-cognitive abilities that are critical in deciding the educatedness of a person.
Learning outcomes
Secondly, we are keen to showcase rather than look for indicators and help to improve our learning outcomes. Take PISA (Programme for International Student Assessment), a global test sponsored by the Organisation for Economic Co-operation and Development (OECD). It is held only once in three years to promote scholastic abilities of 15-year-olds in reading, mathematics and science.
Watch: Will ChatGPT make teachers redundant in the near future?
Though not a member of the OECD, India participated in PISA in 2009. Students from Himachal Pradesh and Tamil Nadu took the exam. The results were disastrous. India ranked 73rd among 74 countries, above only Kyrgyzstan.
Thanks to COVID, the 2021 round of PISA was pushed to 2022. India lined up schools in Chandigarh to represent the country, on the ground of their superior performance on the HRD Ministry's relatively new Performance Grading Index (PGI) for education systems in states and Union Territories. However, India backtracked citing COVID-induced difficulties. We may participate in PISA 2025.
The problem is with our focus to showcase the best of states and schools — as if they truly represent India — to push the ranking up. It's not finding out where the learning gaps exist across India, and taking an effort to fill them.
Thirdly, even if confined to academics, based on the results, curricula and learning processes should be conceived and implemented so that in the subsequent round of testing by PARAKH, learning quality will be seen to have improved.
Poor grades
Over decades, several large-scale assessment surveys have consistently indicated that children across India are not at the level where they should be according to curriculum setters. There has never been an exception.
However, the evidence of children not learning has not provoked the system to revamp its content and pedagogy to achieve better results. If PARAKH's task is to hold a better mirror to our learning outcomes, to enable us to see where our children are, will it lead to improving learning outcomes? It won't, automatically.
Consider this: in 2005, the rather popular Annual Status of Education Report (ASER), a pan-India survey of children's learning levels conducted by non-profit Pratham, indicated that 35 per cent of all children in the age group 7-14 could not read simple paragraphs and close to 52 per cent could not read a short story.
Watch | Indian education: Why governments can't rely on ASER report alone
Fast forward by 17 years to 2022: the latest ASER found that class V students (about age 11) who can at least read a class II level text was only at 42.8 per cent. Nationally, only about 69.6 per cent of Class VIII students (about age 14) can read at least basic text. Probable inference: over nearly two decades, the learning gap hasn't been bridged.
Says Subir Shukla, principal coordinator of the IGNUS group which works extensively across India to improve the quality of learning in government-run schools: "In our setup, evidence is not considered a reason to take any particular action. The reasons for taking specific actions are related to causes other than facts and evidence."
What should be done?
So, assuming that PARAKH, with help from ETS, presents a fair picture of where the students are today, across states, we need a follow-up action plan. Else, it is somewhat like weighing a malnourished child on a scale to declare her malnourished year after year, when what is worth aiming at is dealing with malnourishment and getting the child off that undesirable condition.
Education | A gap year can fill some critical gaps in Indian education system
There have been efforts in the past to go beyond mere assessment to create frameworks for effective intervention. For instance, an elaborate framework of performance standards and indicators for teachers called ADEPTS (Advancement of Educational Performance through Teacher Support) was developed by experts for the Union government. Though it is still available, it has not been taken up for implementation.
So, the focus should be on not running PARAKH assessments year after year, but to see what can be done based on the assessment, and follow-up with the time-bound implementation of a well-thought-out action plan such that the subsequent large-scale assessments show improvements across states.
(The author consults in the education domain. He can be reached at srihamsa@gmail.com)