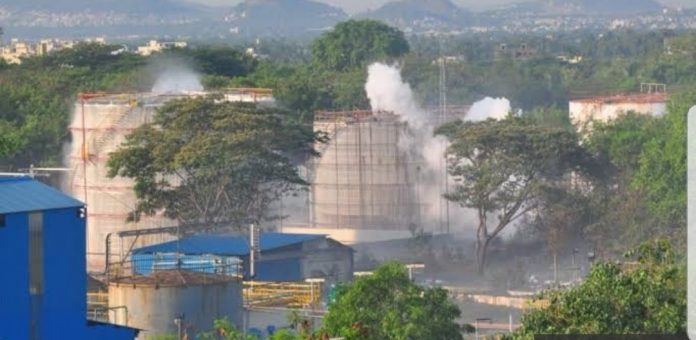 The country, which is already in the throes of a deadly pandemic, woke up on Thursday (May 7) morning to the news of a gas leak tragedy in Andhra Pradesh's Vishakhapatnam which claimed 10 lives including a child's, leaving more than 200 hospitalised and 1,000 sick.
The incident, which occurred in the Gopalapatnam-based LG Polymer plant, was instantly reminiscent of the Bhopal gas tragedy of 1984 which had caused 3,787 deaths.
In the Vishakhapatnam tragedy, while eight people died after inhaling styrene gas, two others who were trying to drive away from the spot on a two-wheeler were killed after falling into a ditch.
In early morning visuals, the streets of the port city were seen scattered with sights of people collapsing to the fumes – some lying motionless in drains, lanes and pavements – and others ferrying them up to ambulances. A woman fell off the second floor of her house, while another video showed a woman collapsing on the road.
Related news: Eight killed in gas leak in chemical plant in Visakhapatnam
Quoting Andhra Pradesh DGP Damodar Goutam Sawang, an Indian Express report said at least 20 people have been kept on ventilators while 246 people are admitted in hospitals. District collector V Vinay said the critical patients have been shifted to King George Hospital.
Officials at the hospital told the media that more casualties may follow.
A large number of pets including dogs, livestock and birds have also died and veterinarians have been pressed into service to treat the sick animals.
Residents of five villages within a 3 km radius of the plant have been ordered to evacuate with immediate effect. In many cases, rescue workers had to break doors open to pull out people lying unconscious in their homes, reports said.
An FIR has been filed against the LG Polymer plant and a probe ordered into the incident. Chief Minister Jagan Mohan Reddy has directed district officials to ensure that no more life is lost and bring the situation under control.
He has left for Visakhapatnam to visit the affected people at King George Hospital.
#VizagGasLeak: Andhra Pradesh Chief Minister YS Jagan Mohan Reddy leaves for Visakhapatnam. He will be visiting King George Hospital where the affected persons are being treated. pic.twitter.com/ViCxnxfTwT

— ANI (@ANI) May 7, 2020

Prime Minister Narendra Modi who took stock of the situation held a meeting with National Disaster Management Authority (NDMA) in the morning discuss the situation.
How the incident panned out
According to reports, the leak happened at around 2.30 am in the morning when workers at the plant were preparing to reopen it after the lockdown. The gas is suspected to have leaked from one of the gas tanks which were left unattended during the course of the lockdown. Industries minister M Goutham Reddy told the press that the workers might be checking one of the gas storage tanks when it started leaking.
An official of the plant in a statement said that there was 1,800 tonnes of styrene in the storage tank and its stagnation and change in temperature could have resulted in auto polymerization, leading to vapourization.
There are, however, varying reports on the number of the tanks that may have caused the disaster and their capacity. While Swaroop Rani, a police officer told Agence France-Presse that there were two tanks with 5,000 tonne capacity each, the statement of the LG Polymers official said that only one tank with 1,800 tonnes capacity was involved.
"We are investigating the incident. Right now there is no leak as it has been contained. We will observe the facility for another four hours and give an all clear after a thorough inspection," the plant officer said in a statement.
PV Ramesh, secretary to chief minister Reddy in a statement to Bloomberg said that the "unfortunate" incident could have been averted if the plant, which is pretty-old, had been re-started in the morning. "People would have been more alert and able to move away," he said.
Residents in the vicinity of the plant reported of experiencing burning sensation in their eyes, breathlessness, nausea and rashes on their bodies.
Officials, however, have said that the situation is under control now and there is no need to panic.
"The situation has been contained now and there is no reason to worry. There is no need to panic. The gas is not poisonous. It can be fatal only if breathed in large doses. An FIR has been registered against LG Polymers and an inquiry has been ordered. Preliminary information suggests that styrene leaked from storage and although its antidote is another tank attached to it we do not know what happened. The inquiry will look into it. At least 15 persons were at the factory to maintain it during the lockdown period and a few others reached there today to reopen operations," Andhra Pradesh DGP Damodar Goutam Sawang told Indian Express.
The factory, established in 1961, manufactures general-purpose and high impact polystyrene, expandable polystyrene and engineering plastic compounds.
What is styrene gas?
Styrene is a highly flammable and poisonous gas used in manufacturing polystyrene plastics, fiberglass, rubber and latex.
It is a known carcinogen, whose short-term exposure in humans can cause respiratory problems, irritation in eyes and mucous membrane and gastrointestinal issues. Long-term inhalation can have an adverse impact of the nervous system and lead to problems like peripheral neuropathy and even cancer.