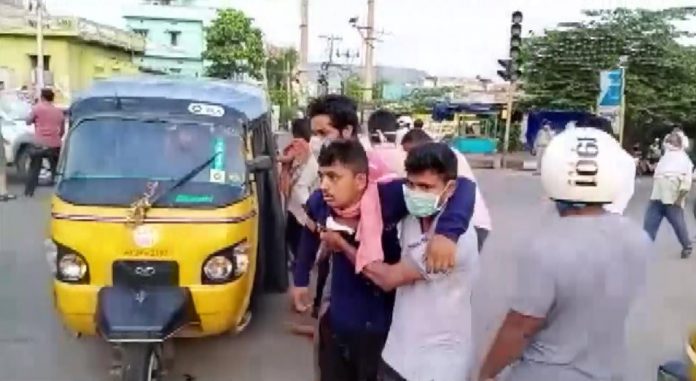 At least eight people, including a child, were killed and 70 hospitalised in a toxic gas leak from a chemical plant of a multinational company in Andhra Pradesh's Visakhapatnam. Over 500 people have 'fallen sick,' as per ground reports.
People in RR Venkatapuram area, where the chemical plant is located, complained of irritation in eyes, breathlessness, nausea and rashes on their bodies. Earlier District Collector V Vinay Chand confirmed the accident. He said some more people were in a critical condition. Close to 70 people had been admitted to the King George Hospital for treatment, he said. The police said people in a radius of 3 km had been complaining of illnesses when reports last came in.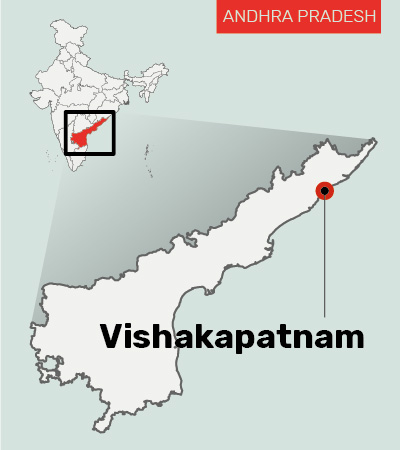 The eyewitnesses told The Federal that several people were found lying on the road unconscious and were being shifted to hospitals in ambulances and police vans. The city is in the grip of panic as authorities are making arrangements to evacuate people living within a five-km radius. Hospital sources said the death toll could go up.
The incident was reported from the chemical gas plant of LG Polymers India Pvt Ltd. The workers were preparing to reopen the plant on Thursday (May 7) after the lockdown when gas started leaking.
"In the process of reopening the factory, there was an uncontrolled reaction leading to the leakage of gas. Over 250 people in the localities close by were affected initially. We are continuously evaluating the situation," Vinay Chand said after visiting the hospital where the injured were undergoing treatment.
"At least 25 ambulances have been sent to shift the people to hospitals," a police official said. A majority of those who fell ill are women and children.
Teams of the National Disaster Response Force (NDRF) have rushed to the spot. Reports said the gas leak has been contained.
Andhra Pradesh: 3 persons, including one child, dead after chemical gas leakage at LG Polymers industry in RR Venkatapuram village, Visakhapatnam. pic.twitter.com/zs4oWuN2KA

— ANI (@ANI) May 7, 2020
Prime Minister Narendra Modi said he is in touch with officials who are closely monitoring the situation and prayed for everyone's safety and well being in Vishakhapatnam.
Spoke to officials of MHA and NDMA regarding the situation in Visakhapatnam, which is being monitored closely.

I pray for everyone's safety and well-being in Visakhapatnam.

— Narendra Modi (@narendramodi) May 7, 2020
Andhra Pradesh Chief Minister YS Jagan Mohan Reddy enquired about the incident and directed the Visakhapatnam District Collector to ensure proper medical care to the affected people.
Set up in 1961 as Hindustan Polymers, the company was taken over by South Korea's LG Chem and renamed as LG Polymers India in 1997. The plant makes polystyrene and expandable polystyrene.
"The tragedy has occurred because of the negligence on part of the company's management. They don't even have an ambulance for emergency use," said Venkat Rao, an eyewitness.
"We have been demanding that this factory be shifted from here. But, the polluting industry continues to operate, posing a grave threat to people's lives," said Subba Rao who runs a kirana shop nearby.