At a time when India and the world struggle to come to terms with the coronavirus infection, tuberculosis (TB) – a far bigger killer in India in terms of numbers – has gently been pushed aside.
Despite serious health hazards, India registered a drop in the notification of TB cases by about 85 per cent in April this year, since the novel coronavirus disease (COVID-19) lockdown was imposed.
COVID and TB – Comparison in numbers
According to government statistics, India has about 27 lakh TB patients as of now with over 2 lakh deaths annually. Compare this with 79 lakh+ COVID positive cases (more than 90% of them have recovered) and about 1.20 lakh deaths (till October 28).
Scientists say COVID-19 attacks the lungs, which means there could be a significant jump in TB cases in the months and years to come. As per an estimate, by 2025, India will have 63 lakh TB patients with number of deaths rising to 15 lakh.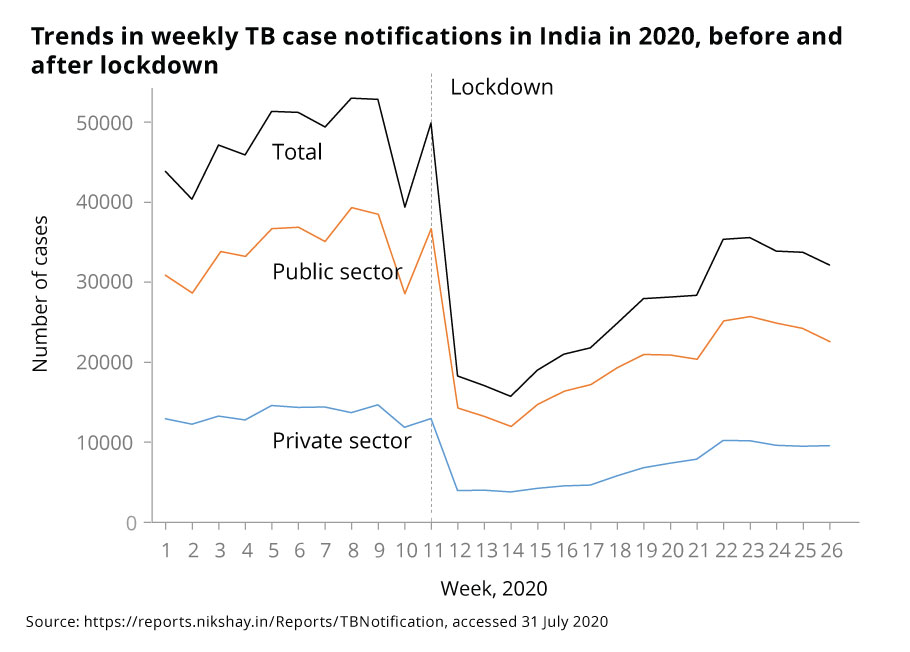 Despite the threat posed by TB to India's health security, the registration of fresh cases has gone down significantly. For every 100 cases being registered in India till January 2020, only 40 cases were registered before April due to a decline in access to TB services, says the Global Tuberculosis Report, 2020 released on October 14, 2020 by the World Health Organisation (WHO).
The weekly and monthly number of TB case notifications fell by more than 50 per cent between the end of March and late April in India, following the imposition of a national lockdown, according to the report.
India accounts for 26 per cent of the total global TB cases — highest in the world. If the present trend of non-registration of new cases continues, we may see the problem spiralling out of control very soon.
Gradually, the registration of TB patients is increasing, but as of the end of June, it had failed to reach pre-lockdown levels.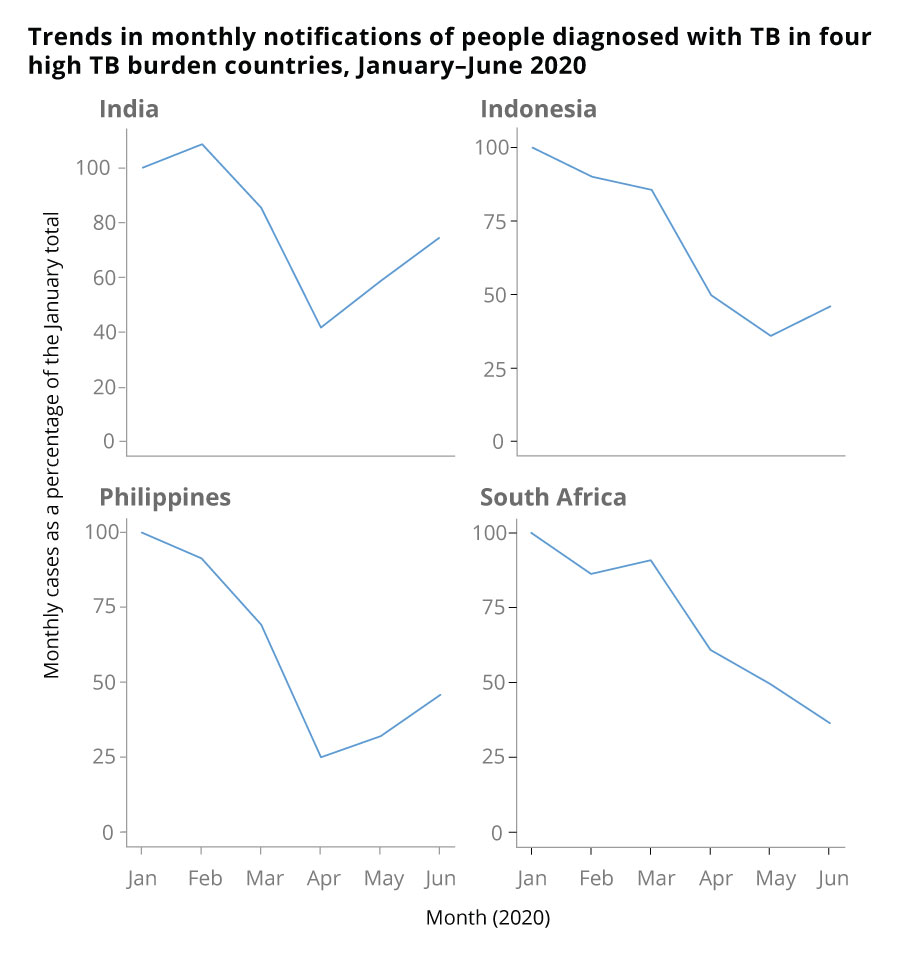 Impact around the world
If India is the worst affected by TB, the world is not far behind. There could be between 2,00,000 and 4,00,000 excess TB deaths globally in 2020, according to the WHO report, which has followed the prediction of the modelling analysis presented. Compare that with a little over 10,00,000 COVID-19 deaths till now.
The worst part is that years of progress made in the fight against the TB could be undone. "An increase of 2,00,000 deaths would take the world back to the 2015 levels and an increase of 4,00,000 to 2012 levels," the report said.
India, Indonesia, the Philippines, and South Africa account for 44 per cent of the global TB cases. These countries would bear the maximum brunt of COVID-induced TB problems.
In Indonesia, which comes second in TB infections after India, notification of new cases fell sharply between March and May, with some signs of a modest recovery in May.
"Compared with the remaining six months of 2019, monthly notifications in the remaining six months of 2020 were approximately 25–30 per cent lower in India, Indonesia, and the Philippines," the report said.
India accounts for 26% of TB cases in the world. #TB notifications during the period January-June 2020 fell by 25% compared to the same period in 2019. https://t.co/4haHdKXjvr

Urgent action & investment is needed, as #COVID19 threatens to unwind gains made in the #TB fight 1/2 pic.twitter.com/rHYXNvwB7u

— India Health Fund (@IndiaHealthFund) October 20, 2020
Why are TB cases not getting reported adequately?
The WHO report cites many possible reasons for this decline. Reallocation of TB staff and diagnosis kits is the primary reason.
"Several countries reported the use of GeneXpert machines for COVID-19 testing instead of diagnostic testing for TB (43 countries including 13 high TB burden countries, including India), reassignment of staff in national TB programmes to COVID-19 related duties and reallocation of budgets (52 countries including 14 high TB burden countries, including India)," the report said.
Another reason could be that people, in general, were discouraged from stepping out of their houses (unless urgent) to seek healthcare during the lockdown.
In addition, delay in procurement and transportation of TB medicines, restrictions on the movement of people, loss of wages, and fear arising out of similarities in some clinical features of TB (for instance, fever and cough) with those of COVID-19, exacerbated the problem.
Related news: India's COVID-19 recovery more than 90%, highest in world: Health Ministry
Impact on economy and TB
According to a World Bank report, the pandemic has caused the global gross domestic product (GDP) to shrink by 5.2 per cent in 2020. "Negative impacts on employment opportunities threaten the livelihoods of many millions of people and those most at risk of developing TB are among the most vulnerable," the WHO report said. While individual earnings have been affected, governments too are short of funds. As a result, many governments may be forced to divert resources meant for TB mitigation to COVID-19 treatment.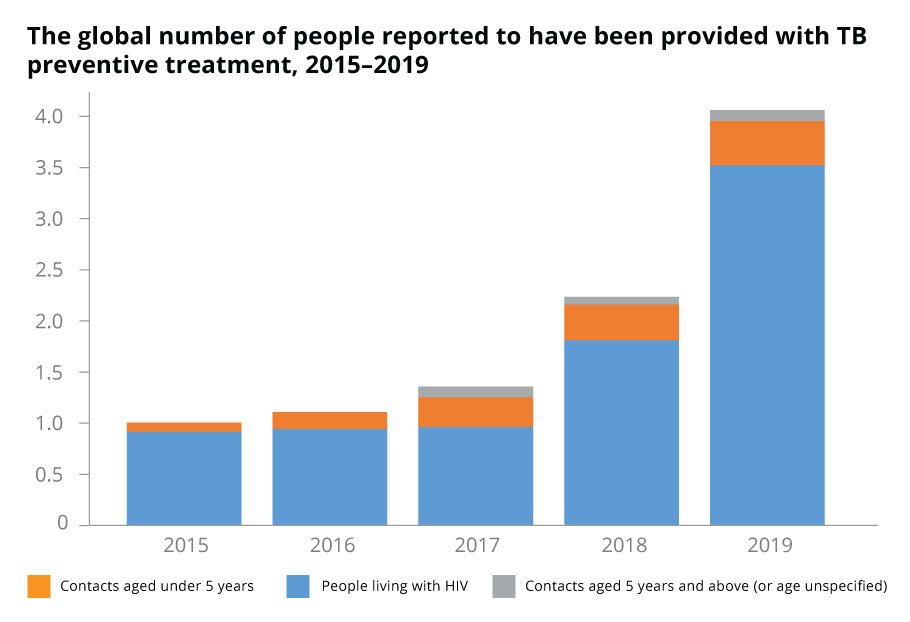 To keep a tab on TB cases in the post-COVID scenario, the WHO suggests maximising remote care for these patients through the use of technology and providing TB patients with at least one-month supply of drugs to reduce the visits to healthcare centres, among other steps.
The 'End TB Strategy' adopted by the world is nowhere close to meeting its targets now. For example, the world had aimed at reducing TB cases by 20 per cent from 2015-2019, but the actual drop has been just above 9 per cent.
For the same period (2015-19), the target was to reduce TB deaths by 35 per cent. But they could be reduced only by 14 per cent, the WHO said.
Besides India, Indonesia (8.5 per cent), China (8.4 per cent), the Philippines (6 per cent), Pakistan (5.7 per cent), Nigeria (4.4 per cent), Bangladesh (3.6 per cent), and South Africa (3.6 per cent) too are struggling to combat TB. Together, these countries account for two-third of the global TB patient load.
In addition, drug-resistant TB has emerged as the newest challenge. India (27 per cent), China (14 per cent), and Russia (14 per cent) have the highest number of drug-resistant TB cases in the world.