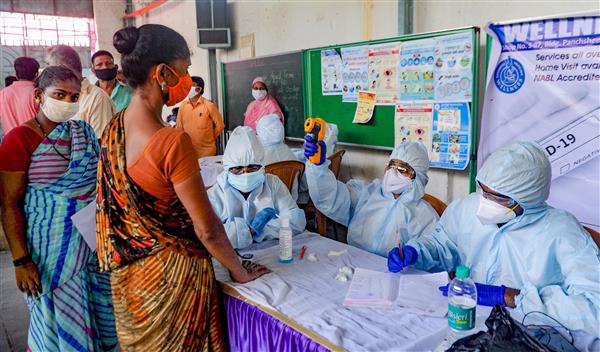 India's COVID-19 recovery rate currently stands at 90.62 per cent and the positivity rate is on a "constant decline", the Union Ministry of Health and Family Welfare (MoHFW) has said.
"India has conducted more than 10 crore COVID-19 tests and the recovery rate is more than 90%. India's recovered COVID cases are the highest in the world," MoHFW said on Tuesday night (October 27).
"The recovery rate is at 90.62 per cent currently. The cumulative positivity rate is on a constant decline, and currently, it is at 7.61 per cent. If we see the number of cases per million, then India has the least cases per million people. We have 5,700 cases per million. Most developed western economies have double or even five times more cases per million than India," Union Health Secretary Rajesh Bhushan said at a press conference.
Related News: Unlock5 guidelines to stay in force till end of November
"It took us 57 days to register a recovery of 10 lakhs from 1 lakh whereas, the latest 10 lakh recoveries have been achieved in just 13 days which is also a satisfactory sign," he added.
He pointed out that the number of new coronavirus cases in the last 24 hours was below 37,000. "When we observe the number of new COVID cases reported in the last 24 hours, it is only 36,470. However the number of COVID tests conducted during this period has never come down. If even after doing an average 11 lakh tests per day, there is a decline in daily new cases it is surely a very positive sign. Our number of tests per million population is more than 75,600," he said on Tuesday.
Bhushan also highlighted the state-wise contribution of COVID cases. He said 78% of active cases are seen in just 10 states/union territories of which Maharashtra account for around 21.5%.
Related News: India's lowest COVID deaths in three months, shows health ministry data
Also 86% of total deaths reported are seen in 10 states/UTs of which more than 36% COVID deaths seen in Maharashtra. "Five states account for 58% COVID deaths reported in last 24 hours and Maharashtra is the leading state," he added.
As per the Union Health Ministry's data at 8 am on Wednesday (October 28), India's COVID-19 caseload mounted to 79,90,322 with 43,893 fresh cases being reported in a day, while the death toll climbed to 1,20,010 with 508 new fatalities.