About three weeks ago, Bhilwara, a district in Rajasthan, was suddenly the talk of the town in India.
The country was recording a steady number of COVID-19 cases and Bhilwara, known for being a manufacturing hub for textiles, had seen 26 cases by the end of March. Cut to April 10, zero new cases have been reported for more than a week now.
Bhilwara, on the whole, has 27 cases, with two deaths, while Jaipur with 54 cases is now the district with the highest number of cases in the state.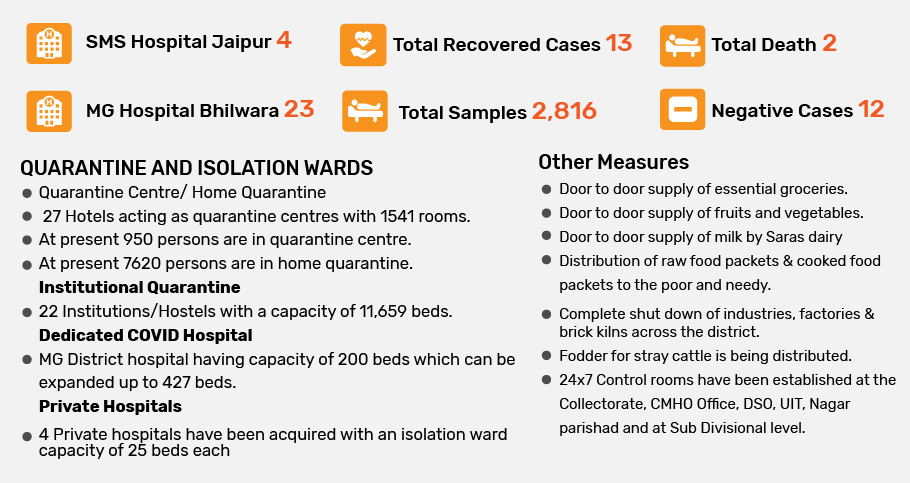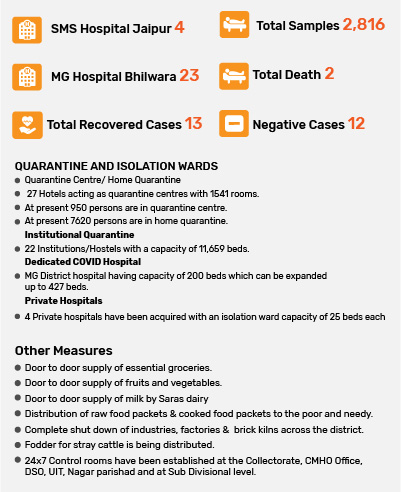 So, how did Bhilwara achieve the effective containment? The 'strategy', as they call it, is ruthless as it has left nothing to chance and roped in all possible resources to contain the spread. The initiative was implemented by additional chief secretary health Rohit Kumar Singh along with district collector Rajendra Bhatt.
It all began on March 19, when a doctor working at the Brijesh Banger Memorial Hospital tested positive. A day later, six more tested positive and the district administration began to work on a war footing with a comprehensive containment plan. Starting the same day, Section 144 of the CrPc was imposed and the city and district borders were sealed, a couple of days before the Janata curfew and almost a week before the nation-wide lockdown.
Related news | 100 Days Of COVID: Kerala CM shares how state is battling pandemic
Dr Rommel Singh, who is incharge of COVID-19 containment in Bhilwara, Government of Rajasthan explains that as part of task one, the hospital or the epicentre became a 'no-movement' zone in the city and cluster mapping was done, while six areas were identified and special teams were deployed. A disinfection strategy was followed on a daily basis across areas and an aggressive screening strategy was stepped up.
While samples were being tested at a much lower level across the country, Bhilwara came up with survey teams that were trained by specialised doctors regarding checking persons having foreign travel history, prioritising epicentre-affected population as well as migratory population. "Screening and testing was prioritised for the hospital — from ICU admissions, doctors and nursing staff to in patients and outpatient departments. The contact history with the positive cases were traced, screened and tested," Dr Singh added.
Task two of the strategy was about door-to-door surveillance—both rural (two phases) and urban (three phases)—where over six lakh households (over 33 lakh people) were surveyed in two phases involving a huge team of 3,072 people for urban and 2,974 for rural areas.
The strategy also includes quarantine and isolation wards with institutional quarantine, a dedicated COVID-19 hospital (MG district hospital), and four private hospitals. The rural areas have a monitoring plan of action at the panchayat samiti and block levels, where people have been assigned roles of 'corona captains' and 'corona fighters'. Door-to-door supply of essential items like food, groceries, and medicines have been a vital leg in the containment strategy.
Related news | COVID-19: Govt says no shortage of hydroxychloroquine drug in India
The authorities are not cheering yet, saying they would wait till the end of the month to assess the result of their efforts. However, they do recommend the strategy for cities across the country that are seeing a spike in the cases, identifying their hotspots, with a clear message that "ruthless containment is the key to prevent the spread of COVID-19 in any city."
Rajasthan Chief Minister Ashok Gehlot has stated in a press briefing that several states have approached them to adopt the Bhilwara model.
Dr Singh says the efforts were all about planning, organisation, coordination, motivation, and control. He added, "The police too had a huge role to play with tracing some contacts and suspects, as they were difficult to track. It wasn't easy and there are challenges even today, considering the number of departments that are involved in this whole exercise."