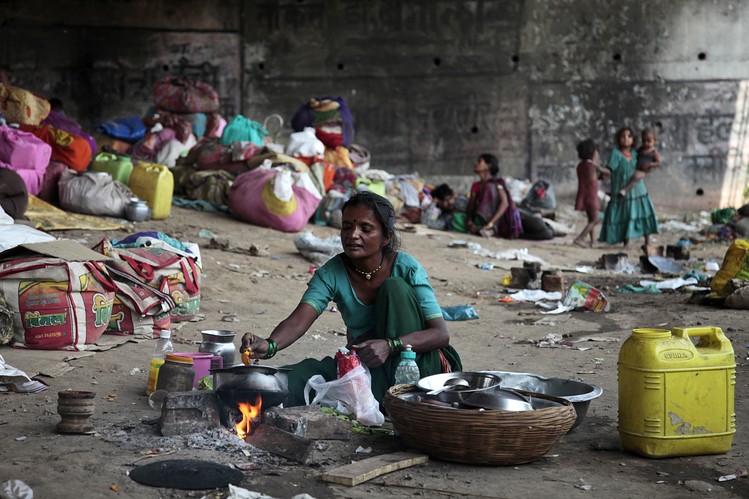 Poor battle existential crisis as COVID-19 lockdown pushes them to the brink
Shambhu Nath earns roughly ₹800 per day. Dressed in a lungi (a loose garment similar to a sarong) and a kurta, Nath sells Jhala Mudhi (spicy puff) on the streets of Patna every day and was having a peaceful time until this weekend, when the Bihar government enforced a complete lockdown to prevent the spread of COVID-19.
Shambhu Nath earns roughly ₹800 per day. Dressed in a lungi (a loose garment similar to a sarong) and a kurta, Nath sells Jhala Mudhi (spicy puff) on the streets of Patna every day and was having a peaceful time until this weekend, when the Bihar government enforced a complete lockdown to prevent the spread of COVID-19.
The case of a sugarcane juice seller named Dharmendra is no different. He would earn around ₹500-₹600 every day by selling chilled sugarcane juice near the Patna planetarium. This was enough to run his family of five, which included his daughter studying in college and two sons enrolled in classes six and eight.
Now, he anxiously waits for the fear over the coronavirus to end.
Even worse is the condition of 60-year-old Somaria Devi, who is practically starving after the government's lockdown. She would pick up rags and scraps thrown around in the areas and sell them to scrap shops. This was the only source of income for her to support her family, which included her bed-ridden husband, who had fractured his leg.
"My brain has stopped working. I don't know whether to arrange for food or treat my husband since my lone source of income is closed now," says Somaria in a choked voice.
Shambhu, Dharmendra, and Somaria are not alone. There are lakhs of daily wagers like them who would earn their income by selling tea, running roadside eateries, selling snacks, working in construction sites, doing sand mining work, and pulling handcarts and paddle rickshaws but are now facing survival problems due to the effects of the coronavirus.
Of the total work force in the unorganised sector, around 4,75,000 workers — which include 3,00,000 non-skilled labourers, 1,00,000 skilled labourers (such as electricians, plumbers, and computer operators) and 75,000 semi-skilled labourers — are directly or indirectly associated with the real estate sector, according to a report of the Bihar Builders Association.
Apart from them, lakhs of labourers were earlier employed in sand mining work going on along the banks of over 250 rivers, including 42 in Patna, but the closure of sand mines has left all the labourers unemployed.
They hoped things would become normal in the following days, but what came as a bolt from the blue was the declaration by Prime Minister Narendra Modi enforcing a total lockdown for the next three weeks without working on any compensation package for them.
Related news | Kashmir reports first coronavirus death, toll reaches 11
According to a labour force survey on employment and unemployment conducted in 2011-12 by the National Sample Survey Office (NSSO), Ministry of Statistics and Programme Implementation, the number of estimated employed persons in 2011-12 on the usual status basis were 47.41 crore, of which 82.7% (39.14 crore persons) was in the unorganized sector.
Of the total workforce, Bihar contributed to 52.8% of people (27.5% in rural areas and 25.3% in urban areas), according to the report. The report was released in July 2016.
Various organisations and NGOs working for the poor say the government should have first chalked out a financial package for the economically weaker class before enforcing a complete lockdown in the whole country.
"Bihar has a huge number of daily wagers who earn their living by working on daily basis but the government didn't take their plight into consideration before enforcing a lockdown. They took an initiative in the right direction but it should also have been done to let this class survive. Did the government ever think how they will survive without any work in the next one month?" questioned All India Agriculture and Rural Labour Association general secretary Dhirendra Jha.
Related news | COVID-19: Lack of protective gears puts lives of TN sanitation staff in peril
He claimed the state government had announced financial assistance for ration card holders and pensioners, but a lot of people in the low income groups — such as Mahatma Gandhi National Rural Employment Guarantee Act workers, rickshaw pullers, drivers, roadside vendors, and farm labourers — have not been given any assistance.
He asked the government to instantly credit ₹10,000 to the bank account of each Jan Dhan account holder and provide them with free rations for the next three months. According to him, the number of people having the status of daily wage earners is around three crores (30 millions) in Bihar.
Ashish Ranjan, who runs Jan Jagran Shakti Sangathan, a registered trade union of the unorganized sector workers, said the first priority of the government should be to provide immediate financial assistance to these people or they would simply starve.
"We must know that a huge chunk of the workforce is reaching their homes jobless for a full month and there is no idea when the situation will improve. Just imagine if lakhs of people will remain confined to their homes with no work," Ranjan said.
Related news | TN CM announces ₹1K for ration card holders amid COVID-19 outbreak
He added that the government should first ensure immediate clearance of all pending liabilities of wages, which amounts to approximately ₹8,396 crore under the MGNREGA scheme, and pay all registered MGNREGA workers their full wages during the lockdown period.
"We don't question the government lockdown initiative vis-à-vis the surging corona threats, but many of street vendors will starve to death even before corona takes them in their grip," said Visahl Anand, head of National Association of Street Vendors of India, Patna unit.
He said the lockdown for 21 days is a long period and that the government should provise immediate assistance or things would become critical. "Quite a few of them have rented rooms and got their children admitted to schools. They have no additional sources of income and their reserve funds would be exhausted soon," explained Anand.
Human rights activist Shiv Prakash Rai said the centre has spent only 30% of the total funds on development schemes in the current financial year. "It is time the government spent the remaining unspent 70% funds on the economically weaker class to save them from starvation," Rai said, adding that the government should have evaluated this issue before enforcing the lockdown.
"Thik hai sarkar kah rai hai ki wo gharon me rahen lekin khayenege kya? (It's good that they have been told to stay in their homes, but what will they eat?)" asks Rai.