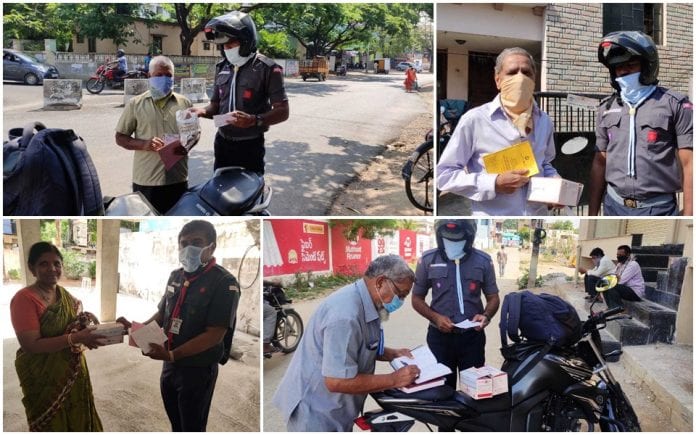 Amid the COVID-19 lockdown, Indian Railways has started the doorstep delivery of medicines to its railway staff, retired employees and pensioners. To begin with, this facility has been initiated across three railway divisions namely, Hyderabad, Vijayawada, and Guntakal of the South Central Railways (SCR).
C.H. Rakesh, Chief Public Relations Officer (CPRO), South Central Railways told The Federal that the retired employees, pensioners and the serving railway staff members living in and around Hyderabad are being benefitted with this service. The doorstep delivery can also be availed by those employees who are served by the Central Railway Hospital Lallaguda, Health Units of Moula, Ali, Kacheguda, and Vijaywada.
This facility will be particularly useful to those who are suffering from chronic ailments such as hypertension, diabetes, or cardiac related diseases. Gajanan Mallya, General Manager, South Central Railways stated that this step will save time and risks involved in going to the railway hospitals, and will also easily allow the retired employees to adhere to the lockdown restrictions.
According to South Central railways, the delivery of medicines is being done through the available volunteers, civil defense personnel, and scouts. The employees can avail the delivery of medicines' stock for upto two months, in order to avoid frequent visits to chemists or hospitals.
Related News: Anand Vihar, Bijwasan stations to be revamped to meet world-class standards
Additionally, the doctors working in the Central Railway Hospital Lallaguda as well as the Health Units of Moula, Ali, Kacheguda, and Vijaywada are also taking offering digital consulation to patients. In case of minor ailments, patients can consult the doctors directly, through tele communication or WhatsApp video.
Further, specific pharmacists have been appointed with each of the railway hospitals, so that the order for medicines can also placed.The procedure for availing these medical services have also been kept simple. The patient has to submit their namme, UMID card, medical ID card photo, previous month's doctor's prescription and address to the WhatsApp number of their respective health unit for getting the medicines doorstep-delivered.